Definition: The management report is a means of communicating essential information from high to low levels of management. It consists of facts and significant data presented through written, oral and visual tools (Graphs, Charts and Pie-Charts).
It provides an insight into the departmental progress through financial and non-financial data of a specified period. Timely presentation of reports assists managers in management functions like:
Directing
Decision making
Control
Management reports maximize operating efficiency through constant evaluation.
It highlights the variance between actual and planned/budgeted performance at regular intervals. Thereafter, apply necessary corrective measures to improve performance. Also, it keeps track of the business's Key Performance Indicators (KPIs).
Content: Management Report
Methods of Management Reporting
There are different means of representing managerial reports. The selection of reporting method depends upon the type, size and nature of data. Besides, we can present these reports through written, oral and visual means of communication.
Different methods available for management reporting are as follows: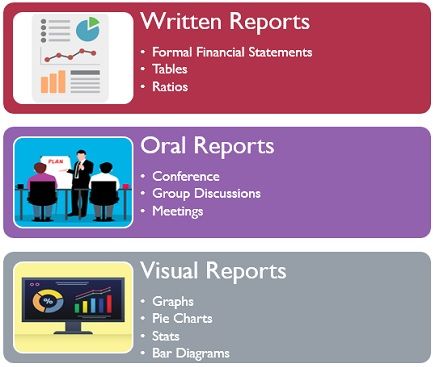 Written Reports
In this, the manager prepares and communicates reports in written form. It is further divided into:
Formal Financial Statement: These statements convert a large volume of data into a simplified form for comparison purposes.
Tables: It involves the preparation of reports in a tabular form. It indicates the present and planned performance of departments like Sales, Production, etc.
Ratios: The managers use various ratios for reporting according to the purpose. Further, they use it for evaluation and analysis.
Oral Reports
Managers conduct meetings, group discussions, conferences, etc., to convey essential information. This method of reporting is known as Oral Reports. However, it is not suitable while taking crucial decisions. It is generally used for:
Internal Management
Policy Formation
Resolving Team-related Issues
Visual Reports
Visual Reports depict data in graphical form. These reports are easy to understand, analyze and visually attractive. One can prepare these reports through:
Graphs
Pie Charts
Stats
Bar Diagrams
Flow Charts, etc.
Types of Management Reports
As discussed above, the preparation of management reports considers the nature, volume and purpose of the data. Keeping in mind the following questions:
Why is it being prepared?
Who is the sender?
Who is the receiver?
Which method is adopted for the preparation of the report?
Following are the types of managerial reports available based on different purposes: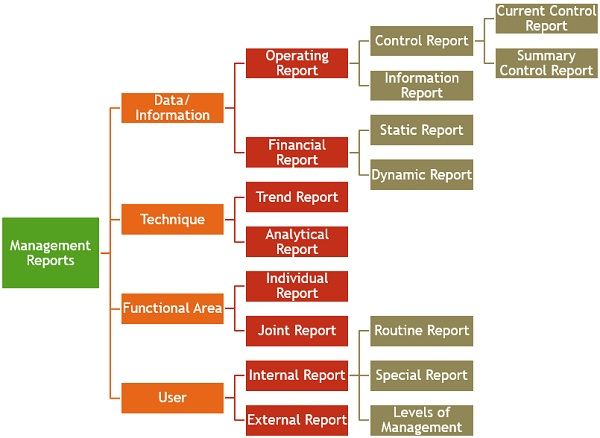 Data/Information:
Operating Reports
Managers use these reports to determine the gaps between the current and budgeted targets. It includes reports for both short and long-term to maintain the operating efficiency. It is further divided into:
Control Reports: It is presented monthly, quarterly and yearly to control deviations. In addition, it helps in finding bottlenecks and taking corrective measures wherever necessary.
Managers prepare control reports periodically. And, it can be further classified into:

Current Control Report
Summary Control Report

Information Reports: It covers a broader area than control reports. This is because, it needs detailed information, examination, and analysis. Management uses information reports for planning and policy formulation.
Financial Reports
Financial reports contain information about the financial position of the business. It shows the movement of financial resources over a specified period. It is of the following two types:
Static Financial Reports: This report shows the position of assets, liabilities and debts at a point in time. For Example, Balance Sheet.
Dynamic Financial Reports: We use these reports to summarize the change in the financial position.
Technique:
Trend Reports
Managers use these reports to make comparisons over a period of time. It shows a certain type of movement or trend through graphics.
Analytical Reports
This type of reporting involves thorough data analysis and comparisons with the predetermined objectives. It is prepared horizontally, between one or more firms or departments.
Functional Area:
Individual Report
It includes reporting for a particular activity by the responsible personnel. For example, a production report presented by the manager of the production department.
Joint Report
A joint report is a report prepared by the managers of all the departments jointly. For example, firms prepare the profit & loss statement based on the production reports.
User:
Internal Reports
Managers prepare these reports for internal management. It is useful for communicating information to employees and all levels of management. It may include:
Routine Reports
Special Reports
Reports at various levels of management.
External Reports
It is prepared to provide essential information to the parties outside the business. External parties use these reports to ascertain the firm's financial position and decision-making for different purposes.
External reports can be used by:
Shareholders
Government Authorities
Stock Exchange
Credit Institutions
Process of Management Reporting
One can follow three simple steps to prepare management reports depicted below: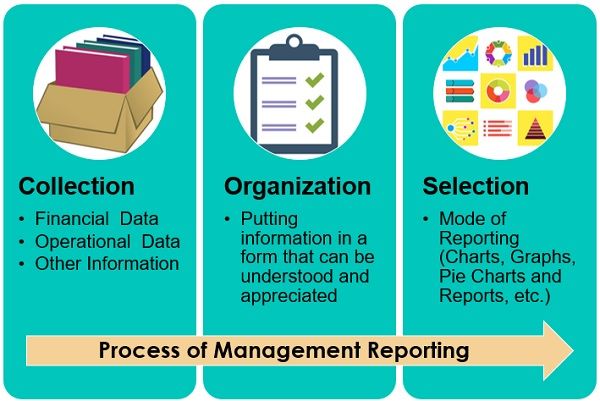 Importance of Management Report
It is a good means of maintaining public relations.
These reports enable us to identify trends which helps in forecasting.
Helps in achieving the overall objective through timely and continuous evaluation.
A management report is a tool to perform the controlling function of the management.
These reports satisfy the internal and external parties related to business.
It involves the comparison of actual and planned targets.
Management reports lead to effective and efficient management.
Qualities of a Good Report
Accuracy
Management reports contain facts and figures which may be misunderstood if not recorded accurately.
Suitable Title
The title of the report should be self-explanatory. In addition, it should specify what that report consists of.
Precise and Simple
The report must include necessary information in a simplified format. Whereas, one must exclude unnecessary information and avoid data stuffing.
Consistency
The report should be prepared in a fixed format. It helps in avoiding confusion and maintaining the standards.
Reporting Relationship
There should be clarity in the source and destination of the report, i.e. who is making the report for whom.
Timeliness
Management uses these reports for decision-making and policy formulation. So, one must prepare and present the reports at regular intervals.
Cost-Effective
Preparation of the report should not add unnecessary costs. The expense incurred while reporting should not exceed the benefit from the report.
Selective
The mode of presentation should be selected in a way that represents information in the best manner.
Comprehension
Management reports should be made in a simple and systematic form. This is because the end-user should understand it easily.
Unbiased
It should convey true facts and figures. Also, it must not get affected by the personal bias of the person.
Example of Management Report
The following example shows the report of the production department, its budgeted production and actual production through tables and charts.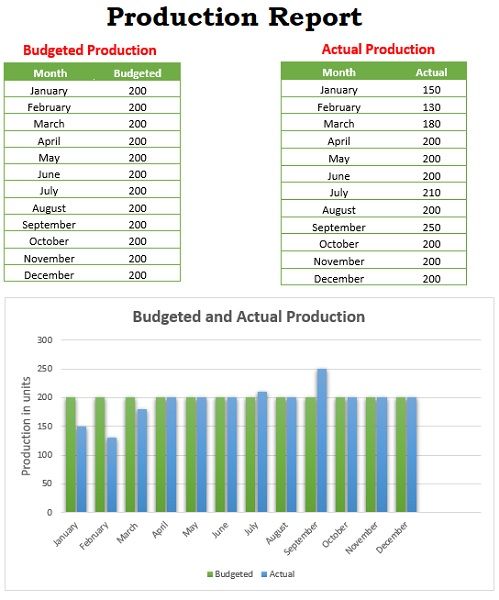 Interpretation:
The actual production was less than the budgeted production in the first quarter.
It gradually started to increase by the end of the first quarter.
They are able to produce the budgeted target in the second quarter.
In the third quarter, the chart shows the increase in production units.
The department is able to meet the budgeted targets at the end of the fourth quarter.
The production department inspected the variance between actual and budgeted targets.
The manager took some measures to increase production:
Training and Skill development program
Changed its production policy
Improved its communication channel
Maintenance of machinery
Final Words
A management report is vital in conveying essential information to different management levels. It facilitates the control function of management. These reports also highlight the area of concern and take remedial actions accordingly. It results in increased efficiency and effective decision-making.
Reports should be presented on a timely basis. The type of report is based on the purpose of the presentation. And, one must select the best and most attractive method of communication.