Definition: Mass Marketing, also known as Undifferentiated Marketing, is a marketing strategy that targets the whole market (without segmentation) with a single product. It appeals to many customers with a generic business strategy developed for a core product.
Mass marketers target one big market, offering one product for all the buyers. Therefore, the firm produces one product/product line and promotes it to all the customers using a single marketing mix.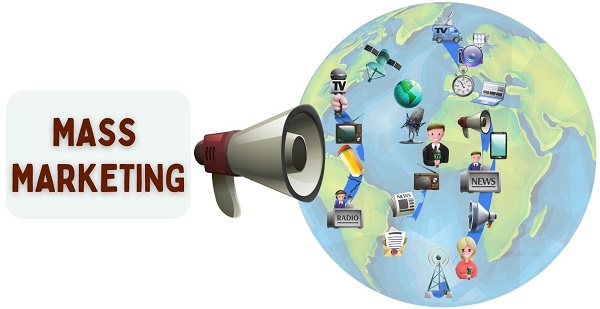 They try to reach the most buyers by mass production, distribution and promotion. For this purpose, they use a generic business strategy, positioning and a single marketing mix.
Most FMCG products like Sugar and Tea use an undifferentiated marketing strategy.
Here, marketers assume that the whole market has similar needs that can be satisfied with a common product. In this respect, it is considered as the complete opposite of Niche Marketing.
To become profitable, companies create a good image of the product in the people's mind. Consequently, they can attract and convert a maximum number of prospects into buyers.
Note: It is suitable when the variance between customer demographics and needs is negligible or indistinct.
Mass marketing is best suited for homogenous products. In addition, it is also suitable for the new products entering the market. This is because it is easy to understand customers as they have the same taste and react in a similar way.
However, the competitors may capture some percentage of market share using segmentation.
Content: Mass Marketing
Example
It is the core marketing strategy used by many businesses. Some common examples of products and brands are as follows:
1. Broke Bond Red Label
It has built a stronghold in the Indian market for approx. 115 years. To increase visibility and approach a large number of customers, it uses the following tools:
Creative Advertisement Campaign
Television Commercials
Radio
Newspaper
Magazine
2. Sanitisers
It is another product that uses an undifferentiated marketing strategy. Different sanitiser brands compete on the prices and features in the mass market to gain market share.
3. McDonald's
It uses mass marketing to promote its offerings and lower prices. Its promotional campaign includes tools like:
Advertising (from Traditional TV to social media)
Guerilla Marketing
Improvement in Core Products
Mass Marketing Strategy
It is a blueprint made especially for mass marketing that aims at attracting a maximum number of customers. A well-planned strategy that allows capturing a significant share of the market.
It focuses on appealing and attracting a large number of potential customers.
It aims to achieve high sales, which benefits the firm through economies of scale. For this reason, the expenses are less than the differentiated strategy. Consequently, it will result in a decreased price of the product, which will attract more customers.
The two popular mass marketing strategies are as follows:
Shotgun Approach
Guerrilla Marketing
Shotgun Approach
The marketing efforts do not focus on a specific customer or market segment. It aims to reach the mass population using the appropriate medium. The firm implements this with the hope of turning maximum prospects into sales.
The most common and effective mediums are Television, Cable and Radio. Besides, on the Internet, it is done through Websites, Banners, Text Ads, etc.
Note: The shotgun approach has a significant drawback in decoding. It means that each receiver decodes the message according to their individual understanding. Consequently, some might get convinced, and others may misunderstand it, leading to opportunity loss.
Guerrilla Marketing
Unlike the shotgun approach, firms use creative ways to attract customers in guerrilla marketing. They create unique, distinct, memorable and imaginative marketing campaigns. As a result, more customers will remember the advertisement, which generates sales.
Firms largely use guerrilla marketing to increase sales while minimizing the total advertisement cost.
Note: Majorly small and medium-sized enterprises use it as a strategy. But today, every firm uses it to survive in the substantially thicker competition.
Advantages
The advantages of using an undifferentiated marketing strategy are as follows:
Cost Saving: It saves the production and marketing costs due to large-scale production.
Economies of Scale: Firms benefit from achieving economies of scale due to mass production and selling.
One Distribution Channel: A single distribution channel is required as there is no segmentation.
Profitability: This strategy helps in earning high returns and profitability by capturing a large market share.
Everyday Needs: Mass marketers don't have to find anything different. They focus only on common needs between the broadest range of customers.
More extensive Base: The undistributed mass markets include the entire population. Thus, firms can create a huge customer base through undistributed marketing.
Challenges
Given below are the potential challenges that undifferentiated marketing might face:
Promotional Cost: It involves a high level of promotional cost.
Increased Competition: The firm implementing this strategy has to meet intense competition.
Less Market Share: Firms might lose their market share to the competitors.
Ear of Producer: Little or unappealing products may fail while implementing this strategy.
Ineffective for Niches: It may not satisfy the needs of specific segments or niches.
Superior Competitors: Mass marketers might face trouble in competing with focused players.
Unsuitable for Segmented Marketing: Primarily, it emerges as a failure of the segmented approach.
Types of Mass Marketing
These are also the tools for promoting products or services to an entire market segment. No one type fits all the situations. Therefore, marketers need to create a good mix of different tools and make it effective.
Traditionally, mass marketers used Radio, Television and Newspapers for promotion and awareness. However, today, numerous attractive and economical tools are available, as explained below.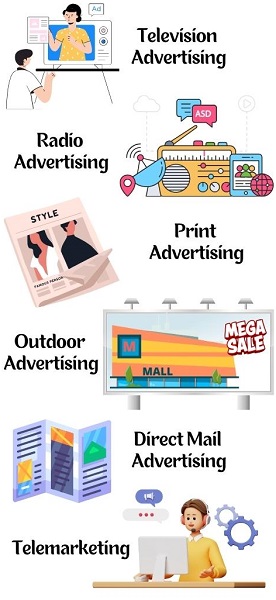 Television Advertising: It is a great medium to approach a mass audience. Moreover, it is an impactful way to promote products and services and induce them to buy.
Radio Advertising: Radio Advertisements are another popular medium to pitch a broad customer base. It helps target various demographics by running campaigns at different time slots.
Print Advertising: It includes various print publications like Newspaper and Magazines. These tools are more suitable for promoting products or services in specific geographic areas.
Outdoor Advertising: It targets a specific geographic area using Billboards, Posters and Pamphlets. However, it is restricted to a particular geographic region only.
Direct Mail Advertising: Brochures, Flyers and Emails that firms send to consumers personally. Mostly, it is effective for local businesses.
Telemarketing: It is a widely used mass marketing tool today. Here, marketers promote their offerings through phone calls to potential customers. Moreover, it is prevalent in the sectors like Banking and Matrimony.
Mass Marketing vs Niche Marketing
| Basis | Mass Marketing | Niche Marketing |
| --- | --- | --- |
| Strategy | General Marketing | Focused Marketing |
| Focus | Appeals to the entire market | Appeals to the target market |
| Scope | Limited scope | Broad scope |
| Target Market | Whole market | Target a small segment of the market |
| Type of product | Standard or general product | Specially designed product |
| Competition | High Competition | Low Competition |
| Marketing mix | Simple and general marketing plan | Specific marketing plan |
| Buyers | Homogenous Buyers | Heterogenous Buyers |
Final Words
In summary, it is a marketing technique that pitches the mass population using mass media followed by mass distribution. It ignores the market segmentation and throws one offer to the entire market.
They don't target specific customer groups but try to reach the widest audience possible. For this purpose, they identify the common needs of the entire population.