Definition: Women entrepreneurs are referred to as women or a team of women who establish an enterprise or adopt one, take the risk, plan and combine the resources needed to manage the business.
In simple words, the women lead, organize and manage their own enterprises. Moreover, they are always ready to face any financial and economic challenges attached to it.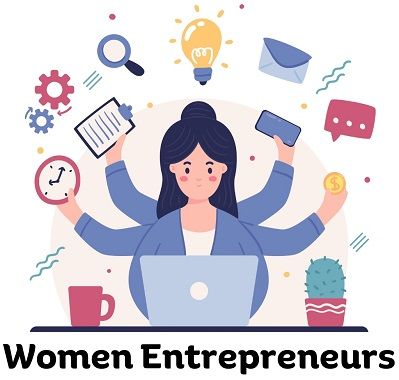 As per the government of India, a woman who owns and controls an enterprise with a minimum 51% stake in capital. Also, employ at least 51% of women in the workforce.
By establishing the enterprise, they empower themselves economically and build a societal position. They make a significant contribution to each sector of society and generate employment opportunities as well.
Women are half of the world's population and are called the 'Better Half' of society. Moreover, they are as successful and well-established as men in society.
The last few years have shown tremendous growth in women's entrepreneurship. Thus, it has become the fastest-growing entrepreneurial population in the world.
Global Entrepreneur Monitor (GEM) reports suggest that women become entrepreneurs out of motivation and opportunities in developed economies. Whereas in underdeveloped economies, they undertake this activity due to necessity.
A major section of women entrepreneurs adopts entrepreneurship intending to support their families. In addition, they have also grown in areas like:
Wealth Creation
Employment
Social Position
Economy
Education
Content: Women Entrepreneurs
Reasons
Through entrepreneurship, a woman tries to achieve economic independence either individually or in collaboration. They accomplish this while keeping up with her social, individual and family life.
Potential reasons women taking up an entrepreneurial activity are given below:
Motive to earn extra income.
Utilizing their innovative skills.
Not finding a job.
Zeel to take up new challenges.
Problems or Challenges Faced by Woman Entrepreneurs
Entrepreneurship is not the same for men and women. Women have to face some specific problems besides the general problems of entrepreneurs.
A greater section of women faces one typical problem, i.e., the absence of family support. Moreover, women residing in rural areas encounter this problem more than the urban areas.
Given below are the problems faced by the women entrepreneurs: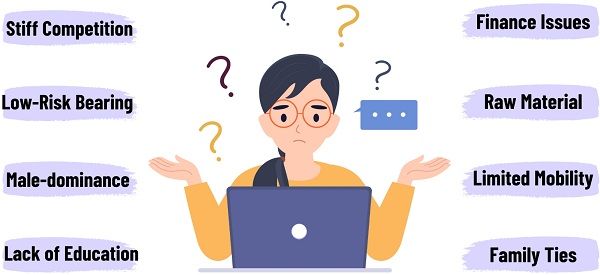 Finance Issues: Capital is required to establish a new enterprise. Female entrepreneurs suffer from a shortage of finances. Moreover, banks also consider women less creditworthy, which discourages women borrowers.
Unavailability of Raw Material: Most women face the problem of unavailability of required resources and inputs. It becomes more complicated by high-priced raw materials and fewer discounts.
Limited Mobility: Another problem is the limitation in the mobility of female entrepreneurs. They need to take the consent of their families, which makes it difficult for them compared to men.
Family Ties: Married women have to maintain a balance between their family and business. As, they have the primary responsibility towards both home and family. In contrast, men have a secondary role in the home and a primary role in business.
Lack of Education: In developing countries like India, a segment of women is still illiterate. Consequently, the lack of education causes low achievement motivation among women.
Male-dominated Society: Women living in a male-dominated society don't get the privilege and support to work. This restricts them from becoming an entrepreneur even if they want to.
Low-Risk Bearing Capacity: Entrepreneurship constantly involves risk and strategic decision-making. Being less educated and holding insufficient skills reduces women's risk-bearing capacity.
Stiff Competition: The unavailability of resources in female-managed enterprises becomes weak to compete with man-managed enterprises.
Remedies
The business world must promote women entrepreneurs to achieve sustainable development goals. By doing so, they can also clear the bottlenecks of society which restrict them from growing.
To counter the problems discussed above following remedies can be helpful: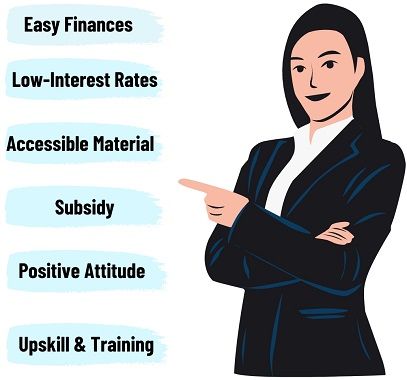 Easy Finances: Financial institutions can have a separate cell that provides easy finances to aspiring women entrepreneurs.
Low-Interest Rates: The interest rates must be lower along with easy repayment criteria. In addition, the loan procedure must be less complex.
Accessibility to Raw Material: The scarce resources must be accessible to female entrepreneurs.
Subsidy: Government must provide subsidies to women so that they can remain competent in the market.
Positive Social Attitude: There is a need to change the negative social attitude towards working women. It can be done by educating people through awareness programs.
Upskill and Training: Some women want to become an entrepreneur but don't have the required skills. Therefore, entrepreneurship training must be provided to guide women in the same.
Importance of Women Entrepreneurs
Women's entrepreneurship is an essential part of the business world. Besides business, it plays a significant role in the society national and world economy.
Women have some distinctive characteristics that can positively impact the enterprise. For this reason, both developed, and developing countries need women-driven enterprises.
The following are some female entrepreneur's characteristics that also explain their importance:
Imagination: Females have high imaginative skills. It helps them to bring innovation to business.
Openness: They are open to accepting challenges and patiently accept feedback.
Hard Working: Women have the attribute to work hard. They use their energy, intellect and skills to become successful.
Stress Takers: By nature, females are good at stress management. They have the quality to manage their family and enterprise simultaneously with efficiency.
Networking: Women in entrepreneurship gets benefitted from their skills in networking. They build a strong network which helps the enterprise to grow.
Flexibility: Women-owned enterprises are flexible as they are not ridged and are always open to endless opportunities coming their way.
Function
Being entrepreneurs, both males and females perform similar functions. Thus, the core functions like Risk Bearing, Innovation and management remain the same.
The following is the function performed by women entrepreneurs: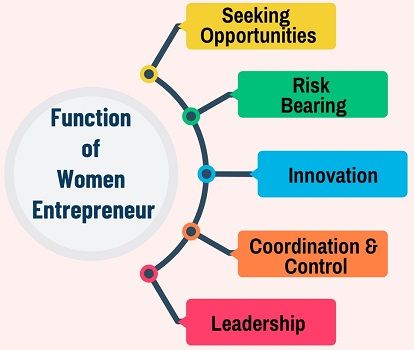 Seeking Opportunities: They are always on the hunt for new opportunities. On finding a good opportunity, they transform it into a form of business.
Risk Bearing: Any male or female entrepreneur has to bear the risks attached to the business. Only by taking risks can they expose themselves to endless opportunities for growth.
Innovation: Another essential function of women entrepreneurs is Innovation. Women entrepreneurs also have immense creativity, which helps them initiate innovation in various aspects of their enterprises.
Coordination and Control: The duty of a female entrepreneur is not limited to just setting up the business enterprise. They need to arrange and combine factors of production and ensure effective control in the enterprise.
Leadership: Besides being an entrepreneur, women must also be a leader. They have a result-oriented approach to achieving their goals, vision and mission.
Types of Women Entrepreneurs
Broadly, we can classify female entrepreneurs into the following four categories:
Affluent Entrepreneurs: They belong to the rich family and have strong backing to establish an enterprise.
Pull Factors: Such entrepreneurs are open towards challenges. Therefore, they set up their enterprise as a challenge.
Push Factors: This type of entrepreneur takes up entrepreneurial activity to deal with some financial crises.
Rural Entrepreneurs: They live and establish their enterprises in rural areas using available resources.
Preferred Industries by Women Entrepreneurs
Some common industries chosen by female entrepreneurs are as follows:
Image Consulting
E-commerce
Science
Entertainment
Health Tech
EdTech
Fashion Industry
Textile
Handicrafts
Education
Retail Trade
Small and Medium Enterprises
Successful Female Entrepreneurs World and India
Here is a list of some leading female entrepreneurs worldwide and in India.
World
Sara Blakely – Spanx (Apparel Company)
Oprah Winfrey – Media Proprietor
Arianna Huffington – Huffington Post (News Website)
Cher Wang – HTC (Co-founder)
Indra Nooyi – PepsiCo
India
Kiran Mazumdar-Shaw – Biocon Limited
Vandana Luthra – VLCC
Chitra Gurnani Daga – Thrillophilia.com (Co-founder)
Suchi Mukherjee – Limeroad (Co-founder)
Radhika Aggarwal – ShopClues (Co-founder)
Parting Words
All in all, women entrepreneurs identify the business opportunity and establish and manage a business. Besides, bearing the social and economic risks, they lead their enterprise towards success.
Thus, a highly-skilled, sound and qualified woman must be motivated to enter entrepreneurship. This one step can help them to tap endless opportunities.