Definition: Micro Finance is somehow like a banking facility that offers financial services to small scale businessmen's or to unemployed individuals who are in need of funds, i.e., it is the provision of small scale financial services to low-income persons. The term generally signifies small loans given to the clients for self-employment.
As in previous times, low-income earners are considered in the high-risk segment, and banks do not provide loan to them quickly, which gave birth to a microfinance sector in which the poor also get a service of loans, insurance, etc.
Content: Micro Finance
Process of Registration of Micro Finance Company
The process of registering a microfinance company under section 8 involves the following steps:
The foremost step in the registration process is to apply for the digital signature certificate (DSC) and director identification number (DIN). It is mandatory to have a digital certificate to fill the e-forms of the company.
Thereafter, the next step comes the registration of the name of a company in Form INC-1. It should be kept in kept while selecting the name that the name must suggest that the company is a section 8 company, i.e., the company is incorporated for social welfare and therefore, it must have the word microcredit or sanstha attached with its name.
After completing the above two steps, the company needs to draft a memorandum of association (MOA) and article of association (AAO) stating all the rules, regulations and responsibilities of the members of the company.
And at last, to obtain a license, the incorporation certificate along with all the relevant documents such as pan card, identity proof, photos of directors or members, stamp duty as applicable and any other required documents needs to be submitted.
Channels of Micro Finance
The following are the channels of microfinance:

1. SHG – Bank Linkage Program (SBLP)
SHG is a self-group well known for Bank Linkage Program. It has been started by NABARD in 1992 and is a bank-led microfinance channel in which woman of the villages are inspired to form a group of 10-15 woman's under the SHG model. These members donate their savings in a group from time to time, and from these savings, small loans are granted to the members. Afterwards, for the generation of income, these SHGs are provided with bank loans, and when new savings gathered by the members, they call for a group meeting to disburse fresh loans and recover the past loans from the members. These SHG model has become very popular and successful and gradually started getting support from various NGOs and institutions like NABARD and SIDBI.
2. Micro Finance Institutions
The institutions lending by way of the concept of joint liability group (JLG) and whose primary operations are micro-financing are widely known as microfinance institutions. There are many microfinance institutions of various size and legal forms offering microfinance services. The reason for the survival of separate institutions are as follows:
High Transaction Cost, i.e., usually these credits decline beneath the break-even point of granting loans by the bank.
Absence of Collateral, i.e., Low-income people generally do not guarantee to secure the credits.
Short duration loans are appropriated.
Higher rate of default.
Higher Repayment of Installment frequency.
Few Micro Finance Institutions in India
Annapurna Microfinance Pvt. Ltd.
Equitas Micro Finance Pvt. Ltd.
Bandhan Financial Services Pvt. Ltd.
ESAF Micro Finance Private Ltd.
Ashirwad Micro Finance Pvt. Ltd.
Arohan Financial Services Pvt. Ltd.
Importance of Micro Finance
Microfinance plays a vital role in the financial sector of the market. Following are some of the factors of microfinance: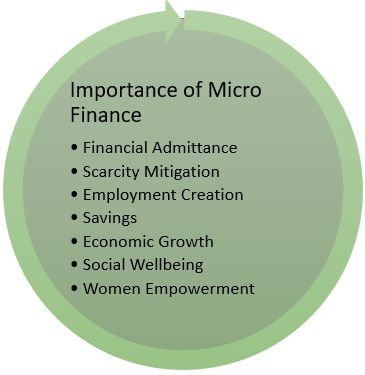 Financial Admittance
Microfinance hook-up the desirable individuals to organized banking sector from cluttered sectors.
Scarcity Mitigation
It helps to raise the income level of the poor people by providing them loans for their business which reduces their poverty level up to a certain level.
Employment Creation
Individual taking loan from the microfinance company for setting up his business also creates employment for other needed persons. Thus, it indirectly aids a number of individuals to earn some income.
Savings
It helps in developing the habit of savings amidst the individual.
Economic Growth
Microfinance raises investment, which also raises the production of goods and services. Thus, it also helps in increasing the economic growth of the nation.
Social Wellbeing
Microfinance also helps in providing loans for poor people for better health, education and family wellbeing, etc.
Women Empowerment
Microfinance aids poor woman in growing economically and socially.
Role of Micro Finance in Socio-Economic Development
Microfinance plays an integral part in resisting the poverty of nations and granting inclusive growth. Day-by-day scope of microfinance gets extended and become a source of development by overcoming the view of poverty alleviation tool. It helps in development by way of empowerment and various other development services creating economic growth opportunities. Microfinance includes a flourishing volume of literature, including its various dimensions.

Micro Finance and Poverty Alleviation
The main objective of the origination of microfinance is to grant small credits to the poor for whom it is difficult to get credits from the other financial institutions such as banks treat such borrowers as unprofitable borrowers or risky borrowers. But this myth has been proven wrong with the success of microfinance in a number of countries indicating poor as a good borrower.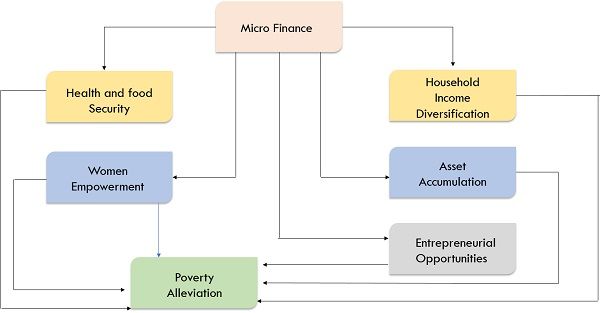 These borrowers make timely repayment with suitable incentives, even with a higher rate of interest. Non-ancillary serves as an incentive for such borrowings. By responding to economic fluctuations and shocks and by way of domestic income diversity and equalizing domestic expenditure, microfinance alleviates poverty. Yet, the poverty reduction literature impacting microfinance can be classified into two aspects, i.e., Positive impact and negative impact on poverty alleviation.

Conclusion
Microfinance can also be called small loans. It is a financial service inclined for providing help to the low-income earners or to the entrepreneurs who needs funds for the expansion of their businesses.