Definition: Business is a regular process of earning a profit by satisfying consumer's needs through the manufacturing of goods, reselling of products, providing services or carrying out all three together. It is an occupation which requires a particular set of skills and expertise to derive maximum profit out of it.
Following activities cannot be considered as a business:
Preparing food and distributing it in an orphanage;
Selling of drugs;
A mother teaches her child.
Content: Business
Nature of Business
Business is derived from 'busy-ness,' i.e. keeping oneself occupied with one or the other work, but it is much more than just being busy.
To have a better understanding of what a business is, we must go through the following points: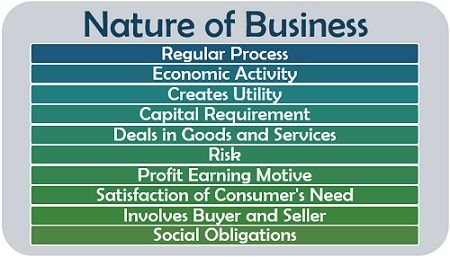 Regular Process: It is an activity which is performed repeatedly to generate profit.
Economic Activity: The whole sole purpose is maximising wealth.
Creates Utility: The goods or service must be such that it creates form utility – conversion of products in a consumable form, time utility – making the goods and services available when needed; and place utility – availability of goods or services wherever required, for the consumers.
Capital Requirement: Any venture requires fund depending on the size and its type.
Deals in Goods and Services: It is related to manufacturing and offering goods for sale or catering services.
Risk: All businesses have a risk factor or uncertainties of failure and loss.
Profit Earning Motive: The initial motive of a businessman is making a profit out of his venture.
Satisfaction of Consumer's Need: It is concerned with the fulfilment of the customer's demands and needs.
Involves Buyer and Seller: There are majorly two parties involved, the customer and the merchandise.
Social Obligations: It has some social responsibilities, like creating job opportunities, dealing with licensed products, etc.
Types of Business
The previous instance has made it clear that business involves goods or services or both. A person has first to select the kind of business line he wants to operate.
Thus, a business can be broadly classified as into the following types: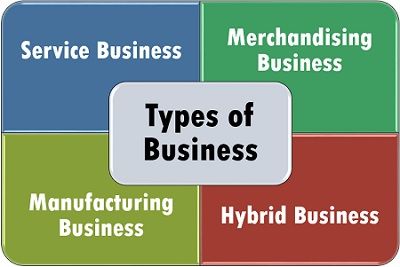 Service: An activity performed to earn money through customer satisfaction is known as a service. It involves professional skills and expertise.
E.g. A professional teacher earns money by taking tuition class
Merchandising: Merchandising means procurement of goods from manufacturers or wholesalers, at a low price and selling it at a higher price to make a profit. It is also known as a retail business.
E.g. A florist selling flowers
Manufacturing: Making profit through production or creation of goods from raw material in such a way that it derives some utility to the consumer is known as a manufacturing business.
E.g. Processing of sugarcane in a sugar mill to get fine sugar
Hybrid: A business which involves all the three activities, i.e. manufacturing of goods, merchandising of products and delivering service falls under the hybrid category.
E.g. A furniture seller, who manufactures furniture, buys old furniture and sells it at a higher price after repairing and also provides services for polishing old furniture.
Importance of Business
Business is a self-employment opportunity for a person to become self-independent and master of his ideas. It is not only beneficial to the owner but also makes an impact on society.
To get a detailed understanding of the importance of trading activities to the owner and the society, let us go through the following points: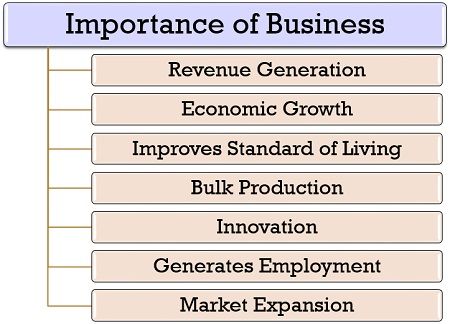 Revenue Generation: It is the key to revenue generation for the business owner since it brings in profit and proves to be a source of income for the owner.
Economic Growth: It is essential for the economic growth of a country since high revenue means higher tax collection.
Improves Standard of Living: A country with more industrial units and companies experience a higher rate of employment and better living standards.
Bulk Production: Manufacturing units involve large-scale production, which ultimately reduces the cost of production, and people get a continuous supply of goods at a reasonable price.
Innovation: It involves brainstorming and generation of new ideas which opens up the way for innovation and creativity.
Generates Employment: It is a long-term process which requires the human resource to function correctly. Therefore, it creates job opportunities.
Market Expansion: A good strategy and high customer satisfaction lead to a strong customer base aiming at market expansion.
Conclusion
In the present scenario, most of the people in search of becoming independent and create their own identity are opening startups. Though many of them fail, the ones with a proper business strategy and excellence in their operations tend to succeed.
Business is all about deriving profit out of selling goods and services ethically.
The risk is an integral part of any business, but taking the right decision at the right time is all that you need to achieve your business goals.