Definition: Zero-based Budgeting or ZBB is an analytical budgeting method where the preparation of a budget begins by assuming the base as Zero. In this, the overall process starts from scratch every time while preparing budgets.
In 1962, Peter Phyer introduced this approach of ZBB. It turned out to be an excellent tool in the field of management. This approach uses Cost-benefit Analysis and brings a radical organizational change.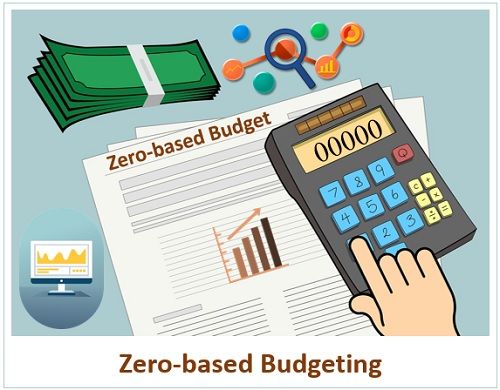 In ZBB, executives prepare separate budgets for every function or activity existing in the company. Besides, they need to justify the costs of operations to be included in the budgets.
Along with costs, they also justify the expenses included in the budget. For this, it reviews the line items belonging to the Cash Flow.
It is quite suitable for large organizations and is suggested to conduct in 3 – 5 years. Besides, one can also conduct it in rotation for all departments combined with the conventional method.
Conventionally the current year's budgets are framed by taking the previous years as a base. We refer to this type of Budgeting as Incremental Budgeting.
However, zero-based budgeting is the complete contrast to conventional budgeting. Because it does not consider previous data and is prepared from scratch.
Important Points:
ZBB does not consider previous budgeting patterns.
The balances of the previous years are not brought forward.
The New and Current year is taken as a base for Planning and Forecasting.
Review and Re-evaluation each function every year.
Content: Zero-based Budgeting
Features
Zero-base Budgeting contains some significant features mentioned below:
Zero Base: Executives do not consider any previous data while preparing budgets. It commences by taking Zero as a base and creating a fresh budget from scratch.
Creation of Decision Units: It involves the creation of Decision Units, i.e. the most minor level of activity. With the help of these units, the executives can prepare more comprehensive and accurate Budgets.
Ensures Optimization of Resources: Preparation of alternative budgets of decision units ensures the greatest use of resources.
Cost-benefit Analysis: This type of budgeting is cost-effective as it discards unnecessary activities. In addition, the final decision-making process is based on a Cost-benefit Analysis.
Bottom-up Approach: In this, budgeting begins with the lowest activity levels. Therefore we can refer to it as a bottom-up approach.
Advantages of ZBB
Following are the advantages of implementing Zero-base Budgeting:
Accurate Budgeting: The budgets prepared by this method are the most accurate ones. Because it operates upon a Cost-benefit Analysis.
Operating Efficiencies: Along with budgeting, ZBB also brings out efficiencies in the operations.
Efficient resource allocation: There is efficient resource allocation in ZBB because everything is planned from the beginning. Besides, the resource allocation is based on the need and benefits derived.
Avoid Incremental budgeting: ZBB has superseded the limitations of traditional budgeting. Therefore, companies can avoid incremental budgeting.
Eliminates unnecessary expenditure: Due to continuous review, firms can investigate wasteful spending. Thus, they can cut these expenditures.
MBO Implementation: This Budgeting method helps in the successful implementation of Management by Objective. Thus, it is helpful for achieving multiple objectives.
Disadvantages of ZBB
This method is practical and effective but also possesses some drawbacks. The disadvantages of adopting ZBB are as follows:
Involves Huge Work Force: It is a lengthy procedure and thus requires a large number of human resources for its implementation.
Complex & Time-Intensive: Budgeting through this method requires a tremendous amount of time. Because the process repeatedly iterates for every decision unit each time during budgeting.
Biasness: The ranking process may involve the executive's personal bias.
Requires Expertise: It is a complex process and requires well-trained personnel for its implementation.
Expensive Budgeting Method: In comparison to other budgeting methods, Zero-based Budgeting is an expensive one.
Suitable for Large Organizations: As it is an expensive method, small organizations may not afford it.
Process of Zero-based Budgeting
The steps involved in performing Zero-based Budgeting are as follows:
Step 1: Identifying the Decision Units
Firstly, Executives review and analyze Decision Units in the context of Expenses & Incomes. Based on the analysis, managers create separate budgets for each decision unit.
Note: The decision units are the smallest activity level of an organization.
Step 2: Preparing Unit-wise Decision Packages
Secondly, the preparation of decision packages takes place for each decision unit. These packages help in analyzing and ranking various competing activities.
Further, management may conduct a comparative analysis. As per the results, they decide whether to Accept or Reject it.
A decision package is a type of statement or document. It assists in the identification of activities. Also, it contains in-depth information about the decision units.
Format for creating Decision Package is given below: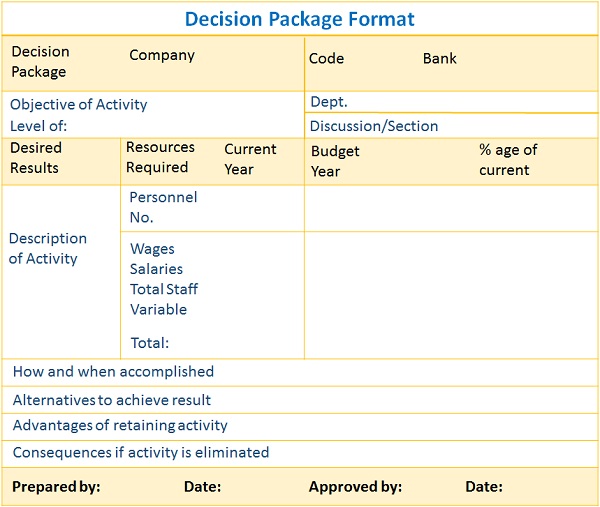 Step 3: Ranking
The third step in the forgoing process is ranking the prepared Decision Packages. The ranking process takes place by using the Cost-benefit Analysis.
Step 4: Allocation of Funds
Lastly, allocating the funds to the one topping the rank pyramid. Consequently, companies can achieve their goals and retrieve the most significant results.

Zero-based Budgeting Template
The companies can use the given below to perform ZBB.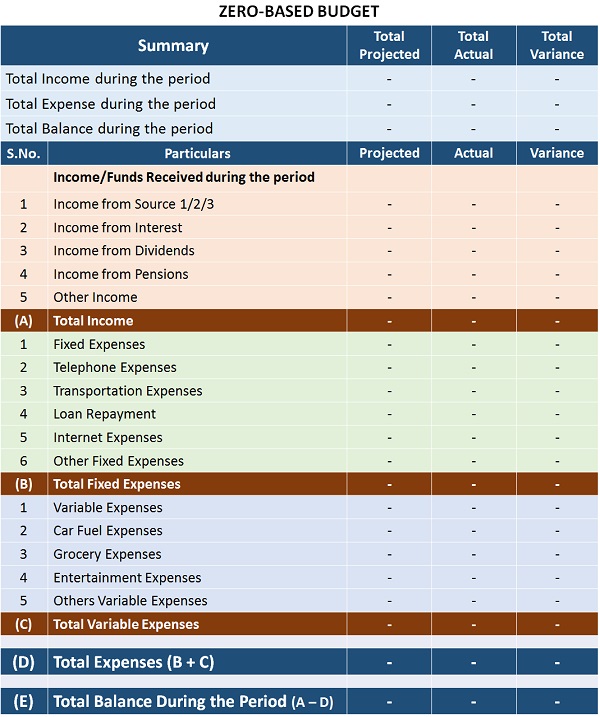 Example of Zero-based Budgeting
A clothing manufacturing firm was using a traditional budgeting method for five years. The top level has decided to switch to Zero-based Budgeting for the current year.
Following the process of ZBB, the managers conducted a Cost-benefit Analysis for all activities and expenses.
Consequently, they found out that:
They can stop the Radio advertisements as they are less relevant.
Reduce the Transportation Cost by shifting into the newly constructed warehouse.
Stop the production of products with outdated designs.
Afterwards, they prepared budgets for each activity from the lowest to the top levels.
The company noticed a significant fall in the budgeted cost than the traditional method.

Conclusion
To conclude, the Zero-based Budgeting process assumes the function cost as zero. Also, this method yields strategic and best allocation of resources.
ZBB has revitalized the idea of budgeting as it proved to be the most appropriate among all methods.
But, it is a lengthy procedure involving huge costs. Due to this reason, many firms do not adopt it for Budgetary Control.