Definition: Target Marketing is a technique which helps students or the firms to learn how to make decisions regarding the various market in which they need to enter. It depends upon feasible resources and experience of the dealer; which market has to be choosen for market targets.
By way of assessment and study of the market, the firms get to know about their business segment space. These options are required to be assessed for deciding that the firm has to enter one market or various market sectors for initiating its market programs.
Content: Target Marketing
Types of  Target Marketing Strategy
1. Mass Marketing Strategy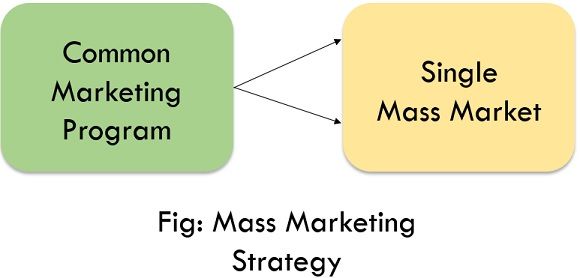 In the state, when an appropriate structure to analyze the market is not present, the number of companies opts for the mass marketing strategy. In this condition, the sellers go adjacent with the perception of the differentiated market, rather determines to sell the commodities to the entire market. The seller overlooks the perception of concentrating on any particular market sector and covers the entire market, which helps him to maintain the low marketing cost and tracking the marketing forces also becomes easier for the seller.
The seller tries to identify common aspects of the market rather than finding differences in the market, so that a large number of customer group having a common type of interest may cover under his marketing program. It's isn't easy to stand in the market with particular segment competitors as they focus entirely on a specific sector. Sellers in the product-based business generally follow this strategy as there are not many differences amongst several brands accessible in the market. Whereas, sellers of necessary product such as grains, petrol, generally follow a mass marketing strategy. Sellers who come very late in the market of a product cycle follows a mass marketing strategy.

2. Concentrated Marketing Strategy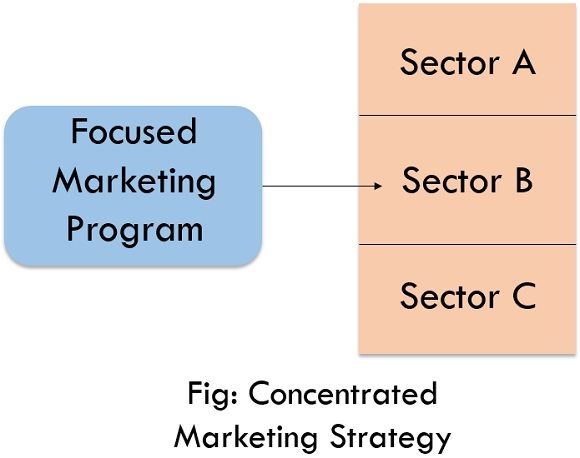 In this strategy, the merchant selects an individual sector rather than focusing on the entire market sectors. When access to the market and resources are limited, and the firm has to deal with extreme competition, the budget needs to be extended for covering the market. When a firm chooses to follow a concentrated marketing strategy, the merchant selects an immense slot instead of contending for a limited portion of significant market sectors.
Thus, this strategy seems to the best approach for small producers who serve their sectors closely and fulfill the required needs of exclusive customers. This strategy aids the marketer to cover a large market share in the modest market in opposition to fierce competitors. With concentrated marketing, companies can acquire a strong position in the market as well as in the specific segment in which they are working as they have full information about the targeted customers because of the prestige, they have maintained in a market.

3. Differentiated Marketing Strategy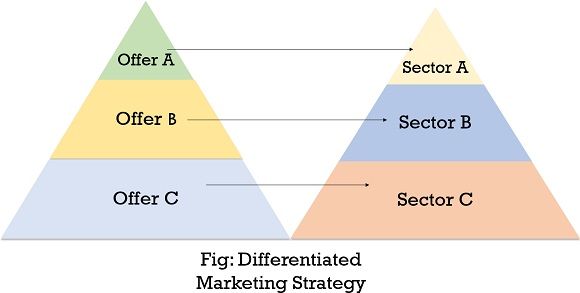 Various merchants select numerous sectors with differentiated marketing offer so that they ensemble with every area of the market. The main motive behind offering differentiated marketing proposal is to provide services to a large number of sectors and draw a higher sale from the market with a leading rank in every industry. It leads to much more sale than a mass marketing strategy which targets all market sectors for a similar kind of product.
Although, this marketing strategy becomes a little expensive than others as eminent marketing research is required in it, reaching clear promotion plans of different market sectors requires a high amount of budget. It's the marketing manager of the firm who needs to differentiate amongst the marketing cost and greater sales because of differentiated marketing strategy. Depends on the firm's available resources and ability to provide the target market manager builds the market coverage strategy. The creation of the best strategy relies on product vulnerability. The firm can follow a differentiated marketing strategy in the maturity stage of the product.

Examples of Target Marketing
Targeted Business to Customer
Let's say you have choosen Business to Customer Space and you are selling health supplements direct from your business to consumers. And you have got two different target markets that you could pursue, we call these coherent and essentially what we want to do is we want to identify a target market and an avatar for each of the coherent. So that we can make sure that work positioning our marketing accordingly, coherent 1 could be man group ages 18-25, they live in America, they like bodybuilding, cross-fit, weighting.
So, you could use this information to go out the creative campaign that's targeting them speaking their specific language, being on platforms in that they are going to be active and present. Essentially, making sure that they are telling your marketing to focus on them. Another coherent you can try let's say new mom between the ages of 25-35 years, also living in America might enjoy watching shows like the biggest looser. Have probably tried different diets before including any and are looking for the next solution to help them. Again, by clearly dialling in this coherent in this ideal target market you can start to misstructure your marketing, your messaging and making sure you are ending up in the right places to get directly in front of these people with your messaging, with your product.
Targeted Business to Business
Let's say you are selling coaching or consulting services, and you are helping health-based practitioners grow their businesses. Profit starters you probably want to set some primers around the market, maybe they are doing a million a year revenue or above. Also, because you are servicing health-based practitioners, you a really ideally kind or workaholic health-based practitioner like physiotherapists, massage therapists.
When it comes to demographic, we could be looking at also different age ranges between the ages of 35 and 55, even for psychographic details like who they follow, what kind of books they read. However, they are fictional but helps to enter the mind of your ideal target market customers; a person that you are trying to serve. The better you understand what they are going through and where they are coming from, the better your marketing is going to be.

Conclusion
Target marketing is a way of study of the environment of business moments; the seller will diagnose his firm's market sector opportunities. And such options require an assessment to enter in any sector of the market to cover the whole areas of the market for launching the market program; accordingly, the market gets targeted by the seller.