Definition: Oligopoly is defined as a market structure in which some sellers are selling similar or diversified products. In case when the company sells the same product, it is known as "pure oligopoly". For example, industries producing petrol, steel, etc. However, when the company of an oligopolistic industry sells a diversified product, it is known as "heterogeneous oligopoly". Television sets, refrigerators, cigarettes, etc are examples of heterogeneous oligopoly industries.
Bet it pure or heterogeneous," oligopoly is the most widespread form of market organization in the production sector of the industrial nations." In non-industrial nations such as India, also, most of the big and small industries have seized the features of an oligopoly market. The market share of 4 to 10 firms in 94 big and small enterprises of India is given in table 1 below:
Table 1: Distribution of industries by Market Share
| Market share (%) | Number of Industries |
| --- | --- |
| 1-24.9 | 12 |
| 25-49.9 | 14 |
| 50-74.9 | 15 |
| 75-100 | 53 |
| Total | 94 |
As, the data displayed in the above table, in India 53 out of 94 selected industries, i.e., in about 60% industries, 4 to 10 firms have a 75% or more market share which provides a concentration ratio of 0.53 or above. All such sectors can be classified under oligopoly.
Characteristics of Oligopoly
Along with the deficiency of sellers, most oligopolistic industries have various common characteristics which are as follows:
1. Linkage: In the oligopolistic market there is always a recognized relation amongst the sellers. Every oligopolist eccentric knows that changes in its product characteristics, price, advertising, etc can lead to counter-attack by rivals. When sellers are less, every seller manufactures a considerable fraction of the total productivity of the industry and may have an apparent effect on market conditions. He can decrease or increase the price for the entire oligopolist market by selling additional or less quantity and alter the profits of the other sellers. Every seller has a direct and significant effect upon every other seller in the market. Therefore, each move by one seller leads to a counter-attack by the others.
2. Publicity: The leading cause of this collective inter-collection in decision making is that one manufacture's estate is dependent on the policies and estates of the other manufactures in the industry. It is for this cause that oligopolist companies allocate enough on publicity and consumer services. For instance, if all oligopolists persist in allocating a lot on advertising their products, and one seller does not compare with them, he will discover his consumers gradually indulge his rival's product. If, on the other hand, one oligopolist sponsor his product, others have to chase him to keep up their sales.
3. Competition: This accelerates another characteristic of an oligopolistic market, the existence of competition. As under, oligopoly there are certain sellers, a move by one seller right away affect the rivals. Thus, every seller is always attentive and keeps a close watch over the actions of its rivals to have a counter-attack. It brings on intense competition based on cost reduction, advertisement quality enhancement, better service/ delivery etc.
4. Obstacles in Entry of Firms: As there is intense competition in an oligopolistic industry, there are no hurdles to enter into or exit from it in a legal sense. Although in the long-run, there are few other kinds of hurdles for an entry that tend to confine new companies from arriving in the industry. They can be:
Economies of scale relished by some of the large companies.
Management of specialized and fundamental units.
To meet the cost of advertising, plant management, a high amount of capital is required.
The company must have licenses and patents.
Getting approval and permits from the government is a tough task.
Oligopolistic industries earn astonishing profits when it becomes difficult to enter the market because of such barriers.
5. Intermediate demand curve: It's hard to find the demand curve of an oligopolist's products as it is complicated to understand the producer's behaviour with certainty under ownership. Therefore, demand cannot be starved with veracity and accuracy for the oligopolies. It is hard to find how the individual seller's demand curve resembles an oligopoly as it is risky because of the unpredictable reactions of the seller's regarding the price-output policies of competitors.

Types of Oligopoly
Oligopoly is of the following types: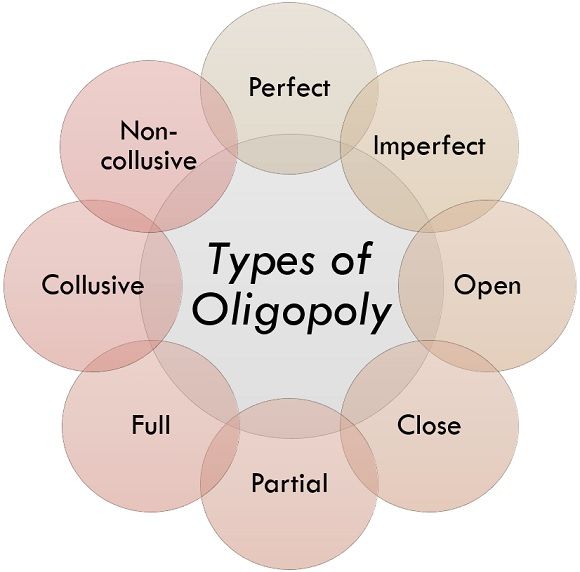 Perfect Oligopoly: The condition in which an oligopolistic firm sells homogeneous goods is known as a perfect or an ideal oligopoly, i.e., all firms sell similar kind of products such as cement companies, steel companies, they all sell a similar product with different brand names.
Imperfect Oligopoly: The condition in which oligopolistic firms sell differentiated products in the market is known as an imperfect oligopoly. For instance, Maruti and Hyundai are selling their various variants of cars in the market.
Open Oligopoly: When there will be no entry barriers for any new firm to enter into a market, such a condition is known as an open oligopoly. i.e. any firm can enter into the market without any restrictions.
Close Oligopoly: When a firm faces a various number of restrictions or barriers to entry in the market, such as technical or legal barriers that condition is known as a close oligopoly.
Partial Oligopoly: Partial oligopoly is a condition in which one firm is a price leader, who dominates the whole market and all other firms have to follow the prices and quantity set by this firm.
Full Oligopoly: If there is no price leadership and all firms are competing with each other in the market that condition is known as a full oligopoly.
Collusive Oligopoly: When two or more firms merge to maximize their joint profit that condition is termed as a collusive oligopoly, i.e., these firms don't work for their benefit, but their motive is to maximize their collective profit. It's one of the best examples is (OPEC) in which various nations work jointly as oil-exporting company groups.
Non-collusive Oligopoly: When a various company competes in the market to increase its market share, that condition is known as a non-collusive oligopoly.
Conclusion
An oligopoly is a market network where there is a limited number of firms in the industry and where every firm is linked with one another. It is a market structure where the various seller sells homogeneous or differentiated products.