Definition: Concentrated Marketing is a market coverage strategy focusing on a single target market. Marketers strategize to grab a large share of a small market instead of a small percentage of a large market. It is specifically designed to cater for a specific set of audiences.
It focuses on a single market segment. For this reason, it is also known as the Single Segment Concentration Strategy. It targets a narrow customer-specific segment and forms a marketing plan catering for their unique needs.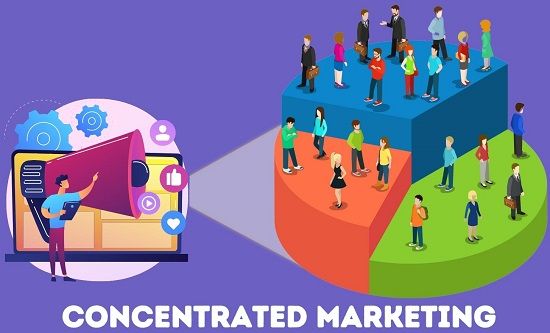 The concentrated market is small as compared to differentiated and undifferentiated markets. If it is highly defined and focused, it is called Niche Market. Moreover, it is termed Customized Marketing if firms go for individual customization.
For example, companies like Chanel, Rolex and Zapper have narrowly defined their markets. They have chosen upscale premium customers as their target market.
Here, firms benefit through understanding the segment's needs and making a strong market presence. Companies adopt this strategy when they have limited resources with intense marketing.
Mostly, small businesses use it as a strategy to compete against large organizations. However, large organizations and MNCs also occupy niches to penetrate markets. They use it as a strategy to form global depth rather than national breadth.
Concentration marketing helps firms achieve greater customer satisfaction. This is because, they develop expertise in all the stages from production to distribution.
Besides, changing consumer behaviour and buying patterns are potential risk factors for firms. Therefore, marketers try to set foot in more than one segment.
Content: Concentrated Marketing
What is Niche Marketing?
It is a unique, unidentified market segment that is a very small fraction of a large segment. These are basically untapped markets that are less competitive.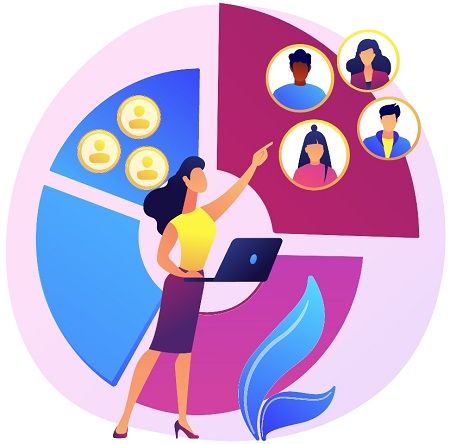 Marketers get an opportunity to set a stronghold in these markets. They accumulate complete knowledge about customer's needs and desires in the Niche they operate. Consequently, they become profitable by satisfying the customer's wishes in the best possible way.
Niche marketing is advantageous as the companies can sustain themselves against giant competitors. Big companies need to pay more attention to these segments and consider them unimportant. However, these companies go for niches to grow their sales.

Concentrated Marketing Example
Here are some examples of companies that have implemented concentrated marketing. Moreover, they achieved success and are still leading their segments.

1. Rolex
It is a luxury watchmaker that offers exclusive premium watches for over 100 years. Rolex has identified a unique concentrated market of premium watches as Niche. Since then, it has been profitable and follows the same marketing strategy.
Rolex has positioned itself as a luxury brand. It is known for its hand-crafted watches that have exclusive style. Besides, they produce limited watches and sell them at premium prices.
2. Whole Food
It is America's largest organic food retailer that deals in a single segment, i.e., natural and organic foods supermarkets. They have targeted upscale customers who are health and environment-conscious. Therefore, most of its customers are wealthy and prefer premium food products. Moreover, they are currently targeting Millennials.
3. TaskRabbit
It is a two-way platform for the Taskers (Skilled freelancers) and the Task Posters (Customers). It belongs to the service industry, which aims to provide service on the same day. They have targeted a niche market of busy moms. TaskRabbit tries to help busy moms who seek help completing their daily tasks.

Concentrated Marketing Strategy
After performing market segmentation, the next step is selecting the target market to be served. There are various strategies that marketers can use to target their markets. They can opt from three market coverage strategies as follows:
Undifferentiated Marketing (Caters mass markets)
Differentiated Marketing (Caters two or more target markets)
Concentrated Marketing (Cater's single target market)

Companies who want to dominate and lead a single segment opt for concentrated marketing. They usually spot a target from a heterogenous market.
Small firms with limited resources try to build a solid customer base. They do it by concentrating efforts on a specific group of customers belonging to a single segment.
Marketers can conduct a detailed analysis of their target consumers. As a result, they can acquire excellent knowledge about their needs, which helps them build a strong market position.
It is an effective form of marketing that enables the marketers to:
Fine-tune its products.
Effective pricing strategies.
Acquire market share and sales.
This strategy is working best for the small and upscale retailers. It helps them grow quickly with more profitability than their rivals.
Today, the internet has made things easy. Young entrepreneurs identify niches and set up e-business at a low cost. This makes them reach an unidentified market and become more profitable.

Advantages
The following are the advantages of adopting concentrated marketing:
Firms specialize in production. Therefore, they enjoy economies in operations.
They can save the cost incurred in mass production, distribution and advertisement.
Small firms enter the markets and compete with large organizations.
Marketers can build a strong market presence in the segments they serve.
Firms can dominate the market due to less competition.
It enables the firms to develop expertise in that field and is highly profitable.
Disadvantages
Along with the above advantages, marketers have to face some challenges or disadvantages given below:
There are always chances for big competitors to enter the market segment.
Competitors can launch similar products and attract customers that may lose sales.
Changes in customer preferences can saturate the segment and make it unattractive.
Marketers focus only on one segment and are entirely dependent on it. Any changes can significantly impact the firm.
Companies suffer losses if the segment turns sour due to any reason.
Along with profitability, the risk is also high due to market presence in a single segment.
Final Words
To sum up, concentrated marketing is a strategy marketers use when they target a single segment. Small businesses generally use it to enter the market with limited resources.
It is a profitable yet riskier strategy as even a tiny unfavourable change can significantly impact the companies. Marketers often need help finding such segments to mitigate this risk and diversify their offer.
Large and small competitors today enter niches even with more significant resources. The profitability depends on understanding the segment and the strategy to enter it.