Meaning: Cartel refers to a voluntary collaboration of two or more large independent businesses through formal agreements that effectively function as one entity with a uniform price-output policy to secure a monopoly in the market.
In simple words, companies with large market shares join hands to control supply and manipulate prices.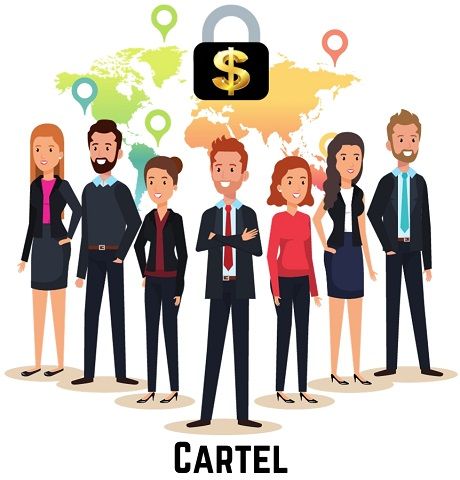 Economists call this sort of collaboration among firms as 'collusion'. Moreover, this market situation in the economy is called Collusive Oligopoly.
Business form it with the two major goals as follows:
Fixing a price for joint profit maximization.
Acquire a greater market share collectively by members.
The participating organizations or companies are called 'Cartel Members' or 'Collusive Traders'.
Note: Among cartel members, one organization becomes the central controlling organization.
Each member belongs to the same sphere of business and pursues anti-competitive behaviour. They agree to terms mentioned in the agreement like:
Sales Price
Level of Output
Customer Allocations
Market Share
Each member agrees to some production quota. As a result, the overall output decreases with a product or service price hike.
Consequently, Cartels achieve a monopoly in the market, thereby charging higher prices than the market can bear. Also, they restrict the entry of new firms into the market.
In practice, it is short-lived, and its successful implementation is rare. Generally, they only survive for approx. 5 to 8 years. This is because, the members may exit the agreement to grab other opportunities or cheat.
The word 'cartel' has developed a negative impression in the market and among customers. It might benefit organizations, but it goes against the public interest.
Collaboration of large players limits the competition, which leads to the monopoly price. Thus, forming cartels is illegal in many countries and is considered an antitrust organization.
Content: Business-level Strategy
Example of Cartels
Producer's conglomerates exist since the markets exist. In addition, we have witnessed many business unions formed for mutual benefit.
One example of a famous and successful cartel is OPEC.
OPEC stands for the Organization of the Petroleum Exporting Countries. It is the conglomerate of the leading oil-producing countries aiming to dominate the world oil market.
It began with the five member countries, i.e., Iran, Iraq, Kuwait, Saudi Arabia and Venezuela. Currently, it has 13 member countries, and an additional group has been formed with 10 members for the crude oil market.
Names of more such cartels are as follows:
Los Zetas
Sinaloa Cartel
CJNG
Beltran Leyva Cartel
Medellin Cartel
Types of Cartel
Large players in oligopolies collude to standard price-output terms to earn joint profits. This collusion can have different structures and can happen in various forms. Thus, several types or forms of cartels in economics are explained below: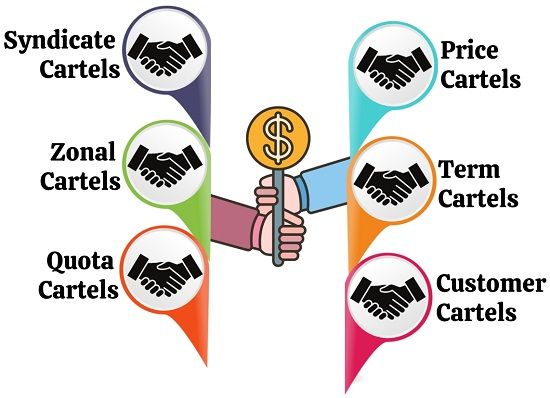 1. Price Cartels – Price Fixing
Here, members are engaged in price fixing, i.e., selling the products at the same price. The members are not allowed to sell above or below the agreed price. Moreover, they may also have to avoid discount pricing. It results in high-priced products and market inefficiencies.
2. Term Cartels – Terms of Delivery
In this cartel type, the companies collaborate and agree on the business terms and routine. Each member has to abide by these terms of delivery. Terms of delivery can be:
Delivery Mode
Delivery Location
Delivery Time
Interest Payment
3. Customer Assignment Cartels – Division of Customer
Here, the division of customers takes place among members. Such cartels are formed to ensure an even flow of revenue between members.
4. Quota Cartels – Market Share
Such collaboration aims at limiting the overall supply by allocating the production quota. The members are allowed to produce within the allotted quota. As a result, all the members get an equal proportion of the market share.
5. Zonal Cartels – Geographical Locations
Each collusive trader is allotted a specific geographical location in zonal cartels. The target market is divided into territories and allocated to individual participants. Moreover, they are expected to operate within the allotted region.
6. Syndicate Cartels – Collective Selling
The primary aim of forming such cartels is achieving economies of scale. The members do this by selling collectively, thereby reducing the cost of production.

How to Produce Cartel?
It is produced when the few large yet dominating players collude for powers and mutual profits. As a result, they form a perfect form of collusion in the oligopoly form of the market.
The corporations voluntarily come together and agree on some terms, conditions or rules. The members abide by these rules and follow the agreed price-output model. They act as a single organization headed by one controlling organization.
The collusion can be open or secret. In other words, the members can secretly form a cartel and control the prices. However, it comes under unfair trade practices. On the contrary, open collusion is the one that is legally formed.


Advantages
It benefits businesses in many ways, from controlling uncertainties to earning collusive profits. More such benefits of collaborating are furnished below:
Monopoly: Group members collectively gain a monopoly in the market. Consequently, they become powerful and earn greater profits.
Joint Profits: The collaboration happens in a way that can benefit all the members. Thus, all of them earn joint profits.
Higher Margins: The few prominent players collaborate in the oligopolistic market. Therefore, even the supplier can have higher margins.
Unaffected Business Cycle: The agreement does not affect the business cycle of the collusive traders.
Economies of Scales: Each member enjoys economies of scale.
Disadvantages
It benefits the union members but is rarely beneficial for the economy. Some of its disadvantages are as follows:
Control Market: The group achieves monopoly and controls the entire market.
Expensive Products: Prices rise, and products or services become expensive.
Restrict New Entrants: It acts as a barrier for the new players who try to enter the markets.
Difficulty in Scaling: Due to production quotas, the collusive traders cannot scale their operations.
Cheating: Any group member can ditch and cheat on other members.
Illegal: It is considered illegal in many countries and is punishable.
Effect of Cartel on Economy
Basically, it is formed for the benefit of the union members. As they form, it maximizes their profits by charging a monopoly price. However, this eliminates market competition and leads to issues like:
Reduction of Supply
Price Fixing
Collusive Bidding
Marketing Carving
Why do Cartels Fail?
As discussed in the beginning, only a few cartels work and become successful. Below are some of the potential reasons for their failure:
It is hard to organize all the producers to work together.
Difficulty in convincing collusive traders to a common price, output and profit sharing.
Monopoly profits attract new companies to enter the market with competitive prices.
The members may cheat and sell more than the agreed quota.
Bottom Line
Through cartels, businesses reduce uncertainties and gain the most out of the market. Consequently, each member manages to earn decent profits. Besides, the union must find ways to spot and discourage cheating.