Definition: Blue chip stocks are the secured, stable and less volatile shares of those reputed and well-established companies which have huge market capitalization. These entities are considered to be industry leaders. Example; some of the high valued blue chip stocks are Bosch Ltd., Maruti Suzuki India Ltd. and Bajaj Finance Ltd.
What are Blue Chip Companies?
Blue chip companies are the market leaders and hold high goodwill with a consistent performance history of being into the business for years. These companies are:
Well-Known for its quality and consistency;
Established for years and have a clean record in the market.
Secure to invest in, since they have been known for the stability of earning and providing regular dividends to their shareholders (even in adverse economic conditions).
Content: Blue Chip Stocks
Features of Blue Chip Stocks
What is exactly a blue chip stock? How can it be differentiated from the other commodities?
To get the answer to the above questions, we must go through the following characteristics of the blue chip stocks: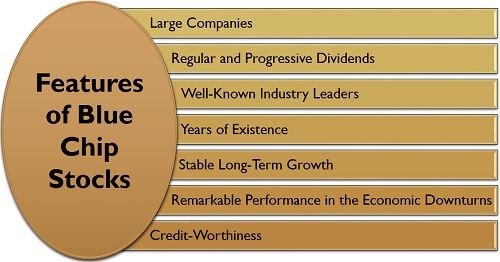 Large Companies: The companies which perform as blue chip companies are usually big brands having a large scale operation and vast market.
Regular and Progressive Dividends: These companies pay out dividends to the investors even in bad times, which makes them quite reliable and secured.
Well-Known Industry Leaders: These stocks belong to the companies which hold an excellent reputation for leading the market and hold expertise in the business.
Years of Existence: The blue chip stock is the result of hard work and growth of the company over a while. These companies are into the business and excel in it for many years.
Stable Long-Term Growth: The records of such stocks show that there is a consistency in the returns generated over a long period.
Remarkable Performance Even in the Economic Downturns: When we talk about blue chip stocks, it can be recognized as one of those stocks which perform well even when there is a downfall in the market or economy.
Credit-Worthiness: The blue chip companies hold high creditworthiness, i.e., such companies have the capability of paying off their debts and other financial obligation.
Advantages of Blue Chip Stocks
Nowadays, the investors are taking more interest in the blue chip stocks and looking forward to including at least one such stock in their portfolio to hedge the risk. Let us now discuss the various benefits provided by these stocks:
Easy Accessibility: The blue chip stocks are convenient to buy or sell. They are listed on the blue chip index where the investors can keep an eye on their stock prices.
Regular Dividends: These stocks are known for providing routine returns in the form of dividends to their shareholders as a result of their efficient dividend policy.
Intelligent Management: These stocks belong to the companies which are smartly managed. In situations like a recession, these companies can create stable profits.
Competitive Advantage: The value of blue chip stocks are usually high than that of its competitors, owing to the reputation and goodwill of respective blue chip companies in the market.
Stable Earnings: These companies rule the market and successfully generate earnings by making steady profits over a long period.
Tax Exemption: The investors have the benefit of tax exemption on the dividends paid on the blue chip stocks.
Diversification: Due to the consistency of returns, these stocks help to diversify the portfolio and balance the loss of other commodities.
Long-Term Returns: These stocks provide stable returns in the long run.
Disadvantages of Blue Chip Stocks
Blue chip stocks are considered to be one of the most secured investment. But it is a myth. After all, they are also dependant on the market conditions and the company's performance. And as we know, every business involves risk.
Following are the inevitable limitations of these stocks: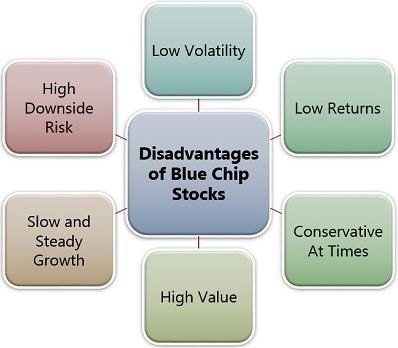 Low Volatility: Blue chip stocks are quite stable with a robust financial position and therefore considered to be unsuitable for making profits through the day to day trading.
Low Returns: Though these stocks provide regular returns, but the dividends are usually of little value and not that impressive.
Conservative At Times: These stocks belong to big brands which hold a high reputation in the market and therefore are resistant towards high risk involved in taking up new business opportunities.
High Value or Expensive: The price of these stocks is quite high since they belong to large-cap companies and have appreciated over the years of consistent performance.
Slow and Steady Growth: The blue chip stocks show a progressive growth but cannot be termed as high return investment due to stable earnings.
High Downside Risk: There is a considerable market risk associated with the blue chip companies too. The reason being, some of these organizations fail to keep up with the competition, leading to the downfall of their stock prices.
Tips for Blue Chip Investment
Investors find the blue chip stocks very attractive and usually invest in relate fancy brand names by just looking at their impressive dividends. Investing in these stocks can even lead to huge losses if a proper analysis of the companies not done.
Given below are some tips to help you with the smart buying of blue chip stocks and select the companies wisely:
Invest in companies with low debts since such companies have a strong financial position to face adverse situations.
Thoroughly research the particular blue chip company before investing and go through the records up to at least five to ten years.
Invest in the stocks of quality (i.e., massive, financed conserve, stable earnings, prominent and good credit position) blue chip companies to ensure long term benefits.
The investor should look for stocks which are fundamentally good and technically sound to implement risk management strategies at the time of market failure.
Diversify your portfolio to invest in at least five different sectors of primary importance including finance, manufacturing industries, consumer, utilities, commodities and resources to reduce risk and maximize returns.
Hire an experienced broker for better portfolio management.
Avoid selecting high dividend-paying blue chip stocks since extraordinary returns may be quite risky.
Conclusion
For the short term trading, blue chip stocks are not at all a suitable option, since they are less volatile and have slow growth.
However, for the investors who are risk evitable and look forward to putting in their money in big brands for substantial returns over a long period, can benefit from investing in these stocks.
Since the technology is changing at a rapid speed and some well-known brands like Kodak have failed to keep up with the competition resulting in the price crash of its blue chip stock.
The investor needs to be very careful with the blue-chip investment in the present scenario.