Entrepreneurs turn their aspirations into reality. Many aspiring and existing entrepreneurs actively engage in entrepreneurial activities. Over the years, researchers have studied entrepreneurial behaviour and found several Types of Entrepreneurs.
They are engaged in various activities in the IBS sectors (Industrial, Business and Service). Besides, they are also involved in agriculture and commercial activities.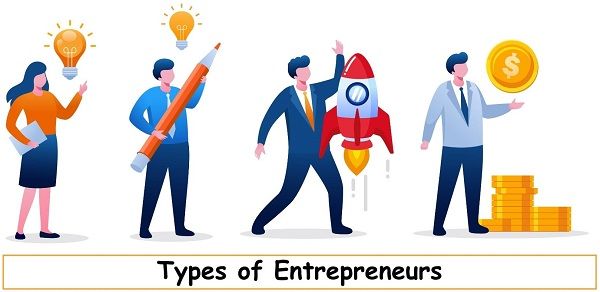 Types of entrepreneurs are alternatively known as:
Entrepreneurial Modes
Different Forms of Entrepreneurs
Classification of Entrepreneurs
Every individual is different on the behavioural front. This makes it challenging to classify entrepreneurs into different categories. However, they are still classified based on certain parameters, such as:
Origin
Location
Area of Operation
Type of Business
Use of Technology
Understanding the different forms of entrepreneurs is vital to take the right path in the entrepreneurial journey
. This is because, each form has its unique style, roles and
functions
. At the same time, they share some common characteristics too.
Aspiring entrepreneurs can decide the type of entrepreneur they want to become. Also, they can form their own rules to be successful in their entrepreneurial journey.
Content: Types of Entrepreneurs
Types of Entrepreneurs
Classification of entrepreneurs can be done on the following bases:

Denhof's Classification or Basic 4 Types of Entrepreneurs
Clarence H. Denhof suggested four basic types of entrepreneurs based on his study of American Agriculture.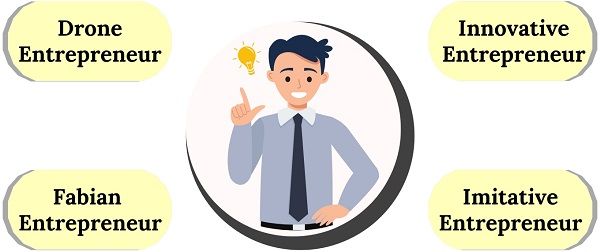 1. Innovative Entrepreneurs
This type of entrepreneur is always on the hunt for opportunities for innovativeness. They prefer to step into new markets, launch new products and introduce new technologies.
Such entrepreneurs bring a positive transformation in people's lifestyles. Thus, they are beneficial for their country and its economy.
Note: They are mostly found in underdeveloped and developing countries.
2. Imitative Entrepreneurs
They are alternatively known as Adoptive Entrepreneurs. This type of entrepreneur imitates successful innovative entrepreneurs. Simply put, they copy already established entrepreneurs' knowledge, methods and technology.
They do not innovate anything new. Rather, they copy and improve the existing innovative methods and techniques to gain an advantage in the market.
It is most suitable for the underdeveloped countries. This is because, they apply new and improved factors of production to the tried and tested practices.
Note: It generates employment. For this reason, it is considered the agent of economic growth.
3. Fabian Entrepreneurs
Fabian entrepreneurs are extremely cautious, resistant and doubtful towards changes in their enterprise. They are less open to innovating and adopting new methods or technology.
They follow their predecessors and stick to their traditions, customs, religion and past practices.
Like imitators, they also imitate the existing innovators. But only when there are high possibilities of suffering huge loss in business.
4. Drone Entrepreneurs
These entrepreneurs are very stubborn in nature. They possess an orthodox and conservative outlook and continue to use old-fashioned practices. For this reason, they are also called Laggards.
Such entrepreneurs prefer to keep everything in their enterprise the same. Consequently, they lose their market and are sometimes even wiped out of the market.
Drone entrepreneurs rarely make out in the long term.

Behavioural Classification of Entrepreneurs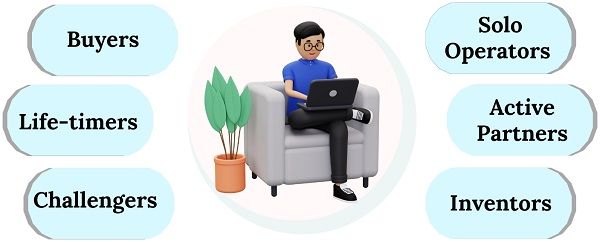 5. Solo Operators
As per their name, they prefer to go solo and set up their business individually. Therefore, they invest capital and use their intellect, knowledge and skills in their business.
Usually, these entrepreneurs are seen in the proprietorship business. Moreover, if their business expands, they can hire employees under them.
6. Active Partners
Here, more than one entrepreneur comes together and forms an enterprise. All the partners put in joint efforts with the motive of making a successful enterprise.
It is practised in a Joint venture form of business. Some sleeping partners might bring in the capital but don't participate actively.
7. Inventors
Such entrepreneurs are majorly engrossed in research and development activities. They have a creative outlook and are always working to develop new Products, Technology and Production Processes.
8. Challengers
These entrepreneurs are the ones who are attracted towards challenges. They have the skills to transform odds into opportunities and make them profitable. Therefore, they establish a business by landing into uncertainties to earn profits.
When one challenge seems to meet, they are up for another challenge. Such entrepreneurs grow their businesses by constantly taking up new challenges one after the other.
9. Life-timers
Life-timers consider their business a core part of their life. Individuals operating businesses based on their personal skills fall into this category.
10. Buyers
Buyers always seek opportunities to buy an ongoing business or are ready to be seized. They do so because they want to avoid taking the risk of setting up the enterprise from scratch.
Moreover, if they buy a sick unit, they will revive it by investing the necessary resources.

Technological Classification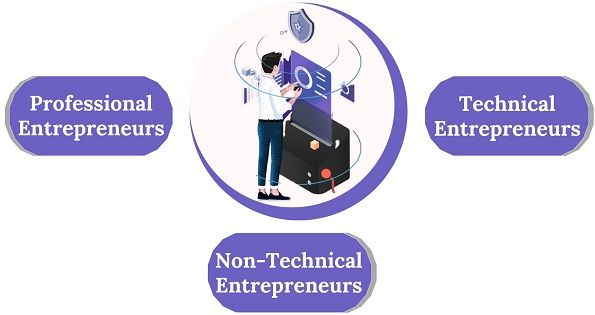 11. Technical Entrepreneurs
These entrepreneurs have sufficient knowledge to develop new products using innovation and craftsmanship. In addition, they try to improve the quality of goods and services.
They focus more on the product's production rather than marketing and selling.
12. Non-technical Entrepreneurs
Non-technical entrepreneurs are the complete contrast to technical ones. They are concerned about the product's promotion part, like marketing and distribution strategies.
13. Professional Entrepreneurs
This type of entrepreneur is more inclined towards establishing an enterprise or developing a new product. However, they are not interested in managing and organizing it. Thus, they sell off their business and start working on another one.

Classification Based on the Type of Business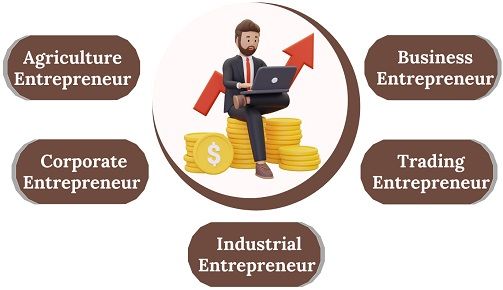 14. Business Entrepreneur
Anyone who converts their ideas into reality in the form of some product or service is a Business Entrepreneur. Such entrepreneurs are the most common class of entrepreneurs. We can also say that maximum business owners are business entrepreneurs.
15. Trading Entrepreneur
This type of entrepreneur only considers trading activities. They promote their products and try to get a big market share.
16. Industrial Entrepreneur
Industrial entrepreneurs are majorly involved in the manufacturing of products. They study the market and identify the customer's needs, and manufacture a suitable product to meet the same. These entrepreneurs are crucial as they significantly contribute to the country's economy.
It includes all the entrepreneurs working in the following sectors:
Large Scale Business
Medium Scale Business
Small Scale Business
Tiny Scale Business
Micro-enterprises
17. Corporate Entrepreneur
These entrepreneurs focus on managing the corporate undertaking with utmost efficiency. They use intellect in innovative ways to effectively perform the functions of management.
18. Agriculture Entrepreneur
As their name suggests, these entrepreneurs undertake agricultural activities. They use traditional and modern methods for production and marketing functions to make it profitable. Some activities include:
Crops Plantation
Cash Crops
Horticulture
Floriculture
Animal Husbandry
Other Classification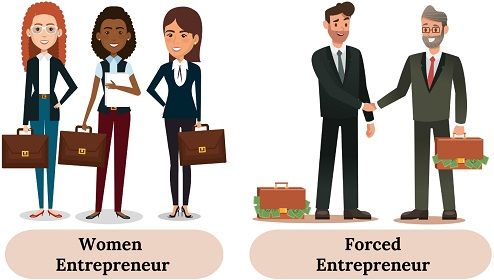 19. Women Entrepreneurs
Woman Entrepreneur implies that a woman or a group of women starts and operates a business organization. There has been a significant rise in the number of women entrepreneurs over the years.
20. Forced Entrepreneurs
Forced entrepreneurs are those who forcibly become owners of an enterprise. The potential reason for the same might be due to inheritance or unsaid pressure of engaging in entrepreneurial activity.