Definition: Business Plan is an outline of a business project in a written form, i.e., a summarized structure of a scheduled business which includes all the details of business relating to finance, marketing, etc. For running a smoother business, there is no alternative other than making an efficient business plan. However, in various sectors, it can be called with distinctive names such as Investment Prospectus, Loan Proposal, Venture Plan, etc.
Content: Business Plan
How does Business Plan Work?
Business plan helps the organization to make a road map of their business idea to enhance the chances of getting success. In case, a business needs financial help from the market to start their venture; an efficient and investor-ready business plan plays a significant role as it demonstrates a clear picture of the financial projections and predictions to the investors and helps them in deciding is it viable to invest in such business or why or how this business is good to invest?

Formats of Business Plan
Some of the formats of a business plan are as follows: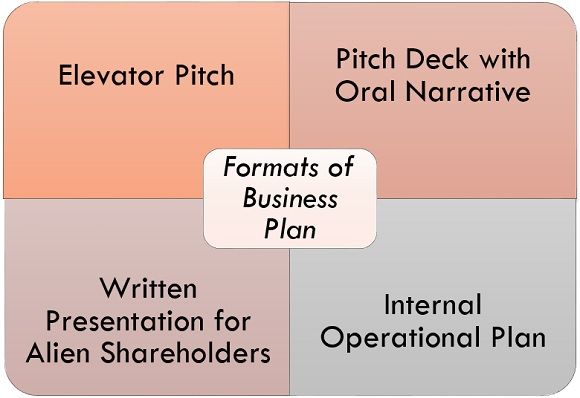 To promote a business and to attract potential investors for creating his interest in our business. In this format, a 3 min summary is made and showed as a teaser to the investors, and further details will be given afterwards. Thus, it is a teaser of a business plan but not an actual business plan.
Pitch deck with oral narrative
It is an extension of a teaser or can be said as a trailer of a business plan which shows the entertaining slideshow in which we give enticing details of a business to attract a potential investor towards your business. In this format, an overview is given to the investors so that if your business idea matches with their forte or likings, then they will gather further information about your business plan. In short, in this format entrepreneur tries to generate the interest of potential investors by provoking a conversation. This format includes a managerial summary and key graphs so that information can get concise in slides and helps in providing such data which is attractive to trigger discussion.
Written Presentation for Migrant Shareholders
This format is detailed and well written and is pleasingly formatted to target migrant shareholders for giving them full elaborated detail of the business plan. This format is given to only those persons who are interested in your business plan and has already been introduced with an elevator pitch deck with an oral narrative format.
Internal Operational Plan
Internal Operational plan format consists of very detailed information, i.e., absolute detail information which are used to operate your business in reality, it is not shown to external shareholders as it will not make any impact on their right. There is nothing left over, which is not concluded in this format of business plan.

Elements of Business Plan
However, every business plan has unique elements, but some elements are universal; amongst them, few elements are described below: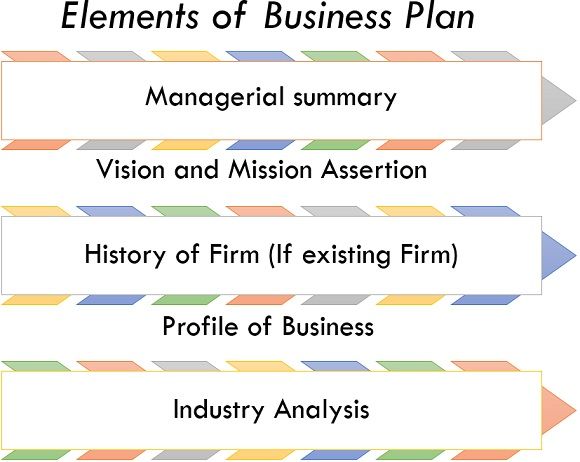 The managerial summary consists of the company's name, address, description of the business, an overview of your product market and strategies that take a company to a level of success.
Vision and Mission Assertion
It defines an entrepreneur's vision for the firm as well as ethics and principles which the business has to follow, and it also clarifies that what makes your business unique from others.
History of Firm (If existing Firm)
Business plan of an existing firm must contain its previous year's history, its foundation date, financial and operational highlights, as well as significant achievements of a firm in the last working years.
Business plan involves the business profile, i.e., whether the business is a start-up, growing business, or a matured business, as well as company's goals and objectives are also included in a company's business plan.

Importance of Business Plan
The following are the points showing the importance of a business plan for the entrepreneurial groups: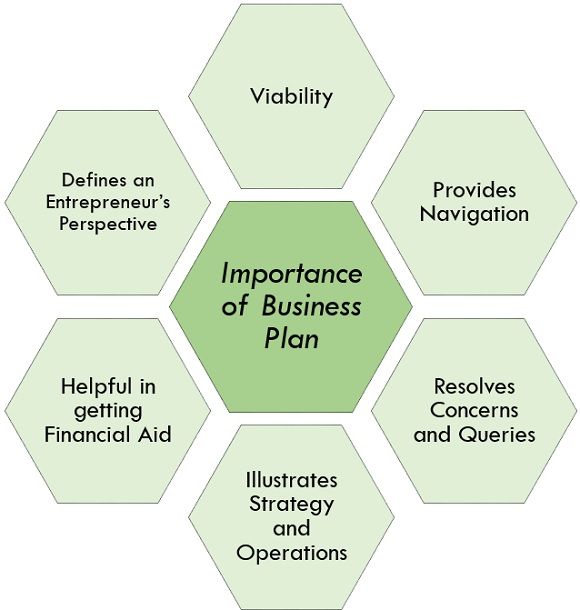 Defines an Entrepreneur's Perspective: By facing anxiety-ridden and tense experience, the team shorten it in establishing and writing the business plan. It defines an entrepreneur's point of view in projecting the risk that may arise in future business and aids in finding out the potential outcomes of the new business and reducing the fear of future uncertainties.
Viability: An comprehensive business plan clearly describes the viability of a new venture, i.e., whether it has chances of growth in future or not, can be projected precisely with an efficient business plan.
Provides Navigation: A proper business plan gives directions regarding resources required, i.e., which licenses needs to be obtained and all other legal requirements which needs to be fulfilled for the business.
Resolves Concerns and Queries: Business plan gives an answer to the questions or the queries of the interested parties who want to make an investment in a venture.
Illustrates Strategy and Operations: Business plan demonstrates the strategies made for the business operations, which helps the entrepreneur in solving the issues prior to it becomes a problem. In case any dispute arises in future, an entrepreneur can also refer to a business plan for the solution.
Helpful in getting Financial Aid: Making a business plan becomes useful for the businessman who is in need of funds to run their venture efficiently and effectively in long-run. As outside sources like banks and other financial institutions grant funds to the entrepreneurs based on their business's soundness as mirrored in the business plan.
Industry Analysis: The business plan of a company consists of a background and overview of industry and, along with that significant trends, key success factors, as well as an outlook for the future.
Conclusion
A business plan is a layout which should be followed to make the business successful as it identifies the external and internal environment to set aside all the resources in the best possible way. Investors also trust the businesses to invest their sum, which has an efficient and effective business plan showing clear financial projections and chances of getting success in the projected business.