Definition: A successful entrepreneur is a person who with his passion, determination, persistence and right attitude takes the initiative, generates an idea and develops a product or service which can be sold in the market. He can transform his vision into reality and is focused on achieving his goals.
Entrepreneur: An entrepreneur is a person who develops an idea and converts it into reality by creating a saleable idea, product or service.
Example; Elon Musk have emerged as a technology entrepreneur who successfully developed electric cars for the company Tesla, Inc.
Through his innovation, he served the company's motive of manufacturing something better than those gasoline vehicles which emitted high pollutants at affordable prices.
To know more about entrepreneurship and real-life entrepreneurs, you may refer to the 'Case Study on Entrepreneurship'.
Content: Successful Entrepreneur
Qualities of a Successful Entrepreneur
A successful entrepreneur takes challenges, accept his failures and never give up in a difficult situation.
There are several other qualities and traits which are shared by almost all the successful entrepreneurs. These are as follows: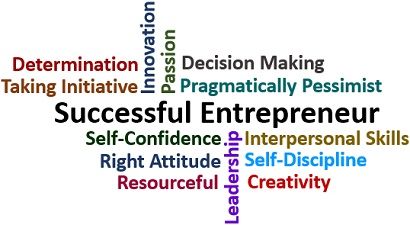 Passion: An entrepreneur loves whatever he does and therefore is highly focused on his goal achievements. Moreover, he keeps on finding new ways to modify business through research.
Innovation: It all starts with the idea that a person moves in the direction of becoming an entrepreneur. Innovation is essential for development.
Creativity: A different perception and imagination help an entrepreneur to see things differently than others do. Creativity generates ideas and initiates problem-solving.
Taking the initiative: A successful entrepreneur is a self-starter. He proactively takes the effort to bring about a change in the present scenario.
Self-Discipline: He is organised and schedules his work and other activities by priorities. He is not only disciplined in his professional life but also his daily chores are systematically managed.
Right Attitude: A successful entrepreneur has a positive attitude, ability to think out of the box and capture new opportunities and talent, which adds to his vision.
Determination: He is always firm on his decisions and works hard to attain his vision. His commitment and never give up attitude makes him successful.
Interpersonal Skills: Business is all about effective communication. A successful entrepreneur is always good at maintaining cordial public relations with his employees, customers, suppliers, partners, stakeholders and associates through regular interaction and feedback.
Pragmatically Pessimist: An entrepreneur foresees the risk and prepares for the worst of the situations. He is more concerned with the negative aspects of a business than the positive ones, which is indeed a practical approach.
Decision Making: Decision making is a skill, and a successful entrepreneur does not let the opportunities go. He has the potential of taking the right decisions at the right time with the right attitude.
Resourceful: Being resourceful here means having a solution to every business-related problem. Say if there is a shortage of particular raw material, an entrepreneur always has a backup supplier to keep the production going.
Self-Confidence: The entrepreneurs are confident about their ideas and knowledge, on which their business is based upon. They have a strong intuition that they will succeed sooner or later.
Leadership: It is impossible to carry out a business solely. It is a combined effort of the people who are associated with the company in one or the other way. Thus an entrepreneur must have the ability to influence people to achieve his business goals.
Types of Successful Entrepreneurs
Every entrepreneur has a different style and his way of doing things.
Based on their qualities or traits, the entrepreneurs are classified into the following different types: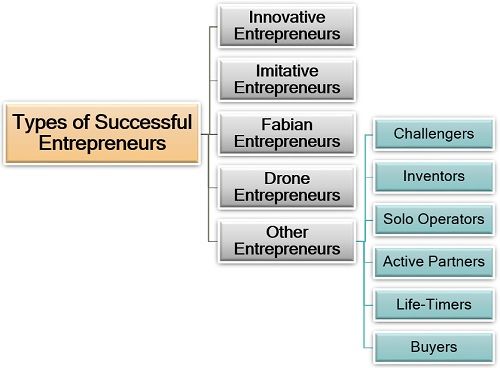 Innovative Entrepreneurs
They are the creators of something new. Such entrepreneurs initiate an idea to generate a unique product or service or make the existing one better. Creative entrepreneurs are essential for developing the economy of a country.
Imitative Entrepreneurs
These type of entrepreneurs are usually adaptive and imitates the innovative entrepreneurs to absorb the technology or the methods developed by them. Although they follow the business idea, which is already established and tested by others, they organise the factors of production in their way.
Fabian Entrepreneurs
These type of entrepreneurs are the safe players and avoid taking a risk or experimenting with the business. Fabian entrepreneurs take risk only when they realise that beyond this extent, it will be challenging to run the business without bearing risk.
Drone Entrepreneurs
The entrepreneurs who are not very adaptable to change or new technology are termed under drone entrepreneurs. They are extremely rigid for following conventional ways even if it results in the downfall of the business.
Other Entrepreneurs
Other than the types of entrepreneurs mentioned above, there are some more categories under which the businesspeople are classified, these are explained as below:
Challengers always seek new challenges; they are quite adventurous and keeps challenging themselves to face new opportunities and fulfil them.
Inventors are the entrepreneurs who are more of the researchers and takes an interest in inventing new products or services are known as inventors.
Solo operators are the entrepreneurs who start a project solely without involving others. They employ limited people only if they feel the need to do so.
Active partners are the entrepreneurs who start a business in partnership with others and contributes their efforts in the business operations along with investing capital.
Life-timers take the business very seriously. Their life revolves around their business since they make a living out of it.
Buyers are the entrepreneurs who try to play safe by buying a stable existing business idea or company instead of setting up a new business which involves many risks.
It is a whole journey which starts from being a wantrepreneur to becoming an entrepreneur and then rising as a successful entrepreneur.
Today, these entrepreneurs own big brands which are boosting the economy and living standards in the country. Intrapreneurship is another emerging concept which enlightens the hidden talent of the employees.