A segment of the workforce that is sufficiently educated and skilled is Jobless. It is not merely an issue but a critical macroeconomic problem for countries. Read through this post and learn the main Types and Causes of Unemployment.
All non-working persons can't be called unemployed. But, a person is said to be unemployed when they are educated, skilled and willing to work at the existing wage rate and still cannot secure a job.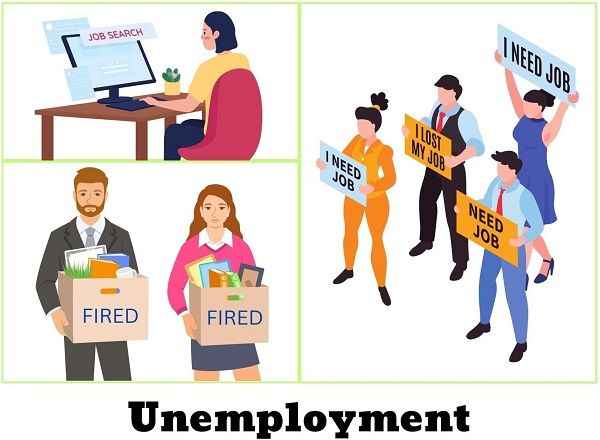 Based on the above information, we can call a person unemployed when they are:
Not working either temporarily or permanently.
Mentally and physically ready to work.
An active candidate who searched for a job in the last four weeks.
It is a socio-economic problem which persists in both developed and under-developed countries. Consequently, it gives birth to severe economic problems like – Poverty and Income Inequality.
Thus, the level of unemployment can depict the well-being of the economy. We can estimate it by measuring the Unemployment Rate. The formula for the same is as follows:
Unemployment Rate = (Unemployed Workers/Total Work Force) × 100
Content: Types and Causes of Unemployment
Types of Unemployment
Different types of unemployment exist based on the nature, duration and causes. However, it is broadly categorised into two categories, i.e. Voluntary and Involuntary Unemployment.
Voluntary Unemployment: The individuals belonging to this category remain unemployed due to personal reasons.
Involuntary Unemployment: It is caused by several socio-economic factors impacting a significant number of skilled individuals.
Besides these, the main types of unemployment are as follows: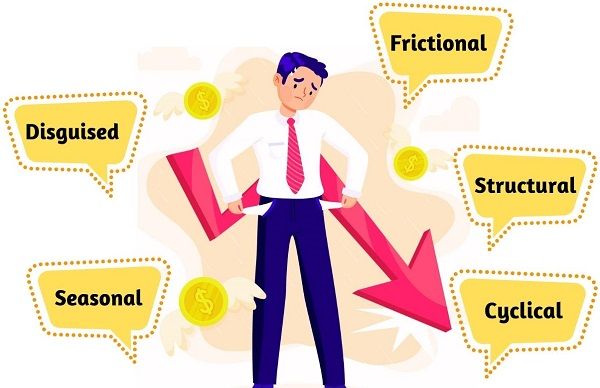 1. Frictional Unemployment
It is the duration when people are in search mode, i.e. looking out for jobs. Moreover, it is a time lag between the last job and the aspiring job.
It is alternatively known as Temporary Unemployment. This is because people will get employed as soon as they get a good job opportunity.
Besides, the ones looking for a job for the first time also belong to this category.
Thus, the causes of temporary unemployment can be:
Switching the current job role for a break.
Searching job for the first time or freshers.
Resuming work after a career gap.
For Example, Students look out for a job post completing their education.
2. Structural Unemployment
It happens due to the imbalance between the requirements and skill set. Simply, after a certain period employee's skill becomes obsolete and is not required by the employer.
The everchanging consumers demand motivates employers to make advancements in products and processes. To match the customer's expectations, the employers upgrade themselves technically and economically.
For example, The installation of automated machinery replaces a large number of workers. Thereby making these workers unemployed.
3. Cyclical Unemployment
Cyclical unemployment is the by-product of the poor economy. A poor economy means an economy-wide downfall in the demand and supply of goods & services.
In this situation, the corporations stop hiring and go for cost-cutting. Consequently, employment declines, and we encounter a corresponding increase in unemployment. For this reason, it is also called Demand Deficit Unemployment.
For Example, Many people get unemployed when an economic recession occurs.
4. Seasonal Unemployment
As its name suggests, people get temporarily unemployed during a particular season.
It occurs on specific events and occasions and is mostly observed in the agricultural sector. People are engaged in farming days and unemployed during non-farm days.
For Example, The framers remain unemployed during the non-cultivation days.
5. Disguised Unemployment
It is a type of unemployment which actually doesn't seem like unemployment. It is the situation when firms employ more people than required at the workplace. We can understand it as a crowded workplace.
In this situation, deserving and skilled employees also get paid less than the current wage rate.
For Example, factories employ more workers than required at lower wages.
Note: The frictional and structural unemployment in total form the natural unemployment rate.
Underemployment
It is when people work either overtime or part-time due to a lack of employment opportunities. The major part of this category is Females, Older Workers and Younger Workers.

Hidden Unemployment
Sometimes people look for a job for a long time and then give up. However, they are willing to work if they get a good opportunity. These people fall into the category of Hidden Unemployment. Such people are known as Discouraged Workers.

Unemployment Trap
To support unemployed people government often provides some welfare benefits. Some unemployed people enjoy these benefits and lose the urge to find a job and work. It ultimately discourages people from getting back to work.
Causes of Unemployment
Unemployment is not a natural phenomenon; instead, it is triggered by several causes. The following are the major causes of unemployment:
Over-population: Unemployment is a result of the population's rapid expansion. The number of qualified personnel is more compared to the job opportunities.
Inadequate Jobs: The lack of jobs keeps people unemployed. Also, they get ready to work for less compensation due to fewer opportunities. Gradually it takes the form of disguised unemployment.
Economic Decline: Economic decline and fluctuating economic growth makes firms lay off employees. Hence, increasing the unemployment rate.
Ineffective HR Policy: The weak HR policies of the firms create an imbalance in the need and availability of Manpower.
Obsolete Technology: Technology is changing at a fast pace. The advancement in technology increases the level of automation. Consequently, resulting in an increase in the number of unemployed people.
Dependence on Agriculture: The farm sector often occupies more farmers than required. However, all of them get unoccupied during specific seasons.
Effects of Unemployment
So far, we have discussed the type and causes of unemployment. It impacts not only the individuals but also the economy as a whole. Now we will see the effects or impact of unemployment:
Poverty: The unemployed people do not have a source of income. Therefore, they become poor, which increases poverty in the country.
Increased Crime Rate: Non-working people usually involve in unethical and anti-social activities. They create nonsense in society; hence crime rate increases in the country.
Purchasing Power: Aggregate demand goes down with no disposable income in the buyer's hands.
Unproductive Manpower: Unemployed people lose their skills over time. In addition, they become unproductive after a certain period, which ultimately leads to a loss of manpower.
Weak Economy: The country with a higher unemployment rate indicates an unhealthy or weak economy.
Final Words
All in all, unemployment is a serious problem which countries cannot overlook. Respective Governments can make policies to increase employment opportunities in the country. They can critically analyze the Types and Causes of Unemployment and take measures to cope with it. In addition, they can increase the number of skill development programmes and support start-ups.