Definition: Segmentation implies a process of fragmenting the diversified market containing similar attributes or needs. It is the first stage of the STP decision process (Segmentation, Targeting and Positioning). It is a tool to achieve stability in a highly competitive market in the long run.
Classification of market segments depends on certain variables. These variables include geographic, demographic, psychographic and behavioural aspects.
Marketers use market segments to spot their target market and achieve a compelling marketing mix for the product. It provides a specialised understanding of the customer's requirements, tastes and preferences, etc.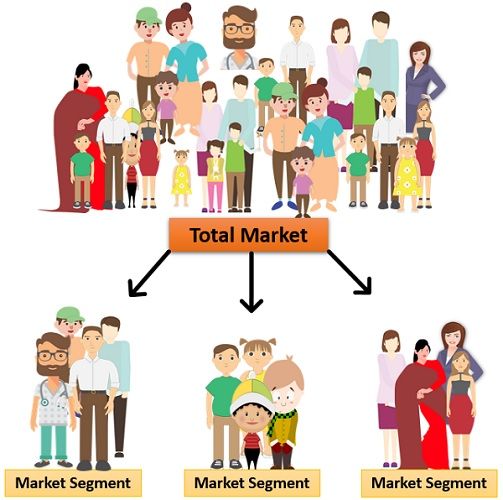 Segmentation is a base for a marketing plan and decision processes like Niche Marketing. It also identifies the scope of product development to cater unique demands of the potential customers.
For Example, the clothing market is a vast and potential market for companies. This huge market is divided demographically into segments like:-
It is sub-divided according to psychological factors like:-
Traditional Wear
Western Wear
Casual Wear
Sports Wear, etc.
Companies can choose specific categories and formulate marketing schemes accordingly. They can focus on satisfying their target audience in the best possible way.
Content: Segmentation
Bases of Segmentation
The market can be segmented on the basis of four major groups. These are also called the Types or Methods of Segmentation. Companies can also use a combination of these variables while segmenting. Four bases of segmentation are discussed in detail below:
Geographic
Demographic
Psychographic
Behavioural
Geographic Segmentation
Consumer needs differ according to their geographic regions. The consumer market may be categorised based on these regions. This is the most common form of segmentation adopted by companies. Some of them are mentioned below:-
Rural or Urban
Local or Global
North or South
Warm or Cold Regions
Metro or Non-Metro
High Humid or Dry Areas
For Example, People in cold cities like Manali prefer warm garments or winter wear. In contrast, people in Rajasthan prefer summer wear.
Demographic Segmentation
The segmentation of the market largely depends upon the demographic attributes. These attributes enable marketers to choose their products and market accordingly. Demographic variables depend upon the customers choice and preferences according to their:-
Occupation
Income
Education
Gender
Age
Generation
Family Size
Religion
For Example, The customers with the high-income group prefer to buy A.C., Whereas the mid-income group can afford a cooler. The ones who belong to the low-income group can only afford to buy a fan.
Psychographic Segmentation
Customers may belong to the same segment but possibly doesn't possess similar habits or interests. The marketer makes a deeper analysis of the demographic factors to be more specific. This analysis results in a more striking marketing campaign by the company. Psychographic factors include:-
Hobbies or Interests
Lifestyle
Activities
Personality
Opinions
For Example, Coca-Cola launched Diet Coke (Sugar-free and no-calories) for health-conscious customers.
Behavioural Segmentation
In behavioural segmentation, the market is grouped according to the response towards the product. An in-depth analysis of the customers buying behaviour is performed to ascertain the target group. Segmentation may be based on:-
Response
Buyers Attitude
Purchase Pattern
Volume of Purchase
Product Knowledge
Usage, etc.
For Example, Companies like Surf Excel use different packaging according to the usage like- 1 kg, 4 kg, 10 kg packets, etc.

Process of Segmentation
Segmentation can be done in three stages, as mentioned by Kotler and Turner. The procedure adopted by the marketers for segmentation is as follows:-
Survey: In the first stage, markets conduct interviews and discussions with the customers. They identify focus groups and develop a questionnaire for data collection.
Analysis: The factor analysis is performed on the collected data. The marketers segregate customers into groups based on these factors.
Profiling: In this stage, the groups are placed under different bases, as discussed above. It is further segregated into distinguished attributes to arrive at the target market.
Criteria
Following criteria must be satisfied during the process of segmentation:
There should be a means of identification of segments.
The segment should be responsive to the changes in the marketing mix.
The target group should be accessible in terms of promotion and distribution.
The size of the segment must be significant to gain profitability.
Categorisation must only be done based on the demand from that sector.
The market segment should be measurable to ascertain the size of the market.
The marketers should make an in-depth competitive analysis to survive in the long run.
Benefits
Customized Marketing: Segmentation focuses on a particular group of people. It provides clarity about their needs. Hence, it is easy to formulate customized marketing strategies.
Unexplored Markets: The process of segmentation helps marketers to identify unexplored markets. Segmentation provides an opportunity to serve these untapped markets.
Compelling Marketing Mix: The segments enables marketers to create a product-based marketing mix.
New Product Development: It provides the scope for developing a new product and exploring potential markets.
Niche Marketing: By segmenting the markets, marketers can identify the unique needs of the target audience. These unique needs are the base for Niche marketing.
Cost-Effective: As the marketers have clarity about the target customers and their requirements. So, they can run cost-effective marketing campaigns.
Customer Retention: Segmentation is a customer-centric approach. It provides more customer satisfaction which ultimately results in customer retention.
Market Segmentation Examples
Real-life examples of segmentation are given below:
Lefty's: It is a U.S based company specialised in products for left-handed people. The company fragmented the total market of its products by focusing on a particular segment of left-handed people. Lefty's offer a wide range of products. Some of them are listed below:-
Stationery
Cooking Utensils
Scissors
Knives
Mugs, etc
Kinder Joy: It is an Italian company owned by Ferro. The company has divided its chocolate market into groups. Kinder Joy is a part of Ferrero which focuses mainly on the kids sector. It attracts kids by:-
Surprise gifts inside the chocolate
Blue and Pink colour packaging for boys and girls respectively.
Conclusion
Segmentation is a process of dividing the vast diversified market into small groups. Division of the market is based on similar traits belonging to that group.
Through analysis of these aspects, marketers narrow down their total market into small segments. This enables them to create focused marketing strategies.