Definition: Kiosk banking was introduced by the Reserve Bank of India(RBI) to facilitate primary banking services to the poor and low-income group localities at a reasonable cost without the need for visiting the bank. KIOSK is 'Kommunikasjon Integrert Offentlig Service Kontor'.
It is an initiative to benefit the poor section of the society who usually are daily wage earners, who cannot maintain a minimum balance in bank accounts, who cannot travel long distances to avail banking facilities since it's difficult to find banks next door in villages and remote areas.
Content: Kiosk Banking
Features of Kiosk Banking
Kiosk banking is a recent development in banking technology after the ATMs; it provides numerous additional features.
Several features which distinguish a kiosk banking outlet from an Automated Teller Machine (ATM) are described below: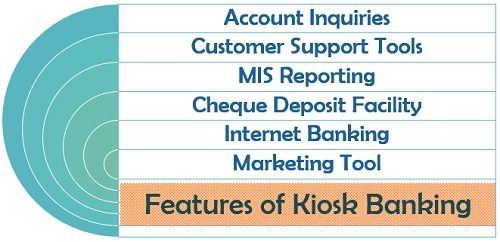 Account Inquiries: Kiosk banking provides for making cheque book request, checking account balance and printing mini statement.
Customer Support Tools: The customer can clarify queries from help desk agent through video conferencing.
MIS Reporting: It leads to minimising of bank's workload by facilitating the creation of the customer's database and MIS reports.
Cheque Deposit Facility: It has made cheque depositing easier for banks.
Internet Banking: It provides for net banking facility to the consumer, like online transactions.
Marketing Tool: Situated in a high traffic area, a kiosk banking outlet attracts customers due to increased visibility.
Customer Service Point (CSP)
Customer Service Point is a small booth or a counter, set up either individually or in a shop in remote areas or villages of the country where there are very few banks. It is partnered with the respective private, public or co-operative bank to ensure necessary banking services to the poor people.

Kiosk Machine
A kiosk machine is a self-operated banking system facilitating automatic usage for performing various cash as well as non-cash transactions like money transfer, printing account statements, cheque book request, bill payments, resolving queries, etc.
It is simultaneously known as 'Touch-screen banking'.
A kiosk banking machine has numerous technical features which distinguish it from the traditional banking system. Some of these features are a keyboard with trackball, barcode scanner, cash accepter, touch and non-touch display, video camera, integrated full-page thermal printer and integrated speaker.

No-Frills Bank Account
A no-frills account is a zero balance account which is opened by poor and low-income group customers. It can be opened at a kiosk branch associated with a particular bank branch, to provide accessible banking solution to such customers.
Features of a No-Frills Bank Account
RBI has set some regulations regarding a no-frills account. To further get an understanding of such rules, let us go through the following features of a no-frills account: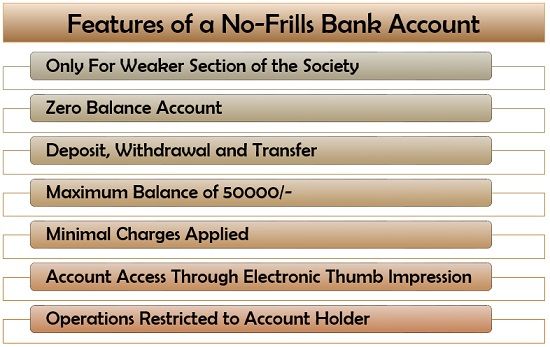 Only for Weaker Section of the Society: A no-frills account is just for the underprivileged people with a meagre income.
Zero Balance Account: No need for maintaining any minimum balance.
Deposit, Withdrawal and Transfer: Cash deposits, withdrawals and transfer are permitted up to a sum of 10000/- per day.
Maximum Balance of 50000/-: A customer is allowed to keep a maximum of 50000/- in the no-frills account.
Minimal Charges Applied: Transaction charges are meagre and sometimes not even applied to this account.
Account Access Through Electronic Thumb Impression: This account can be operated through the customer's electronic thumb impression and not through the customer's signature.
Operations Restricted to Account Holder: The account holder needs to be present himself in the kiosk branch to carry out various banking operations.
Various Services Offered Through Kiosk Banking
Kiosk banking outlets provide a wide range of cash and non-cash transaction services, unlike ATM, which is only viable for cash transactions.
Following are the various services which a CSP and a kiosk machine offer to its customers: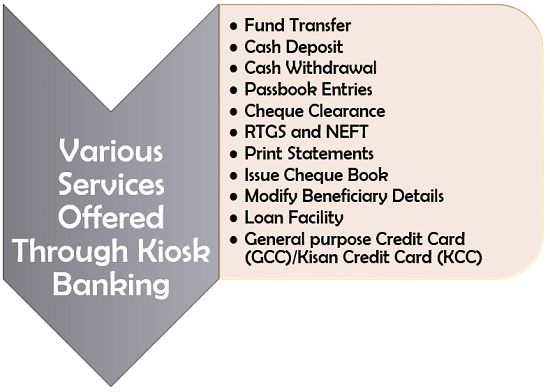 Account Opening: It is necessary to open a no-frills account to operate under kiosk banking.
Fund Transfer: Kiosk banking makes it easy to transfer money from one bank account to another at minimal or no charges applied.
Cash Deposit: The customer can deposit cash into a savings account through kiosk banking.
Cash Withdrawal: The account holder can withdraw a sum only by being physically present and using his thumb impressions.
Passbook Entries: Like in regular banks, the kiosk banking outlet also makes the passbook entries.
Cheque Clearance: The customer can deposit the cheque in such kiosk branches to be encashed.
RTGS and NEFT: Payments through Real Time Gross Settlement (RTGS) and National Electronic Fund Transfer (NEFT) are possible at kiosk branches.
Print Statements: The account holder can view the account statement and can even get it printed at a kiosk branch.
Issue Cheque Book: Kiosk banking provides the facility of getting a new cheque book issued.
Modify Beneficiary Details: The customer can change the account beneficiary details as for when required at a kiosk banking outlet.
Loan Facility: The account holder can apply for a loan against their time deposits through kiosk banking.
General-purpose Credit Card (GCC)/Kisan Credit Card (KCC): To increase the purchasing power of the weaker section of the society, kiosk banking outlets issue the GCC and KCC.
Functioning of a Kiosk Banking Outlet
You must be wondering that how a bank which is not a bank, functions? The below-mentioned working of a kiosk banking outlet will give you an overview of the same: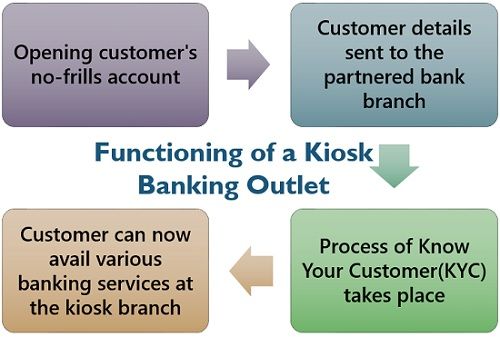 The kiosk banking outlet takes customers details, fingerprints and photographs to open a customer's no-frills account.
All the details so collected are sent to the partnered bank branch for further process.
The affiliated bank branch carries out the process of Know Your Customer(KYC).
After KYC updation, the customer can operate his account and can avail various banking services at the kiosk branch.
Benefits of Kiosk Banking
Kiosk banking solution is advantageous to both, the owner of a CSP as well as the customer, following elaboration, justifies this statement: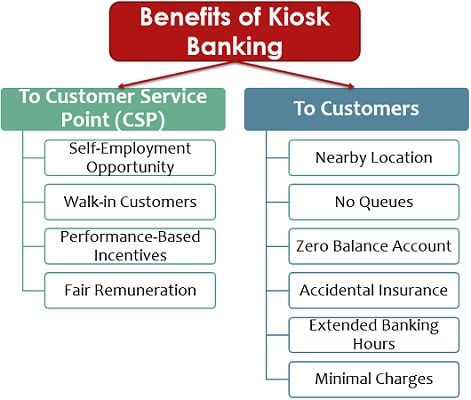 To Customer Service Point (CSP)
Considering kiosk banking as a career, CSPs give a financial base to the small retailers. If well established, it can be the primary source of income for them.
Following are some of the benefits that kiosk banking has to the CSP owners:
Self-Employment Opportunity: Kiosk banking makes small retailers and other CSP owners independent by offering them an opportunity for growth.
Walk-in Customers: Being located in busy streets or densely populated remote areas, the kiosk banking outlet gets substantial walk-in customers.
Performance-Based Incentives: The CSPs earn high incentives provided that they perform equally well.
Fair Remuneration: The remuneration received by the CSPs is good enough.
To Customers
Kiosk banking provides the customers with easy accessibility and approachability to the essential banking services without even going to the bank where they hold an account.
To know more about other such benefits of kiosk banking, let us read further:
Nearby Location: CSP or kiosk machines are located nearby to the customer's residence to make sure it is convenient for the customer to reach there.
No Queues: Since it is located in a shop or a small booth, there are no queues.
Zero Balance Account: The customer need not maintain any minimum balance in a no-frills account.
Accidental Insurance: The kiosk banking system provides an accidental coverage of 10000/- to its customers.
Extended Banking Hours: The banking hours offered by a CSP or a kiosk machine extends to the timing of the shop or retail outlet where it is located.
Minimal Charges: The charges applied on transactions is almost nil.
Conclusion
A kiosk banking outlet also came up as a source of income for small retailers and shop owners. They either open a Customer Service Point (CSP) or gets a kiosk machine installed in their premises.