Definition: M-commerce was introduced by the Kevin Duffey in 1977 at the global forum launch and is defined as an innovative way of doing business over the internet, it is an extended version of E-commerce in which handheld devices are used instead of desktop for buying and selling of goods at any place any time.
In today's scenario, customers are savviest shoppers and always look for some considerations while shopping, i.e. price comparison, discounts, vouchers, etc.
With an increasing M-commerce trend, consumers use their mobile devices to take pictures and share with friends, compare products and pricing on various websites and reads reviews for selecting their desired products.
However, the M-commerce sites should furnish very simple & easy navigation, as well as an enjoyable experience from start to end to attract the consumers, else the consumer will shift his/her interest to another website. The essential part is to maintain the quality of the products as well as provide end value to the end-users.
At last, the most crucial aspect is to prioritize the security of the customer's data as they use their debit and credit cards for purchasing the products from various websites.
Content: M-Commerce
Scope of M-commerce
In a developing age, India has become a large market of the smartphones and gadgets and major age group of the customer is between 20-55 years.
In various surveys, it is noticed that almost 50% of the users grab their mobile phones immediately after wake up and checks multiple notifications and messages which engage them in the applications showing offers and sale offering discounts in monetary terms.
Though India is becoming digitalized gradually, there is a vast scope of M-Commerce in the near future and various ways to improve paths for increasing their business over the internet.

Features of M-commerce
Following are some of the features of M-commerce: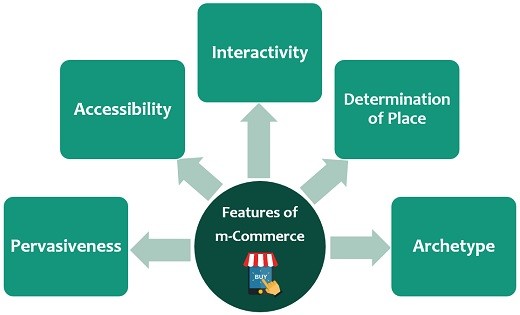 Pervasiveness: The term pervasiveness defines the easy accessibility of information in real-time, i.e., it is an easier way for the users to fulfill their desired products query.
Accessibility: Devices like mobile and tablets are always nearby, the user can access it according to his convenience from anywhere.
Inter-activity: Mobile system allow for fast and easy interactions. i.e. the customer will directly search for a desired category of product, there is no need for viewing all the categories of products.
Determination of Place: Targeting customers with mobile promotions within a defined geographical space.
Archetype: Creation of the services that customize the end-user experiences.
Types of M-commerce
These are the majorly used types of M-commerce:

1. Mobile banking: Mobile banking is an electronic medium of managing and making bank transactions via-a mobile device which is very popular now a day such as "Net Banking" by which customer has a bank account in a respective bank can handle their bank account as well as can view his/ her banking details for which banks use their apps for mobile banking.
For example, State bank of India has a YONO app for their net banking functions.
2. Mobile shopping: Mobile shopping is nothing but what we called online shopping in general terms, i.e., purchase made through various applications online such as, purchase of the book from amazon or purchase of a bottle from Flipkart is termed as mobile shopping.
3. Mobile payment: Online transaction payment such as buying railway tickets, movie tickets, bill payments through mobile phones by way of various gateways and applications such as Phone Pay, Google Pay, is known as Mobile payment.
4. Mobile advertising: Mobile advertising is a way of advertising through SMS, mobile web posters, push-up notifications.
Companies use this service to promote their products and services by giving their ads in between the contents generally searched by the users so that if there is any user who has a plan of purchasing their category of product will review their product and their sale will rise.
Advantages of M-commerce
There are various advantages of M-commerce, some amidst them are as follows:
Security has prioritized.
Easily accessible through mobile applications.
Faster loading.
It has an Option of reminding customers about products through push notifications.
Easier checkout procedure.
On the go, transactions can be performed by utilizing the time of travelling.
Purchasing and selling of goods using mobile wallets increase digitalization.
Sending and Receiving money from the phones through UPI (Unified payment interface)
Gives business the possibility to expand in the market and increases sales.
M-Commerce provides more credibility.
Disadvantages of M-commerce
Smartphone limitations: No matter how active channel it is but without a smartphone, nothing that can be done, i.e., user cannot make a purchase if he/she doesn't have a mobile phone with them at the time of need of buying any product.
Need reliable shipment companies: The Companies selling their products gets dependent on other shipment companies for delivery of their products to the end consumer safely.
Issue of security: Customers are afraid of using their cards for online shopping because of the threat of losing their sum in the account due to any mishappening.
Payment faults: There are chances that the amount will get deducted from the bank account but the ordered products are not delivered to the consumer, it may be intentionally or unintentionally.
Quality Check: Quality of the products cannot be ascertained by seeing them on an online platform, there are huge chances that the quality you want may differ from the quality you received.
Hacking issues: In the world of increasing technology the chances of data hacking also increases, the account details of user can also be hacked which may get him to the huge loss also.
Growth of M-commerce
It is growing at an astonishing rate. Various timely events, such as sales on apps, are attracting more customers. During the period of a deal, the purchasing rate increases drastically along with that Mobile priorities are changing; retailers are focusing on developing their mobile sites and also investing in mobile apps and tablet technology and Brand promise creates a customer's trust over the websites.
As an impact of increasing M-commerce platform Billions of transit events tickets delivered annually through mobile handsets.

Key points to remember
M-Commerce is introduced by the Kevin Duffey in 1977 at the global forum launch.
M-Commerce is an extended version of E-Commerce
Smartphones are widely used mobile channel worldwide.
Conclusion
In today's competitive market, M-Commerce is rising rapidly and has become a significant channel for making payments, doing shopping online as it is time-saving; meanwhile, the user can perform multiple tasks at the same time.