Leadership is a vital part of the organization, and so are the types of leadership styles adopted by the leaders.
This has been a matter of study since the 1930s. This is because, the experts try to study how a leader establishes his effect on his group members.
Traditional and Modern studies have identified various types of leadership styles. This article discusses essential leadership styles and potential advantages, disadvantages & examples.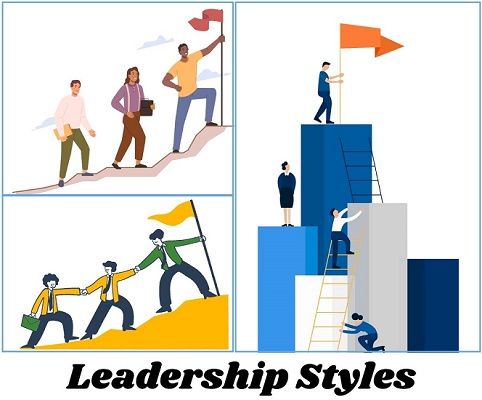 Definition: Leadership Styles are the behavioural pattern adopted by leaders through which they influence, motivate and direct the sub-ordinates to meet a set goal. Furthermore, it makes the subordinates more effective and motivates them to outperform.
Basically, it is the leader's methods, characteristics and behaviour by which he charismatically manages his followers.
Note: The style varies from group to group and from situation to situation. Therefore, no one style can be claimed as effective. They are effective under some given set of situations.
But, why does leadership style matter?
It plays a vital role in the organization, greatly impacting its success. Irrespective of the organization's size, it can make a significant difference. This is because, the right style makes people effective at attaining corporate goals.
Mostly, leaders develop their own kind of leadership based on the factors like:
Company Needs
Organizational Culture
Experience
Personality
Besides, you can find your style through a trial-and-error approach. After that, implement the one yielding good results.
Content: Types of Leadership Styles
Factors Influencing Leadership Styles
The following are some of the factors that have a strong influence on leadership styles:
Personality and value system possessed by the leader.
Nature and personality of the followers or group members.
The type of work and goals of the organization.
Organizational structure, its practices, vision and Mission.
External factors like – Social, Political and Economic environment.
Different Types of Leadership Styles with Examples
Post analyzing the leader's approach towards followers and their work, the following types of leadership styles can be identified:
Democratic Leadership
Autocratic Leadership
Laissez-faire Leadership
Transformational Leadership
Transactional Leadership
Coach-Style Leadership
Bureaucratic Leadership
Strategic Leadership
Servant Leadership
Charismatic Leadership
1. Democratic Leadership
It is the most effective leadership style, also known as the Participative style. Here, the leader takes decisions by taking inputs/consultation from each subordinate. However, the final decision is taken by the leader himself.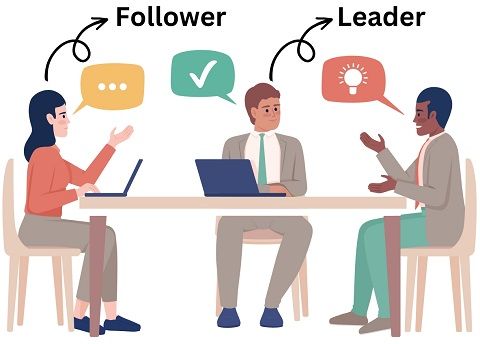 Participation in the decision-making process satisfies the subordinate's ego and social needs. Consequently, they become more committed towards their work.
Advantages
It gives opportunities to the subordinates to explore potential abilities.
It provides job satisfaction and boosts the morale of subordinates.
It involves open and two-way communication with the subordinates.
The leader gets followers' support due to their involvement in the decision-making process.
Disadvantage
Decision-making becomes a time-consuming process due to an increased number of participants.
Few dominant sub-ordinates may divert the decision in their favour.
Subordinates get habitual in taking decisions and show resistance to change.
Example: Larry Page, one of the co-founders of Google. Co believes in participative leadership. He is quite popular for accepting ideas from employees and motivating them.

2. Autocratic Leadership
It is a classical approach which is alternatively known as the Authoritative style. In this approach, the leader centralizes power and controls the followers.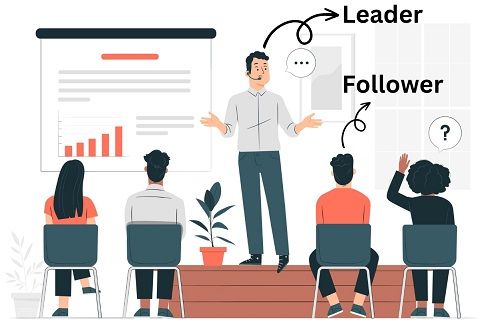 The leader himself takes all the decisions and expects complete obedience from the followers. Therefore, the decisions are based on the leader's Ideas, Judgement, Skills and Knowledge.
Advantages
Quick decision-making with less confusion.
The leader is highly competent in making the right decision.
The subordinates work in a controlled environment, so quality is maintained.
Disadvantages
The follower's morale may decrease over time.
Employee efficiency may decline over a period.
Potential leaders don't get the opportunity to explore and showcase their capabilities.
Followers remain in a controlled environment which can be suffocating at times.
Example: Teachers are a great example of this leadership style. They have complete control over their students. Moreover, the students obey their teacher and do the required.

3. Laissez-faire Leadership
Laissez-faire is a French Word meaning 'let them do'. It is alternatively known as the 'Free-reign' and 'Hands-off' style.
This leadership style involves the least intervention of the leader. Besides, they provide necessary resources and delegate authority and responsibility to the followers.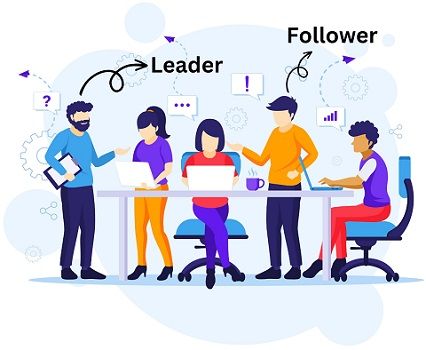 In this leadership style, the leader plays only a supervisory role. Whereas, the followers enjoy maximum freedom with no interference.
It is suitable when the employees are highly skilled, educated and experienced. However, to implement this, the follower must be trustworthy.
Advantages
The sub-ordinates enjoy full freedom.
It outlay greatest satisfaction to employees.
Followers can take decisions of their own.
Disadvantages
The leader does not be in the dominating position.
Followers function on their own, which leads to decreased coordination.
The followers may become over-confident and resistant.
Example: Warren Buffet, Berkshire Hathaway's CEO, uses this leadership style. He implements free-reign culture to retrieve maximum productivity and creativity.

4. Transformational Leadership
This type of leadership style initiates changes within the subordinates. The leader gradually transforms the followers and streamlines their interests towards organizational goals. This transformation brings a positive change which helps employees yield better results.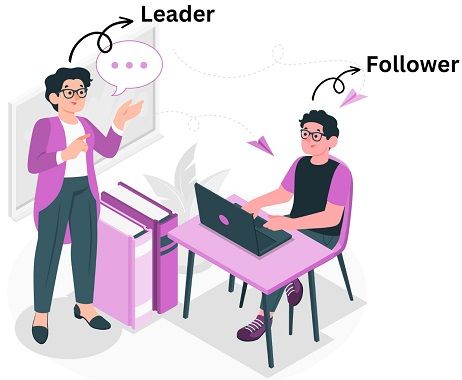 However, the transformation occurs in multiple stages. Eventually, the subordinates get inspired and rise above their self-interests.
Advantages
It helps build a team that can face challenges.
Such leaders align the entire team towards a common goal.
The followers develop a feeling of belongingness.
It lets employees find creative yet better ways to get things done.
Disadvantages
It is a time taking process as transformation is not a one-day thing.
This leadership style is not suitable where the work and methods are static.
Example: Transformational leadership is mostly observed in Internships. The leader or mentor assigns small tasks to the interns. After that, they gradually increase the complexity of the work and then retrieve maximum results.

5. Transactional Leadership
Here, the leader uses rewards to get things done. Rewards motivate followers to perform to the best of their capabilities. Besides, the followers get the freedom to take decisions and complete tasks.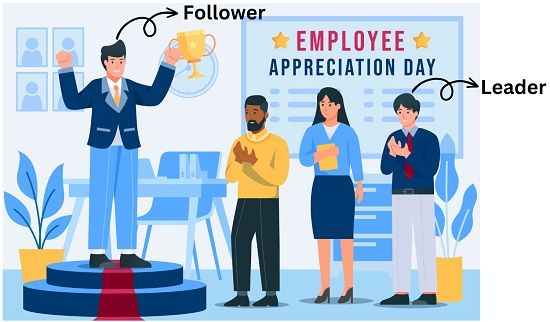 The leader must create a solid system and monitor each follower to make fair judgements. It has three primary forms:
Contingent Reward
Active management by exception
Passive management by exception
Advantages
The employees are dedicated and self-motivated.
Clarity in roles and responsibilities.
Followers perform better due to healthy competition.
Disadvantages
Some followers may feel pressured and get demotivated.
The focus is only on the rewards, which suppresses creative thinking.
Need help to spot the potential leader from the pool.
Example: Today, almost all the MNCs have this culture. Employees are eligible for various monetary and non-monetary rewards. Some of them are Gift Vouchers, Yearly Bonuses, Salary Increment, etc.

6. Bureaucratic Leadership
It is similar to the autocratic style, wherein the leader expects followers to abide by his rules. Each follower needs to perform the work assigned to him.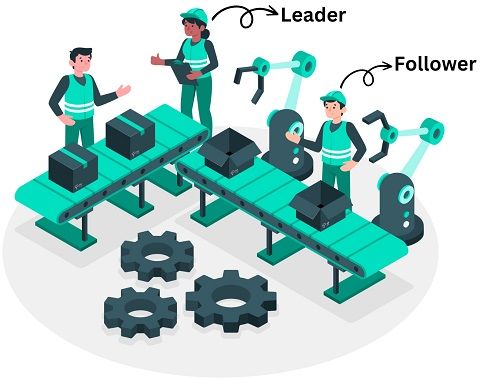 Here, employees have fixed duties and responsibilities across the hierarchy. Also, there is less scope for creativity.
Advantages
Suitable for companies with strict policies.
Disadvantages
Such leaders and followers develop resistance to change.
Example: It is best suited for businesses where tasks are clearly defined. In general, it is mainly applicable in manufacturing units with assembly lines.

7. Coach-Style Leadership
Leaders who possess coach-style leadership, build deep connections with followers. They try to identify the strengths and weaknesses of the followers and coach them accordingly.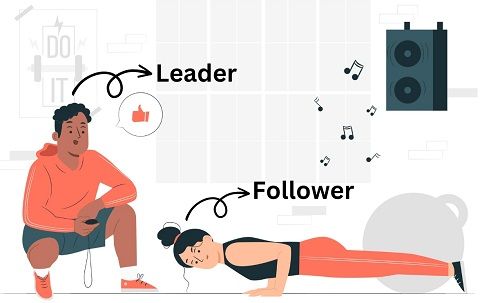 Advantages
It is a positive type of leadership.
A leader focuses on the growth and success of the followers.
Disadvantages
Sometimes employees might feel over-judged.
Example: It is primarily used in skills-based industries like handicrafts and sports. Here, the leaders guide their followers to brush up on their skills.

Parting Words
All in all, a successful leader is one who can identify his style and utilize it to extract the best out of his team. His style evolves due to factors like his personality, values and skills.
By far, you might have understood how leaders implement their plans and strategies. Also, the impact of various leadership styles on the subordinates.