Every time you go shopping, especially at some supermarket or mall, you become prey to the fancy offers displayed everywhere, which is nothing but a Psychological Pricing Trap.
We come across it every day at offline or online marketplaces. It has a substantial impact on customer's minds and their buying behaviour.
The most common examples are promotional offers like:
Buy One Get One Free
Everything @99
Buy Three, Get 60% Off
Pricing plays a crucial role in marketing. It is due to two major reasons given below:
Generate revenue for the company.
Create the customer's perception of the product.
Marketers try to determine a price that works best for their business and satisfy customers simultaneously. Therefore, they carefully plan their pricing strategies as they can significantly impact their profitability and revenue.
Here, you will get a deep understanding of Psychological Pricing. In addition, you will find some examples, pricing strategies, advantages and disadvantages.
Content: Psychological Pricing
What is Psychological Pricing?
Psychology pricing uses price as a tool to influence retail customers' purchase behaviour. Marketers set prices that are intended to appeal to customers and induce sales.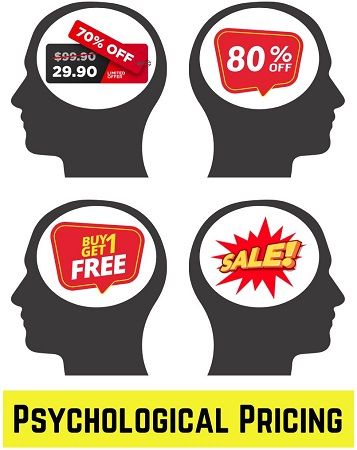 It is a common practice used by most organizations worldwide, big or small. The strategies are such that they tick the brain and make customers believe that the product is available at a low cost.
Definition
: It is a
marketing strategy
that targets customer's psychology, emotions and perceptions. It makes customers perceive that the product or service is cheaper than it actually is.
It is also known by other names like – 'Price Ending' and 'Charm Ending'.
Customers always seek the best value for their money regarding Price, Quality or Features. Therefore, marketers pitch them by offering them a good deal. These deals trick the customer's mind and allure them to buy the product or service.
Let's understand it by taking the example of popular psychological pricing known as Odd or Charm Pricing.
Marketers intentionally keep the product's price ending with odd numbers, usually with the number '9'. For instance, Bags at ₹199/-, Mobile Phone at ₹29,999/- and so on.
Logically, it is just a rupee less than the closest even number, i.e., ₹200/- and ₹30,000/-. However, our brain is naturally trained to read numbers from left towards right. Therefore, such prices seem cheaper to our brains and influence our purchase decisions.

Psychological Pricing Strategies
Marketers use many effective psychological pricing strategies like Charm Pricing discussed above. Some common strategies we often encounter in our daily lives as customers are as follows: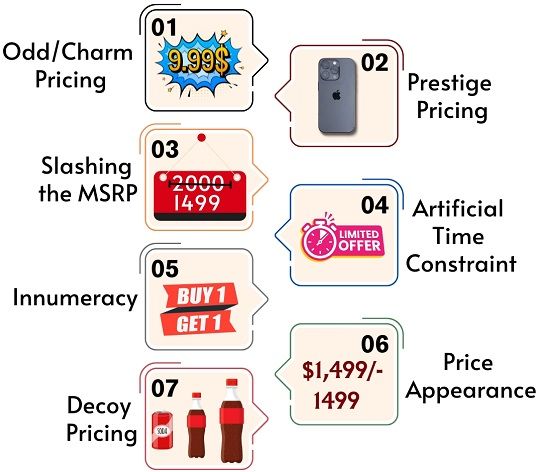 1. Odd Pricing or Charm Pricing
It is one of the most common and widely used pricing strategies. Marketers trick people's brains by using how they read and process numbers.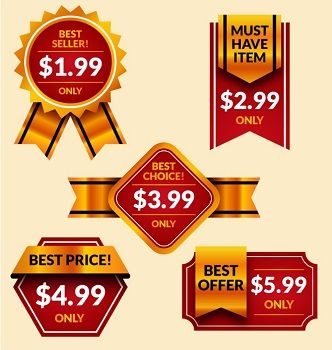 Here, they reduce some cents from the actual price and keep odd numbers in price. Mostly, they set prices in combination with the number '9′, especially at the end, like '149' or '3999'. As a result, customers perceive such prices as lower than rounded prices having even numbers.
It positively affects sales and can increase it by 20-25%. It was also proved in an experiment conducted at the University of Chicago.
Pro Tip: Reduce the leftmost number for more effectiveness when applying this strategy. Consequently, customers will read the smaller number first and perceive it as less costly.
Example: Maximum products and offers across e-commerce platforms reflect prices with 9. 90% of the product's price appearing on Filpkart's home page ends with 9 or 99.

2. Prestige Pricing
In this psychological pricing strategy, marketers keep prices higher than regular prices. They target customers who psychologically link the product's price and quality. Such customers consider high prices as an indicator of superior quality.
Prestige pricing is often used to market premium and pleasure-focused products or services. Thus, it is prevalent in Hospitality and Tourism Industry.
Conceptually, it is the complete opposite of Charm Pricing. Here, marketers go for Even Pricing rather than Odd Pricing. This is because, odd numbers may signify discounts, which might question the product's quality and backfire them.
Note: For superior quality products or services, high prices become a strength from a sales perspective. On the contrary, a lower price acts as a threat or barrier and can negatively affect sales.
Example: Companies like iPhone and OnePlus launch superior products at high prices. In addition, brands like Rolex, Louis Vuitton and Versace use prestige pricing.

3. Slashing the MSRP
In general, retailers sell products at MSRP suggested by the manufacturers. MSRP is the price that is printed on the product's packaging.
To attract customers, marketers give heavy discounts on MSRP. They cross this price and display the discounted price. Consequently, customers feel they are saving a significant amount of money at the discounted price.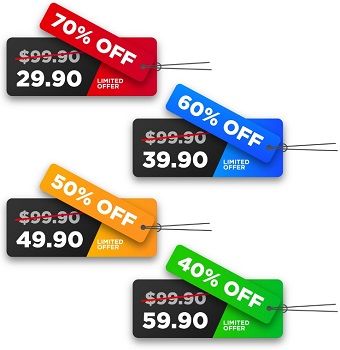 Example: You must have seen two product prices when you visit any supermarket or a shopping mall. Firstly, you look at the product's original price, i.e., MRP, and then at the offer or discounted price, which is usually less in value. In addition, the banners and posters display 30- 50% off or 70-80% off at Max and Pantaloons.

4. Artificial Time Constraint
Through this strategy, marketers trick customers by creating a sense of urgency. Moreover, they set a time constraint and make customers believe the offer is valid only for a limited period.
Simply put, it is giving offers valid for a limited period only. It will motivate the customer to buy the product within the given time frame to avail of the offer.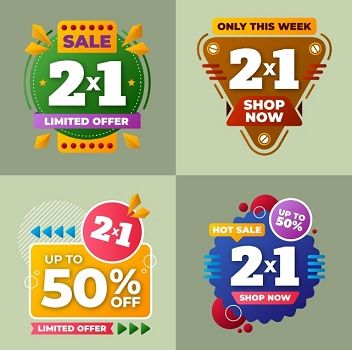 These are similar to short-term sale that reoccurs after a specific period. It can last a few hours, a day or a few days. Customers hurry and make the purchase decision for fear of missing the offer.
Pro Tip: Do not repeat this strategy very often. Customers will stop taking it seriously, which might reduce its effectiveness.
Example: PVR offers free popcorn with unlimited refills of Pepsi from Monday to Thursday between 9 a.m. to 6 p.m. More such examples are:
Mid-night sale – Flipkart and Myntra
Deal of the Day – Amazon
Black Friday Sale – Ajio
5. Innumeracy
This pricing strategy suggests marketing the product using the word 'FREE' in the offer.
The psychology here is simply greed. Customers make the purchase decision just because they want a free product.
Customers only focus on the number of articles rather than the mathematics behind the offer. Besides, marketers are more creative by mixing offers, making them more appealing.
Example: Offers like – Buy 1 Get 1 Free, Buy 3 Get 50% off and Buy 1 at MRP and Get 3 Free.

6. Price Appearance or Simple Numbers
This strategy especially focuses on the price design, i.e., how it appears to the customers. In other words, they do not decorate the price. Rather, they only keep numbers in it.
Marketers intentionally reduce the size of the price and keep it simple. They do it by using fewer syllables, commas and decimals. Moreover, sometimes the marketer even excludes the currency sign too.
It works on the simple psychology that the long numbers in price look expensive. In contrast, prices with small numbers seem less even if the value remains the same.
Example: 1799 seems cheaper than $1,799/-. There is a difference in how we read and process both prices.
$1,799/-: One thousand seven hundred and ninety-nine.
1799: Seventeen Ninety-nine.
Pro Tip: Increase the font size of the discounts and decrease the font size of the prices as they seem numerically smaller. It will make customers perceive that they are getting a product at a higher discount and lower price.
7. Decoy Pricing
It is another strategy where marketers manipulate customers' choice of a variant by introducing a third one. Adding a new variant makes the other ones look like a better deal.
In addition, the decoy product increases the sale of the other two products.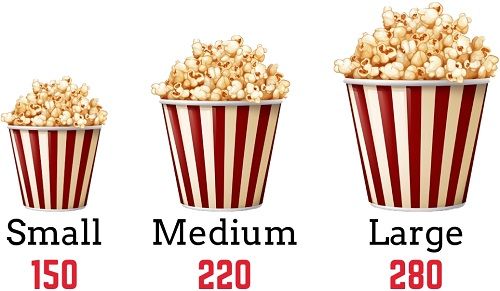 Example: The small, medium and large variant of popcorn is the apt example. Usually, most of us either buy small popcorn or the large one. The reason is that medium popcorn is priced in a manner that makes small sizes look cheap and large ones a good deal.

Advantages
The following are the advantages of implementing this marketing strategy:
Proven Strategy: Most companies have been using it for many years. And, still, all of them benefit from psychology pricing.
Budget Friendly: It ultimately reduces the product's price, which makes it budget-friendly.
Ease Decision Making: Customers can compare the same products with different retailers. They can decide and pick the best deal with ease.
Discount Pricing: Discounts always attract customers. In this type of pricing, most customers get products at discounted prices.
Better Targeting: Companies can target and make focused strategies for price-sensitive customers.
Increased Sales: Psychological pricing attracts many customers and motivates them to buy. As a result, there is a significant increase in the company's sales.
Disadvantages
The potential disadvantages of this marketing strategy are listed below:
Exploitations: Some marketers falsely raise the product's price and then give discounts on it. Customers might feel exploited upon realizing it.
Loose Loyal Customers: Companies could lose out some good customers if anything goes wrong.
Negative Perception: Consistent offers and too many discounts may create a negative perception of quality.
Lacks Innovation: Most marketers are using similar strategies. Practising this for a long time leads to a lack of innovation.
Degrade Offer's Value: If the company extends the offers for long, then it may become less effective.
Final Words
Pricing decisions greatly impact the company's success and must be done with due diligence. The marketing team must invest sufficient time, knowledge, and effort to formulate the strategy. Also, they must critically analyze its impact post-implementation.
The goal should always be cost minimization and profit maximization. Moreover, find strategies that work in the company's favour instead of joining the Rat Race.