Definition: Product Mix is a collection or portfolio of entire varieties of products marketed by the company. Moreover, we can also call it the composite of all the product lines and sub-categories existing in the company.
However, it is suitable for organizations offering diversified products.
It is also referred to as Product Assortment and Product Portfolio.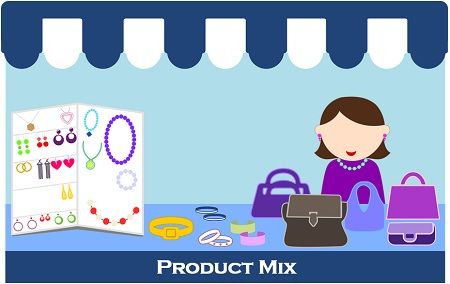 The product mix is a broader term in comparison to the product line. This is because it inculcates a complete range of goods and services owned by the company.
Companies can have a wide or narrow mix depending upon products and distinct customer needs.
A wide product portfolio allows catering to a large customer base. Whereas a narrow mix helps bring variations to serve customers' unique needs.
However, companies must make product mix decisions cautiously. As, a much broader or too narrower mix may result in Market Cannibalization.
Note: Market Cannibalization is when the company's products compete with one another.
Content: Product Mix
What is a Product Line?
A product line is a group of those products which are related to one another and whose marketing takes place under a single brand or company. We refer to it as a line because it consists of product categories and sub-categories.
Product lines cater to similar or unique requirements of the customers. However, creating and maintaining these lines is an expensive affair.
Goals
Product mix assists marketers in satisfying their goal of efficiently serving customers' distinct needs. To achieve this goal, marketers focus on factors governing product mix as follows:
Sales Growth
The primary objective of every organization is to increase their overall sales. For this purpose, they can either launch new products or expand existing markets. One can increase sales through the following strategies:

Market Penetration
Market Development
Product Development
Product Diversification

Sales Stability
It is another vital factor in achieving stability in sales. It serves as a base for planning – sales, production and distribution. Also, it facilitates entry into new markets and balances total sales and product mix.
Profits
The ultimate goal of each organization is to earn a good amount of profits. And, product mix helps in generating profits by offering distinguished products.
Product mix Elements/Dimensions
Four major dimensions or elements of product mix are as follows: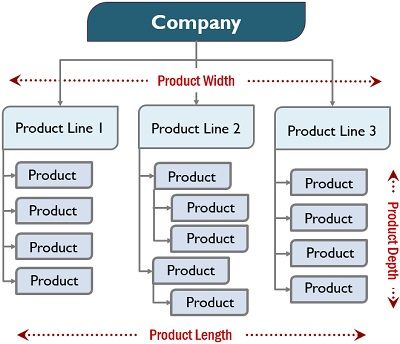 Product Width: Width is the total number of product lines in the company. For example – The same company's Handloom, Medicines, and Cosmetics categories.
Product Length: It refers to the total number of products the company offers in the total mix. For example – Bedsheets, Cushion Covers and Table Cloth under the Handloom categories in the preceding example.
Product Depth: Depth is the different versions or variants of each product in product lines. For Example – Double Bed Sheets and Single Bed Sheets.
Consistency: Consistency of the product portfolio shows relativity among the company's products and lines. For Example – Godrej offers two completely different product lines, i.e. Hair Dye and Almirah.
Major Product Mix Decision Strategies
Today most companies offer diversified products and multiple product categories. Therefore, they need strategies to create their optimal mix.
Following are the major strategies that are available for disposal: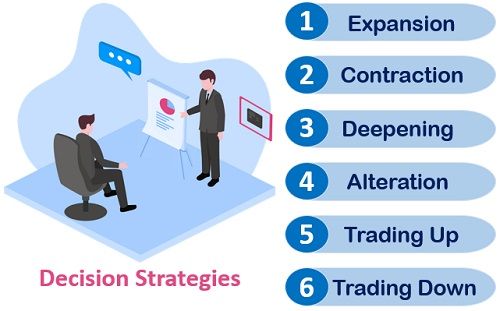 Expansion
Expansion can also be understood as diversification. Here, companies increase the number of products in the lines or create additional lines. However, the new addition can be related or unrelated to the existing lines.
Contraction
Companies review and eliminate products that are unproductive and non-profitable. Here, the marketers narrow down the width of the mix. It is the complete opposite of diversification and is alternatively known as Simplification.
Deepening
It includes the expansion of the products in the existing lines. Companies try to widen their product lines. Besides, one must note that there is no new addition to the number of product lines.
Alteration/Changes
Companies can alter or improve existing products despite launching a new product. But, companies prefer to alter those products that are already established in the markets.
This is because it is less risky yet profitable. Besides, these changes can be made in size, design, quality and colour, etc.
Trading Up
The company adds premium products to the existing product lines per this strategy. This is because such products help increase the goodwill of the company.
By trading up, companies aspire to boost the sale of their low-priced products.
Trading Down
It is the contrast of the trading up strategy. Here, the company adds affordable products to the product line with premium products. This is because price-sensitive customers can buy famous brands' products at low prices.

Pricing
The pricing of the products must be such that it is profitable on the total mix. However, it's a typical task, as the competition and markets differ across products.
Some important aspects of pricing include:
Product Line Pricing
Optional-feature Pricing
Captive-product Pricing
Two-part Pricing
By-product Pricing
Product Building Pricing
Changes in product mix
As discussed above, companies alter their product mix to supply products as per customers' requirements. The changes may include the addition, modification or elimination of the products.
The urge to alter the product portfolio generates due to changes in:
Competition: Companies modify their product portfolio to gain a competitive advantage in the market.
Firm's Goodwill: The modifications in the mix help in increasing and maintaining the company's goodwill. Therefore, companies launch expensive and low-priced products to cater to the maximum number of customers.
Market demand: Since the market is volatile, the customers' tastes & preferences keep on changing. Therefore, marketers alter product mix as per the changing market demand.
Company Goals: Companies alter their long and short-term goals after a while to remain profitable. Consequently, they make subsequent changes in their product mix.
Factors Affecting Product Mix
There exist several factors that affect the company's product mix as follows:
Existing production capabilities of a company.
Product cost is involved in widening and narrowing the mix.
Advisory issued by the Government regarding the products.
Impact of the other marketing mix components.
Prevailing economic conditions in the country.
Issues
Companies may face the following issues while developing and supporting product portfolios:
Overcommitment of resources.
Complications during the production process.
Unsuitable for some products like perishable goods.
An expensive affair.
Example
Let's take the example of Proctor and Gamble (P&G). It is a leading FMCG company headquartered in Cincinnati, America.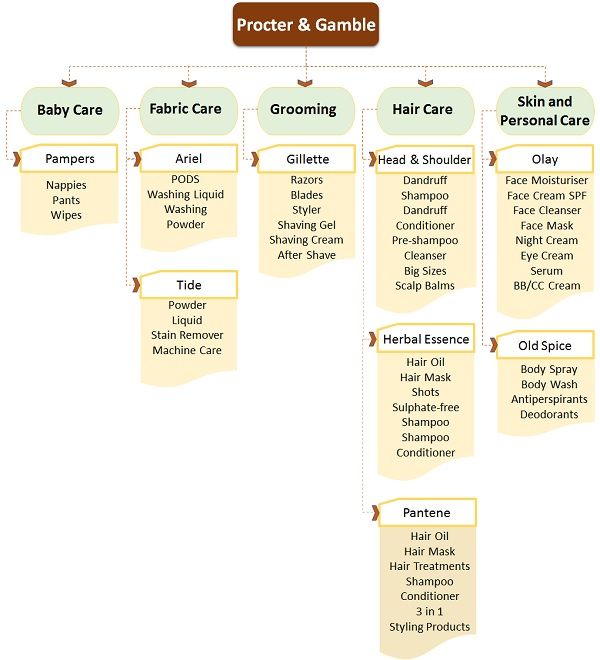 Note: P&G offers a wide variety of consumer goods, but we have included only some of its products.
The dimensions of the product mix will be as follows:
Width – As shown in the chart, P&G has 5 product lines, i.e. Baby Care, Fabric care and so on.
Length – Here, the length will be 46 (the sum of all products in all the lines).
Depth – Suppose its two shampoos come in three variants, then its depth will be 6 (2*3).
Consistency – The consistency of P&G is high because all its products belong to the FMCG segment.

Product line vs Product mix
These concepts are very closely related and are often used interchangeably. But, they differ from each other in certain aspects discussed below:

| Basis | Product Line | Product Mix |
| --- | --- | --- |
| Meaning | Group of products possessing similar traits or uses | Collection of all the products and articles of the company |
| Span | It has a narrow span | Whereas it has a wide span |
| Quantity | Companies can have multiple product lines | However, there can be only a single product mix in a company |
| Spectrum | It is a subset of the product mix | It is an umbrella term that covers all the aspects of products |
Service Product Mix
It refers to the composite of the total number of services the company offers. The dimensions of the service product mix are similar to that of the product mix.
Like product mix, we can expand the service product mix as follows:
New service lines
Expand each service line
More variants in the service
Service line consistency
Major service line decisions include:
Length
Modernization
Featuring
Pruning
Final Words
All in all, companies must aim to reach and support an optimal product portfolio. Consequently, they can get access to a broader consumer market.
It is a dynamic concept and thus helps maintain parity among profitability, growth and stability.