Definition: Market Cannibalization or Corporate Cannibalism is a marketing phenomenon where the firm's new product eats the established product's market share.
Moreover, it is a strategy wherein the existing product's sales are reduced by introducing new products and brand extensions.
For instance, Coke launched similar products for common customers like Diet Coke, etc.
The reason behind opting for this marketing strategy is to grab a bigger market share. Besides, companies try to provide new products continuously to better serve customers' needs.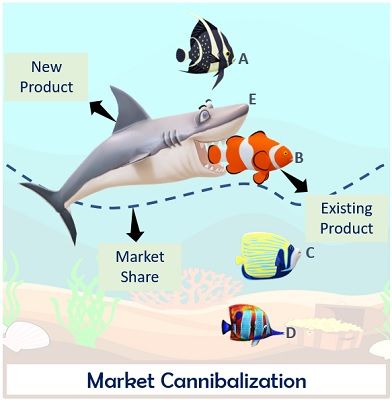 One must note that both the products belong to the same company. However, companies can apply it deliberately, or it may occur accidentally.
Cannibalization happens when there is a high degree of similarity between the new and existing products. Also, it positively and negatively impacts the company's overall performance.
Market Cannibalization involves competing with self and others. It is done in many ways, some of which are:
Price Promotions
New Product Introduction
Brand Extension, etc.
Before launching new products, companies try to predetermine the possibilities of cannibalization. This analysis helps in estimating the changes in the product line. It also determines the effects on the company's profits post new products launch.
Companies consider it while performing the following functions:
New Product Development
Product Mix
Product Pricing
Promotion
Marketers must ensure that the loss due to cannibalization is less than the gain from a new introduction.
The concept of cannibalization is also applicable in other fields such as:
SEO Cannibalization.
Keyword Cannibalization
Content: Market Cannibalization
Cannibalization Marketing Strategy
It seems to be a good marketing strategy for companies as it helps in:
Customer Retention: With corporate cannibalism, companies try to retain their existing customers. This is because, after a while, competitors may steal the market share by introducing better products.
New Customer Acquisition: It is vital in attracting and acquiring new customers. As, new products are capable of attracting new customers with innovative offerings.
Cannibalization Rate
There is some scope for cannibalization before companies start bearing losses. Thus, we can find out the potential corporate cannibalism using the Cannibalization Rate.
This rate gives an insight into the allowable percentage of cannibalization that company can bear. Also, it provides vital information for several decisions related to new product development.
Thus, it is the percentage of new product sales acquired from the loss of existing product sales.
Cannibalization Rate Formula

It is one of the important factors in:
Creating a new product launch strategy.
Finding benefits from new product introduction.
Estimation of potential losses and gains in sales.
Note: Estimation of cannibalization rate can be performed either ex-ante or ex-post.
Risk Involved
There is some amount of risk involved in cannibalization. This is because it leads to the saturation of markets.
Here, many products compete for the same customers and market segment. Consequently, the value of established products gets depleted.
However, companies can mitigate the risk involved in cannibalization. And, they can begin by calculating the amount of risk involved.

Need for Cannibalization
Companies may decide to cannibalize their products or brands when they:
Aspires to make existing product line profitable.
Focus on the current strengths that are successful in the short term.
Develop and launch competitive products.
Relaunching improved products to better serve existing customers.
Types
Companies often implement product cannibalization intentionally. On the contrary, it may occur accidentally. Thus, we can categorize it into the following two types:
Planned Cannibalization: It is when the companies expect the sales loss caused by a new product in the same line. Whereas, companies can self-cannibalize in the following ways:

Decreasing the price on e-commerce platforms.
Providing discounts on particular products.
Locating retail outlets close to each other to eliminate competition.

Unplanned Cannibalization: It occurs when there is an unexpected loss in sales due to a new product.
Planned Cannibalization is quite common and can be observed everywhere in daily life.

Importance
It is essential to implement cannibalization despite its adverse impacts on sales.
Because, without self-cannibalization, the competitors may grab the opportunity and launch better products. Consequently, companies will lose their market share and experience sales reductions.

Advantages
Following are the advantages of cannibalization:
Protection: It helps in protecting and expanding the company's market share.
Eliminate Competition: Through self-cannibalization, companies can beat their competition in the market.
Profit Margins: If applied strategically, it results in customer retention and acquisition. Consequently, it leads to an increment in sales and good profit margins.
Access to New Segments: Companies may identify unique needs and new segments during the entire process.
Brand Reinforcement: It is a significant factor in brand reinforcement. As, it recreates the products' fresh image in the customer's mind.
Disadvantages
Following are some of the disadvantages that come along with cannibalization:
Competition: Here, new and established products cater to the same consumer market. Consequently, brands belonging to the same company might compete with one another.
Negative Impacts on Sales: If not planned properly, companies may face adverse effects on their sales volume.
Reduced Margins: A high degree of cannibalization or unplanned cannibalization reduces the profit margins.
Extended Product Lines: By adding similar items, companies may unnecessarily extend their product lines.
Hamper Brand Image: The introduction of low-priced products may ruin the image of premium products.
How to avoid Market Cannibalization?
Some situations exist when cannibalization is unsuitable and hence needs to be avoided. It can be done in a variety of ways, some of which are furnished below:
One can focus on branding and market the product as a distinguished product.
Try to identify a separate yet suitable market for each product.
Launch an inexpensive brand to remain competitive without cannibalizing premium products.
Critically assess the genuine demand for the new product.
Lower the price of the high-end product and make it more appealing.
Reduce the low-end product quality and make it less appealing.
Example
Given below are two practical examples of cannibalization:
Proctor and Gamble
P & G offers two different brands, i.e. Tide and Surf Excel, catering to the same customers. Both brands provide laundry products, thereby eating each other's market share.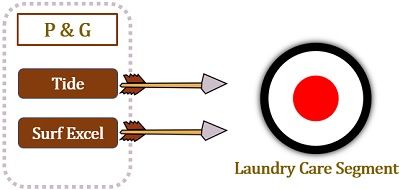 Cadbury Dairy Milk
Cadbury Dairy Milk offers a range of products for the common consumer base. Dairy Milk Silk comes in variants like Chocolate, Bubbly and Oreo.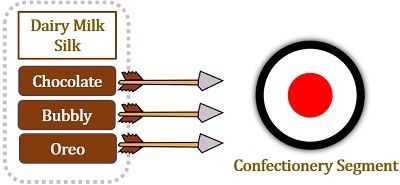 Final Words
To survive in the volatile market, companies need to self-cannibalize themselves. But, they may lose the market share of a specific successful product. Besides, the new product may even displace one of the older products.
However, companies need to innovate and maintain their market share. They can manage the risk by introducing complementary products instead of competitive ones.