Definition: Just-in-Time (JIT) Manufacturing is a philosophy that focuses on achieving Complete Waste Elimination, Inventory Reduction and Streamlined Processes in business operations.
It is one of the successful tools for Production Planning and Control. Also, it inculcates the elements of Total Quality Management, Production Scheduling and Lean Management.

However, JIT is a self-explanatory term that involves production as and when the demand arises. It opts for the Pull Production strategy (Make-to-Order) rather than Push production (Make-to-Stock).
JIT Manufacturing believes in company-wide efforts to maintain quality in processes & production. Therefore, its successful implementation requires a synchronized effort of Peoples, Plants and Processes.
The goal behind waste elimination is to carry out Quality Production in one go without defects. Consequently, it will reduce cost and increase efficiency without compromising product quality.
Here, waste means anything that does not add value to the product in a system. Also, it will suppress the need to stock the resources and can acquire them only when needed.
Another major objective of JIT is to maintain Zero Inventory Levels. So, the manufacturers investigate the points where buffer stock occurs. By this, the manufacturers can save a considerable amount of costs spent on inventory management.
Besides these two, the manufacturers can identify the significant issues and treat them accordingly.
Content: Just-in-Time Manufacturing
Background
It was first introduced in Toyota Production Plants by "Taiichi Ohno" in the 1970s. Toyota focused on narrowing its processes & meeting customer demands with minimum delay.
Taiichi Ohno is known as the father of the Just-in-Time. And the way in which Toyota has implemented JIT is called Kanban.

Goals or Objectives
Just-in-Time manufacturing assists in achieving companies' goals and sustainable competitive advantage. The varied goals of JIT are furnished below: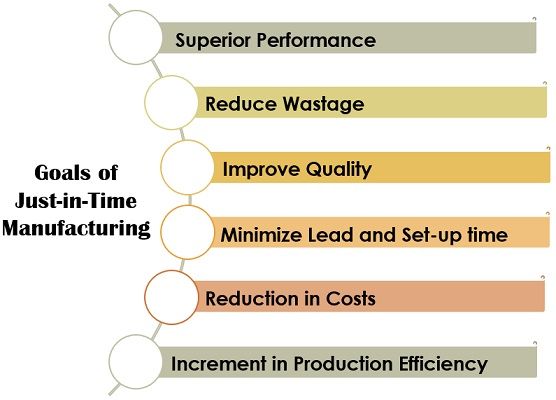 Superior Performance: The First and foremost goal of this method is Superior Performance. One can meet this goal by arriving at zero – defects, wastages, lead time & setup time.
Reduce Wastage: Another objective is the identification and elimination of waste. For this, the companies produce only the demanded quantity of products.
Improve Quality: Just-in-Time manufacturing focuses on company-wide quality improvements. Consequently, becoming leaders in their respective markets.
Minimize Lead and Set-up time: In JIT, production takes place continuously to minimize set-up and lead time. Because these factors involve a considerable amount of cost.
Reduction in Costs: This method aims to reduce costs to achieve efficiency.
Increment in Production Efficiency: The application of JIT reduces costs leading to an increase in production efficiency.
Elements in JIT
There are several crucial elements helpful in achieving the goals of JIT manufacturing. Thus, for a successful application, these elements must function in combination.
Continuous Improvement
Eliminating Wastes
Set-up Time Reduction
Reduction of Lot Size
Reduction of Lead Time
Kanban's (Small lot-size)
Jidoka (Automation)
Andon (Trouble Lights)
Preventive Maintenance
Flexible Workforce
Principles of Just-in-Time Manufacturing
The basic principles based on which the Just-in-Time manufacturing functions are as follows:
Total Quality Management
Production Management
Supplier Management
Inventory Management
Total Quality Management
The survival of the firms largely depends upon the quality of their offerings. Therefore, quality management is the priority for all business concerns. In JIT, the manufacturers continuously work toward achieving Total Quality Management.
Production Management
Another critical aspect is to ensure quality in production processes. JIT manufacturing aspires to carry out production to cater for the current demand with zero defects.
By doing so, manufacturers can bring flexibility to their systems and avoid wastage.
Supplier Management
It includes maintaining a strong long-term relationship with a few suppliers.
JIT believes in maintaining Zero Inventory, so it needs Material Supply as per need. Thus, the manufacturers and suppliers must work as a team. In addition, managers must answer the following four questions clearly:
What to Supply?
When to Supply
Where to Supply?
How much to Supply?
Inventory Management
It is the primary focus of JIT manufacturing as it believes in eliminating safety stock. It also helps in accomplishing other important objectives.
Human Resource Management
To attain company-wide improvements, efficiency in Human resource management is a must. Hence, they need to maintain a dedicated and skilled workforce.

Advantages of Just-in-Time Manufacturing
The prime advantage of Just-in-time manufacturing is quality maintenance through waste reduction. Besides, it also contains numerous benefits as follows: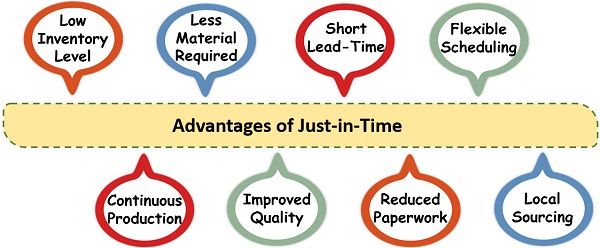 It leads to a considerable reduction in inventory levels.
In comparison to the traditional methods, less amount of material is required.
Just-in-time leads to a shorter lead time during product delivery.
It promotes the application of flexible scheduling.
In JIT, the production is carried out continuously, thereby reducing the set-up time.
Due to the lower wastages, there is a significant increase in quality levels.
The paperwork is reduced to a large extent as JIT uses IT for operations.
It prefers local sourcing of materials to meet the demand quickly at lower costs.
Disadvantages of Just-in-Time Manufacturing
The level of perfection in this approach is challenging to achieve. Just-in-Time method inherits the following disadvantages:

The manufacturers may run out of stock as they maintain zero inventory.
There is a need for a dedicated supplier to achieve zero delays in delivery.
The model doesn't have scope to deal with the uncertain demand variations.
The ongoing production schedule gets delayed due to JIT.
The delivery of unexpected demands may get delayed.
Success and Failure of the method depend on the employees.
Just-in-Time Process
Following are the steps that manufacturers generally follow during the implementation of JIT:
At first, the customer places an order for its requirements to the manufacturer.
The manufacturer put up the requirement to the supplier.
After that, the supplier accepts the order and delivers the required material to the manufacturer.
Manufacturers process the resources and produce the final product.
Lastly, Deliver the final product to the customer.
Challenges in implementation of JIT
Following are the challenges or requirements for the implementation of JIT:
It requires a suitable environment for successful implementation.
Need redesigning of the production system each time to achieve perfection.
It demands a systematic framework in the organizations.
The organizations must provide training to the employees to cope with the technique.
Review inventory level as a measure to know the success of JIT.
Need for planned incentive schemes for a motivated workforce.
Example
Some of the industry leaders successfully implementing Just-in-Time manufacturing are listed below:
Toyota Motor Corporation – Multinational Automotive Manufacturer
Dell – Develops, Sell & Repairs Computers and Related Products.
Apple Inc. – Technology Company Specialized in Consumer Electronics & Software
Harley-Davidson – American Motorcycle Manufacturer
Xiaomi Corporation – Consumer Electronic Company
Zara – Spanish Apparel Retailer
Conclusion
In conclusion, companies can achieve excellence in production processes by applying JIT manufacturing. It helps organizations in retrieving great output by investing limited resources.
Besides, it strengthens the competitiveness of the marketplace by reducing waste. Also, lead to an increase in Productivity and Efficiency and a decrease in cost and wastage.
Every organization varies from one another. Hence organizations need a customized JIT method as per their requirements.