Definition: Job Rotation is a lateral movement of employees after a certain period to jobs at a similar level. However, the change is temporary as the employees' original position does not change.
It is a part of the job redesign often practised for beginning-level management.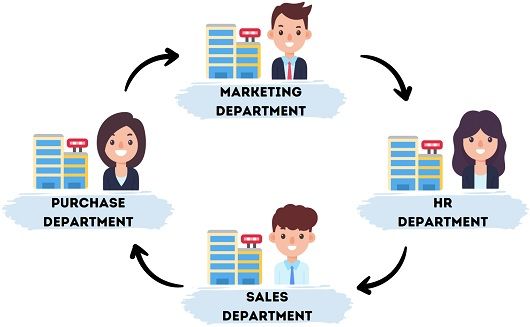 Job rotation plays a vital role in retaining employees. This is because, the employees get exposure to learning new things. Besides this, they also get relieved from their monotonous work. This way, the employees become multitaskers and gain knowledge about other processes.
For example, employees working in the Sales department move to the Purchase department and reverse.
It is to be noted that job rotations cannot be considered as Promotions. The reason being, the employee is only switching the job of exact nature.
Today many organizations adopt this practice to achieve Lean Management. It benefits both the employees and the organization as a whole.
Along with engagement, the employees can acquire more extensive skill sets. Also, they can grow their network within the organization.
Besides, it trains new and existing employees through on-the-job training. Here, employees are rotated between different departments of the same cadre.
The different employees perform similar tasks through rotations. This, in turn, infuses fresh blood within the organization.
Content: Job Rotation
Job Rotation Example
Army Camps
It is a classic example of Job rotations. Here, the officials switch duties between different units after periodic intervals.
Banks
In Banks, the employees rotate amongst different departments after a while. That is, the one working as a Cashier will go to the Loan Department and so on.
Hospitals
The nurses working in hospitals are rotated to different wards. Like, a nurse from the general ward will work in the maternity ward.
Besides these, it is a common practice implemented by many renowned organizations like Google.
Purpose of Job Rotation
Implementing a Job rotation program aims to create a motivated and multitasking workforce. In addition, the managers are able to improve their problem-solving & decision-making skills.
The following are the objectives of practising Job Rotation in the organization:
It makes employees versatile.
Reduces boredom and eliminates monopoly.
Learn the hidden potential of workers.
Employers can get a skilled and knowledgeable workforce.
Employers can find the right fit for critical job positions.
Advantages
It is advantageous for both organization and its employees. Some pros of implementing them are as follows: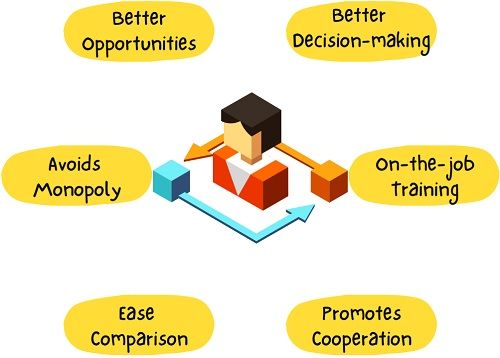 Better Decision-making: The employees get exposure to various challenges. It helps them in brushing up on their decision-making skills.
On-the-job Training: The employees get trained under various superiors belonging to different departments while working through task and position rotations.
Promotes Cooperation: The employees build connections and get aware of the departments' processes, resulting in increased cooperation.
Ease Comparison: The superiors can easily compare the performance of employees over distinct parameters.
Avoids Monopoly: The employees get shifted to another department after a fixed period. So, it avoids the monopoly of employees who stay in positions for an extended time period.
Better Opportunities: It helps employees in adding up to their skillset. They may even get opportunities to hike up to higher positions.
Disadvantage
Along with the above advantages, organizations have to bear certain disadvantages of job rotation as follows: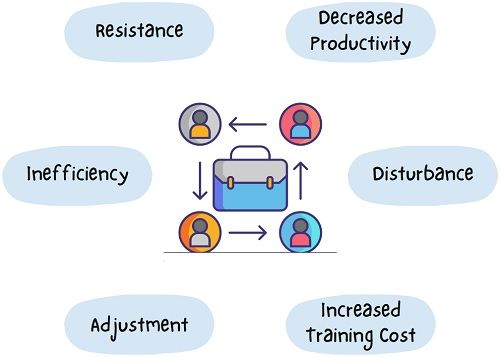 Decreased Productivity: Employee productivity may decrease if the employee is not suitable for the job.
Disturbance: The shifting of employees creates chaos and disruption in the existing operations.
Increased Training Cost: Due to constant rotations and training, the cost involved in training may increase.
Adjustment: The employees need to adjust every time they are rotated.
Inefficiency: It is possible that the rotated employee does not have the required skill for the job. So, he will remain inefficient throughout his tenure.
Resistance: Some employees even resist and do not cooperate throughout the process.
Benefits of Job Rotation
The mobilization of employees at jobs having a similar level of responsibility and work complexity outlay the following benefits:
Helps in planning and managing employee replacement.
Broaden the employee's knowledge, skills and abilities.
Spot the areas that need improvement.
Avoids monopoly and monotony of routine jobs.
Creates a multitasking workforce.
Decrease the attrition rate of the organization.
Transmission of skills and knowledge to new joiners.
Types of Rotation
Organizations can conduct job rotation in two types, given below:
Task Rotation
Position Rotation
Task Rotation
In this type of rotation, the employees are assigned a variety of tasks while being on the same job. Also, it is the most common form of rotation applied by most organizations. We can also understand it as Functional Rotation.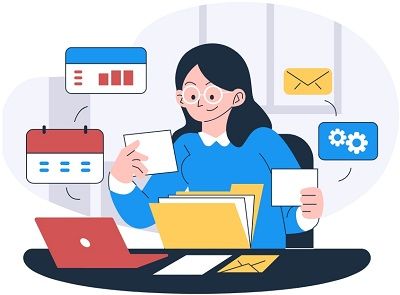 Task Rotation enhances employees in the following ways:
Improves Motivational Characteristics
Reduce psychological and physiological strain
However, it is restricted to manufacturing and low-level administrative positions.
Position Rotation
It is a type of job rotation which involves Cross-functional Rotation. Here, the employees are shifted to another department or building.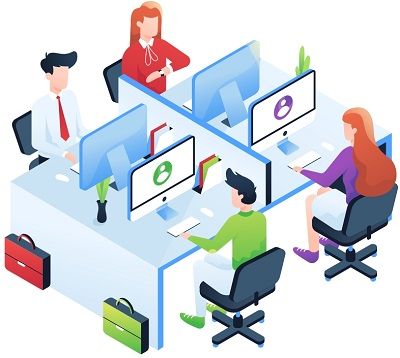 Position Rotation enhances employees in the following ways:
Improved Proficiency Skills
Increased Cooperation
This type of rotation can be observed in Banks and Military Units. But, it is only suitable for some organizations as different job roles demand distinct skill sets.

Job Rotation as a Recruitment Method
The HR department can also use rotations as one of the recruitment methods.
HR can spot talent through rotations and examine employees best suited for job roles. Also, they can identify the strengths and weaknesses of employees that can be used in favour of the organization.
Besides recruitment, the HR manager can also shortlist the employees for upcoming promotions.

Importance
Rotations are essential to sustain the employees' interest in the organization. Moreover, it is crucial for an organization in the following ways:
It helps fill skill shortages and skill gaps.
It is an important factor for boosting employee motivation.
Misconceptions about Job Rotations
Very often, organizations have the following misconception regarding rotations:
Quality of work may go down
Rotations do not need strategic planning
Management will not accept and participate in the process
Best Practices
Create a plan before conducting job rotations.
Track the rotated employee and take feedback from them.
Provide training to the employees to perform different job roles.
Educate and convince employees about the process beforehand.
Final Words
All in all, in this process, the employees move to other job roles after serving a specific tenure. However, the employees' original position does not change.
It is also widely used for training employees while being in roles. This is because they get exposure to various processes and operations of the organization.