Definition: Direct  Marketing is a personalized form of marketing that establishes direct interaction with the potential customer. In this, the marketer's target the correct type of audience for promoting their products. Its goal is to get a response from the target customer.
One must note that it does not necessarily have physical interaction. A company can opt for online platforms, print media, etc., along with the physical location.
It is alternatively referred to as Direct Selling/Mail Order Selling/Catalogue Selling.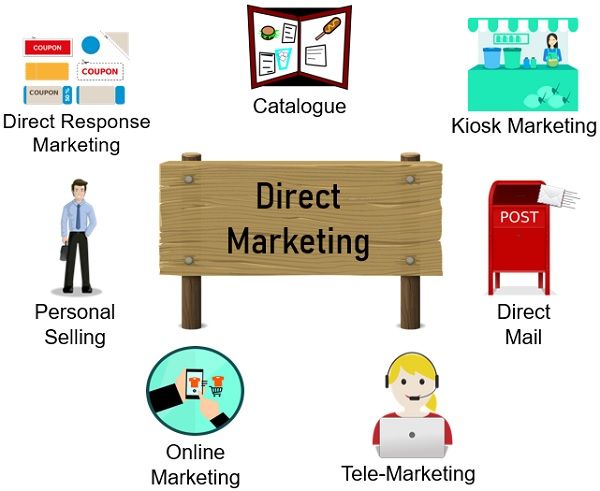 Direct Marketing involves two-way communication to reach its prospective customers. Personalized communication with customers facilitates impactful sales and enhanced customer satisfaction.
It excludes intermediaries from the marketing process. The non-involvement of mediators results in cutting costs by eliminating margins. This results in a comparatively lower price of the final product.
Direct marketing has grown drastically through the Globalisation of markets and accelerated use of the Internet.
Marketers can use distinct channels to approach markets. These channels include Face to Face marketing, Pamphlets, E-Mails, Telemarketing, Kiosk Marketing, Offer Coupons, etc.
Direct Marketing aims to:
Target correct audience
Eliminate Middlemen
Cutt Extra Costs
Reach large potential markets locally and globally
Content: Direct Marketing
Types of Direct Marketing
The different types or tools of direct marketing are discussed below:
Direct Mail
Direct Response Marketing
Mail-Order / Catalogue
Door-to-Door Marketing / Personal Selling
Tele-Marketing
Kiosk Marketing
Online Marketing
Direct Mail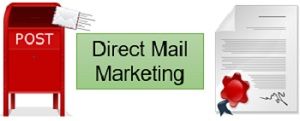 In this form of direct marketing, companies send mails directly to the target customer's address. They are highly particular about their audience.
In direct mail marketing, mails are sent in the form of Free Samples, Letters, Postcards. The companies make Reminders, Announcements, New Product Releases, etc., through these mails.
For Instance, the companies post free samples and leaflets of their new product to their existing customers.
Direct Response Marketing

Direct Response Marketing is used when the marketer wants an immediate response from the customer. The companies may use any possible channel for this purpose. The Marketers initiate attractive campaigns intending to close the deal right away.
For Instance, Big Bazar offers special deals and discounts on Wednesdays. They use SMS, Newspaper ads, and In-store announcements about Wednesday Bazar.
Mail-Order/Catalogue
It consists of the compilation of the companies products in detail. The customers can place their order directly to the company through these catalogues. It can be prepared according to the target audience like:-
B2B Catalogues
Customers Catalogues
E-Catalogues, etc.
For Instance, Companies like Amway provides their product catalogues to their prospects. The Customers can choose their product from the variety of products and place the order accordingly.
Door-to-Door Marketing / Personal Selling

The marketers approach their prospective clients through client meetings. It is a more personalised and effective type of direct marketing. Product demonstration and detailed explanation at the client place help close the deal.
For Instance, Byju's approaches its target customers by demonstrating its Byju's kit at the customer's place. The kit contains a bag, study material, badge, chip and a tablet.
Tele-Marketing

In this form of marketing, marketers communicate with their customers via telephone or call centres. Tele-marketing reduces costs and enhances customer satisfaction. Companies use Inbound Telemarketing or Outbound Telemarketing.
Inbound Telemarketing: Calls received by the company from the customers in response to any marketing campaign. For Instance, a company accepts orders through calls in response to its advertisement published in the newspaper.
Outbound Telemarketing: Calls made by the company to the customers for a marketing campaign. For Instance, Banks and NBFC promote their financial products like credit cards, mutual funds, etc., through Telecalling.
Kiosk Marketing

Kiosks are the informative corner of the company in the form of stalls, canopy or machines placed in an area with high footfall. Companies representative provides information about the product and facilitates sales in the kiosk.
For Instance, different brands stalls or standees are installed at shopping malls.
Online Marketing

It refers to the type of marketing, which uses web-based or online platforms to attract prospects. Online marketing helps companies to reach global markets. The marketers can promote their products over the Internet by:-
E-mails
Websites
Online Advertisements
Applications
For Instance, Many brands are making business pages on social media platforms like Instagram, Facebook for promoting their products.

Advantages
Following are the advantages of direct marketing:
Interactive: Since direct marketing involves two-way communication, it is an interactive activity.
Secrecy: In this form of marketing, the salesperson can maintain confidentiality about their marketing strategy from their competitors.
Economical: It is economical for the companies as it excludes mediators or intermediaries.
Trouble-Free: Direct Marketing involves direct interaction with the customer, which makes the process less complex.
Retain Existing Customer: It is easy to retain existing customers due to the enhanced customer service experience.
Focused Marketing: The marketers are well aware of the needs of the prospective customers. They can formulate strategies based on the feedback received by the customers.
Effective communication: Due to fewer channels in the marketing process, companies can create more effective communication.
Disadvantages
Following are the disadvantages of direct marketing:
Irritation: Customers may get irritated by the approaches of the salesperson.
Unfairness: Some marketers may manipulate the buyer or take advantage of the uneducated buyer.
Fraud: A salesperson may deceive customers by exaggerating products features.
Invasion of Privacy: The company may sell the personal information of the buyer like E-Mail ID, contact number, etc.
Time-taking: The marketer needs to approach its prospects until he is convinced to buy that product which is a time taking process.
Patience: The salesperson needs to have a lot of patience while demonstrating the product and satisfying customers queries.
Direct Marketing Model
The direct marketing model is based on the multilevel or network marketing approach. There are two types of direct marketing models:
Direct Marketing through Salesforce:

Step 1: Recruitment of salesforce.
Step 2: Direct selling efforts by the salesperson.
Step 3: Generate relationships with customers.
Step 4: New customers through referrals.
Step 5: After-sale services.
Direct Marketing through the Internet: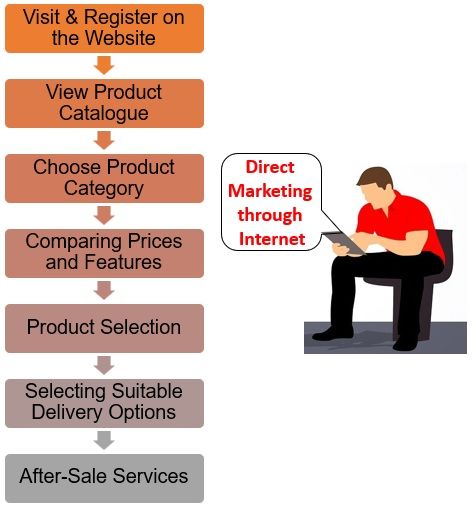 Step 1: Encourage customers to visit & register on the companies website.
Step 2: Customers get access to the product catalogue and deals.
Step 3: Customer can choose the product category according to his need.
Step 4: Comparison of prices and features from that category.
Step 5: Complimentary product review and product selection.
Step 6: Selection of appropriate mode, date & time of delivery.
Direct Marketing Example
Whatsapp has emerged as an excellent platform for companies to approach their target customers. Many big brands like – Meesho, Ajio, Jio Mart, Purplle and relatively small vendors are using Whatsapp as a tool for marketing.
The companies are promoting their products using:
Product images
Catalogues
Posting on Whatsapp Status
Accepting orders and tracking the delivery
Accepting and receiving payments
Sharing offers and deals on chat groups
Forwarding product information to referrals.
Conclusion
Direct marketing is an interactive process to get through the target audience. It is independent of the physical location. The communication takes place directly, excluding intermediaries. Firms can be used various channels for marketing like – Telemarketing, personal selling, online selling, etc. The response by the customers is received in the form of feedback. Companies can plan their campaign based on clients feedback.