Definition: The term C-level Management refers to the topmost level in the hierarchy. The executives at this level are of the highest calibre. They are the highest-ranking officers of the organization.
Simply put, these people hold the highest-level job roles in the company.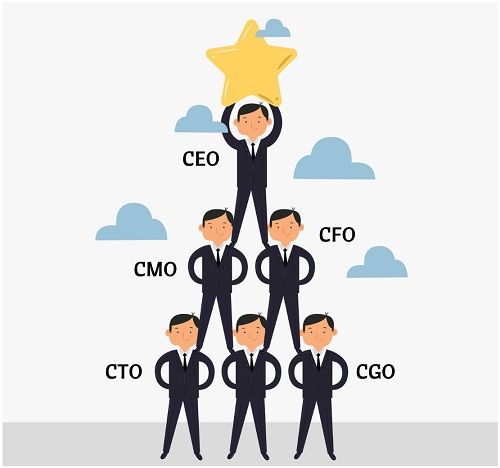 The C-level management aligns the company's operations with strategic objectives. Also, they ensure the smooth functioning of the company.
The personnel occupying these job roles are often referred C-level Executives or C-suits. This is because, their job title has 'Chief' at the beginning and 'Officer' at the end. So, they are the chief officers of their respective departments.
C-level management is responsible for making high stake decisions for the organization. Moreover, they provide directions to the organization. They are the most powerful and influential persons in organizations.
Among all, Chief Executive Officer (CEO) is the highest rank. The other C-suits report directly to the CEO of the company. However, the executives of V-level management reports to the C-suits of their respective departments.
The board elects the CEO or President of the company. After that, the CEO appoints other C-level executives from every department. For example, Chief Finance Officer from Finance department, Chief Marketing Officer, etc.
In history, it is observed that more men are occupying these positions. However, with time women are also becoming a part of these positions.
The number of positions and titles varies across companies. This is why big companies have more C-suits compared to smaller ones.
Content: C-level Management
C-level Executive
As discussed above, these are the top-tier professionals of any company. They are the in-charge of various departments such as Finance, Sales and so on.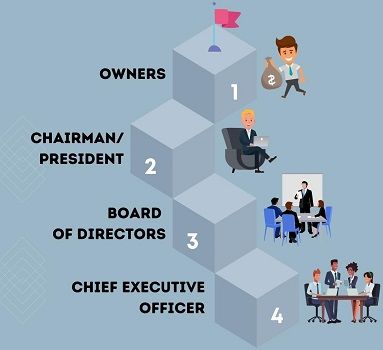 These executives are also the highest-paid officials of the company. Besides, they are responsible for critical decision-making in the organization. It is important to note that their decisions impact the company as a whole.
C-suits have the power & authority as they are the heads of their respective departments. To reach this position, one must acquire many years of experience in the same company or industry.
An efficient C-level executive must possess skills like:
They are the face of the organization and have the power to speak on behalf of the organization.

Example
If a company is a Car, then C-suits are its driver.
The company has an indefinite life span, but the human resources have a definite life span. Consequently, C-level executives retire after a specific period and are replaced by efficient ones.
Here are some examples of top-tier executives working in renowned companies:
Shantanu Narayan – Chairman, President and CEO of Adobe Inc.
Sundar Pichai – CEO of Alphabet Inc. & Google
Tim Cook – CEO of Apple
Satya Nadella – CEO of Microsoft
C-level Positions
Some common variations of C-level positions are as follows:
CEO – Chief Executive Officer
CFO – Chief Financial Officer
CAO – Chief Administrative Officer
CIO – Chief Information Officer
CTO – Chief Technology Officer
CPO – Chief Product/Production Officer
CMO – Chief Marketing Officer
CPO – Chief Privacy Officer
CSO – Chief Sustainability Officer
CDO – Chief Digital Officer
CKO – Chief Knowledge Officer
C-suite Roles & Responsibilities
These executives generally work as vice presidents or directors of the group, division or business. They are responsible for clear communication and reporting relationships within the organization.
They majorly focus on the company's strategic objectives. Also, they aim to sell more and more products and boost profitability.

Skills for C-level Management
The executives operating on C-level management must be equipped with some skills. However, they need to constantly develop their skills to match their positions' growing demands.
The skills required for C-level management are as follows:
Leadership Skills
Team Building Skills
Conflict Management
Critical Thinking
Change Management
Communication Skills
Decision-making Skills
Planning and Organizational Skills
Levels below C-level Management
C-level is the first level of management. But there are three additional levels below this level as follows: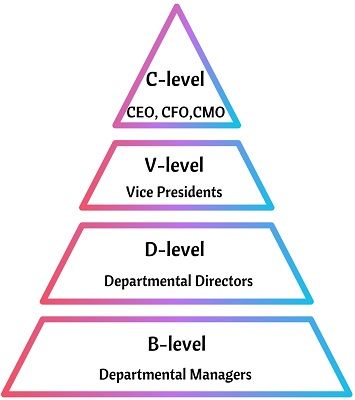 V-level Management: This management level comprises vice presidents reporting to C-suits.
D-level Management: The directors representing different departments come under D-level management. The executives at this level report to V-level Management.
B-level Management: This level includes departmental managers like purchase managers, etc. These managers report to D-level Managers.
How to become a C-level Executive
There is no fixed criteria to become a C-level executive. However, the below points can help you strengthen the candidature:
Step 1: Strong Educational Background
To become a part of top-tier management, one must develop a strong educational background. This is because, the post comes with many challenges that only experts can handle.
Step 2: Gather Valuable Work Experience
The aspiring C-level executive must work hard and gather wide work experience. Also, they must work on diversified profiles to learn about every field.
Step 3: Develop Leadership Skills
It is the most important quality that can also be acquired. The individual must constantly try to develop and gain leadership skills.
Step 4: Create an Impactful Profile
In order to become a C-level executive, one must create an impactful profile. It reflects the individuals' personalities and gives a clear idea about their skills and capabilities.

Final Words
To sum up, C-level management inculcates high-ranking title executives in an organization. It is the top-level having specialists who work on behalf of the company.
C-suits are an essential part of any organization. Their efficiency affects the present and future of the company. Therefore, companies must stress the selection of the right personnel at this management level.