Do you know we are consuming more than 50% of the earth can replenish? We must mobilize towards Sustainable Consumption and Production to deal with this situation and minimize its effects.
Definition: Sustainable Consumption and Production, or SCP, implies the production and usage of services and related goods that meet the needs and desires of current and future generations while minimizing the waste and use of toxic material throughout the product's lifecycle.
It is a comprehensive strategy that reduces the damaging effects of production and consumption on the environment. It is vital in sustaining the livelihood of present and future generations.
SCP ranks 12th on the list of Sustainable Development Goals. It specifies heading towards the future and doing more and better with less.

Prioritizing sustainability can solve multiple global crises:
Environmental Degradation
Growing Poverty
Resource Scarcity, etc
Everyone strives to satisfy their needs and aspires to live a good life. Eventually, they erase the thin line existing between needs and wants.
Here comes the concern of sustainability. Thus, consumption must be such that it is necessary for living, considering the resource availability for future generations.
The concept of SCP considers the Environment, Society and Economy all at once. Moreover, it also contributes to alleviating poverty and switching to green economies.
Economic activities like production and consumption trigger economic change. This change is due to the utilization of renewable and non-renewable resources. Also, the consistent over-utilization of resources triggers natural disasters.
The amount of waste is constantly increasing despite several waste management initiatives. This is because, with the introduction of new and advanced technologies, consumption is also increasing at the same pace.
Content: Sustainable Consumption and Production
What is Sustainable Consumption?
It implies buying and using the products critically, considering their production methods and securing the needs of future generations.
Consumption generates demand, and demand, in turn, boosts production.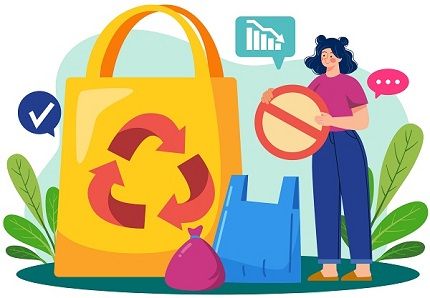 Thus, customers must emphasize the life cycle perspective of products with the product features. They must choose the products with the least negative impact on the environment and planet.
Customers must be more mindful of their consumption habits to practise sustainable consumption. They must track their current consumption pattern like:
What do we buy?
How do we buy?
From where to buy?
What do we do with it?
Do we really need it?
Customers must rethink their consumption patterns and efficiency of consumption. They must decrease their consumption and buy only necessary things.
Therefore, one must realize the effects of their choices. It will improve the quality of consumption of current & future generations.

What is Sustainable Production?
Sustainable Production focuses on developing the production processes that are as environmentally friendly as possible. In addition, procuring the raw materials which conserves energy and natural resources.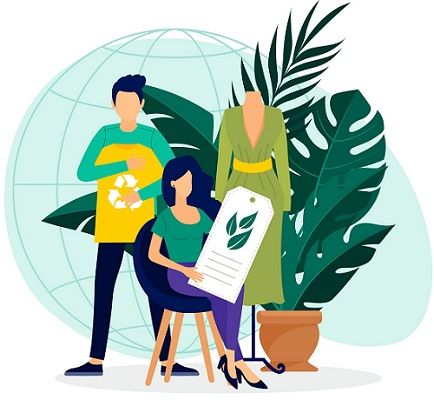 The producers must consider the pre and post-production impacts of their products. Also, they must focus more on the long-term environmental impact over short-term profitability.
The production processes must be:
Non-polluting
Conservative
Economically viable
Producers must produce products that are economically and environmentally viable. These organizations must also enhance Employee, Community and Product safety.

Sustainable Consumption and Production Example
A shift towards SCP systems helps in reducing the pressure on the environment. Therefore, the world is trying to move to sustainable processes and products.
Following are some examples of products made with the SCP approach:
Eco-friendly Disposable Cutlery
It is a fantastic replacement for conventional plastic cutlery. It is made from Birchwood and Cornstarch, which gives the same strength as plastic. In addition, this cutlery is 100% natural and biodegradable.
Electronic Vehicles (EV) – Bikes, Car, Truck and Bus
EVs are basically battery-driven vehicles. They have an electric motor that can be charged from an outside source.
The usage of EVs will make a massive difference in the ecosystem. This is because, vehicles will be fuming less, and the use of fuels will also reduce considerably.
Sustainable Fabrics
Fashion houses and designers are mobilizing towards sustainable fabrics from eco-friendly sources. The commonly used sustainable fabric include – Organic Cotton, Bamboo, Modal, etc.
Electric Aircrafts
Another sustainable product is Electric Aircraft. These aircraft are powered by electricity which produces zero emissions. It is created to substitute the effects of aviation on the environment.

Importance of SCP
The points given below explain the importance of SCP:
Secures efficiency in consumption and production patterns.
Along with efficiency, there is a simultaneous rise in productivity.
Maintain the regeneration capacity of the earth.
Reserve the rights of future generations.
Reduction in waste, emissions and pollutants.
Sustainable use of finite resources.
IPAT Equation
It is a mathematical equation that explains the impact of human activities on the environment.
I= P * A*T
where,
I stand for Impact,
P for Population,
A for Affluence or Consumption,
T for Technology or Production
Impact (I): The total impact on the environment in terms of waste accumulation and resource depletion.
Population (P): It signifies the size of the human population in the world. Also, consider the resource they utilize and the waste they create.
Affluence (A): It implies the level of consumption, i.e. goods and services made by the population.
Technology (T): It represents the processes used to create these goods and services.
Over the last few centuries, the human population has grown significantly. Assessing the increasing population's impact on the environment is vital. Moreover, it will help in taking steps towards a sustainable future.

Disturbing Facts
Approx. 55 billion tons of resources (Fossil Fuels, Bio Mass) are extracted yearly.
About 80% of the forest has already vanished.
The remaining 60% of the coral reefs will be lost in the next 30 years.
The size of the floating garbage island is equal to the size of India, Europe and Mexico combined.
How to achieve Sustainable Consumption and Production?
We can make little changes in our daily lives to protect the environment in order to attain SCP. The common yet effective steps that can assist us in accomplishing sustainability goals are as follows:

Reduce, Reuse, Recycle: These three R's are the pillars of waste management. Its application helps in creating an eco-friendly lifecycle of the products.
Awareness: Everybody on this planet must be aware of the earth's degrading situation. For this, the government of respective countries can run educational campaigns spreading the word.
Plantation: Trees play a vital role in maintaining the ecological balance. To ensure a sustainable future, we need to plant as many trees as we can.
Wise Consumption: The customers can realize their power and take smart consumption decisions. They can prefer products which are efficient as well as eco-friendly.
Eco-friendly Production: Producers can switch to eco-friendly plus sustainable production methods. They can discover technologies that generate minimum treatable waste during and post-production.
Final Words
All in all, we are already living in a deficit and still want more. Currently, the development patterns across the world need to be more sustainable. This is because, resources are being utilized more than ever before. Moreover, if this situation persists, we might need 2 more earths to satisfy the resource requirements.
Therefore, the world needs to be awakened. Simultaneously, become mindful about production to consumption patterns. Everyone in the economy, like Government, Producers and Consumers, must contribute to saving our planet.