Definition: A Rural Consumer is an end-user of the products offered in rural markets. More precisely, a rural consumer is one who buys goods & services for self-consumption, reselling or reproduction in rural areas.
The rural consumer has less disposable income. Therefore, they prefer to buy less expensive products. They differ from urban consumers in respect of lifestyles and thinking.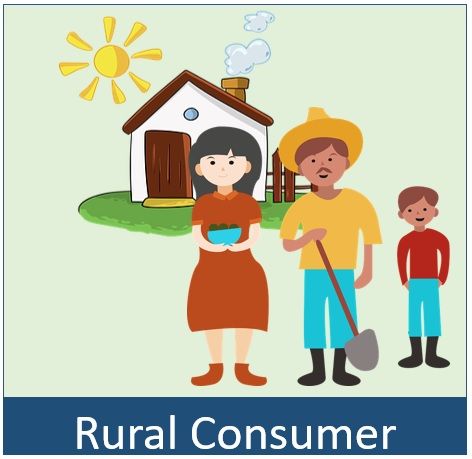 Marketers noticed a significant change in rural consumers due to the growth in:
Disposable Income
Education Facilities
Media Reach
Urban Interactions
Reach of the marketers
Rural markets emerged as potential markets over the years. With the markets, there is growth in the consumer base possessing varied characteristics.
Therefore, rural marketers analyze the consumption pattern and lifestyle of the consumer. To remain competitive, marketers try to develop rural and region-specific marketing strategies.
Hence, marketers must explore and understand rural consumers' buying habits and preferences. This is helpful in meeting the organizational marketing objectives and earning profits.
Content: Rural Consumer
Characteristics
The user's needs and wants in the rural market are different. Thus, the rural consumer possesses distinctive characteristics from urban consumers.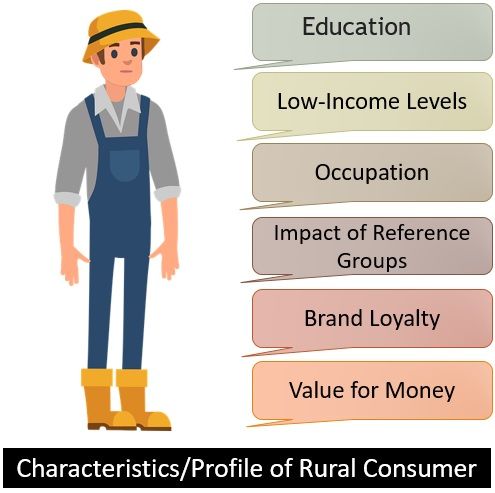 Education
Consumers are less literate due to fewer educational facilities.
Marketers need such strategies which generate product awareness considering this characteristic. They can incorporate an audio-visual medium of communication in their marketing campaign.
Low-Income Levels
The income of the rural consumer has grown over the years. But still, their disposable income is spent on basic necessities. They prefer affordable products and purchase only the required quantity of goods.
Marketers must try to launch their products in small packaging and at lower rates.
Occupation
The consumption pattern of rural consumers largely depends upon their income and occupation. It is observed that the occupation of a rural consumer is framing in general.
There exist other professions as well, like service providers, technical workers, etc. The companies must launch such products in markets that satisfy all income groups.
Impact of Reference Groups
In rural areas, the consumer is often influenced by a few people. Consequently, there is a significant change in their buying behaviour.
Rural marketers must plan their strategies that positively impact these influencers.
The people who may influence rural consumers may include:
Local Vendors
Teachers
Bank ManagersLocal Leaders
Health Workers, etc
Media Habits
People residing in rural areas are less literate, as discussed above. Thus, print media does not have much impact on rural consumers.
Companies must use those communication channels that reach consumers quickly.
Brand Loyalty
Rural consumers tend to be loyal to brands. With the development, rural consumers are well aware of the available brands.
Some brands have successfully created a strong consumer base in rural markets.
Value for Money
It is the main characteristic of rural consumers. Consumers look for quality products at justified prices.
Rural marketers should try to create a sense of trust in the mind of the consumers. And offer products that deliver maximum benefits as per their value.

Types of Consumers
We can categorize users of rural areas into three categories mentioned below: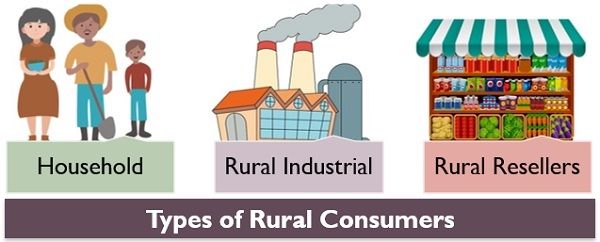 Households: The customers who purchase products for self-consumption. The goods purchased are consumed and not used for further production. They buy products for:-

Family Needs
Personal Use

Rural Industrial: This type of consumer buy products for reproduction. The industries procure raw materials from the market and reproduce them into a new product.
Rural Resellers: They are the retailers of rural areas. The rural resellers don't consume the products themselves. However, they buy the products to resell them in the local markets.
Myths about Consumers in Rural Areas
There are some myths about the Rural Consumer. Rural marketers need to know the real picture to develop an effective strategy.
Following are several myths related to the rural consumer:
Buy only low-priced products
The rural consumer seeks value for money. That doesn't mean they only buy low-priced goods. They make purchase decisions based on quality, functionality, and product availability.
Homogeneous consumer base
Marketers have a misconception that all rural consumers are homogeneous. But research reveals that in rural areas consumer base is diversified. Their taste and preferences differ from one another.
Buy whatever the companies offer to them
Consumer brand loyalty makes marketers think that consumers will buy anything they offer. But, companies must make continuous initiatives to attract and retain their consumers.
No brand awareness
With the increase in literacy rate and widespread use of the Internet and Broadcast media, consumers are aware of the products. Consequently, they can differentiate among various brands and products available in the market.
Many uses of products
It is perceived that rural consumers use a product in multiple ways. This may be an outcome of the incomplete information provided to the user about the products.
The marketer must convey the correct usage and directions for the use of the products.
The exploitation of Rural Consumers
Some marketers may even exploit innocent consumers residing in rural areas in the following ways:
Wrong measurement of the goods.
Undue high prices of the products are charged.
The sale of fake and duplicate products in the rural markets.
Misguiding consumers by giving wrong product information.
The sale of expired medicines in the market.
The dominance of the suppliers, producers and officials by creating groups.
Rural Consumer Behaviour
In rural areas, consumers get highly influenced by internal and external forces. The rural marketing strategy widely depends upon the consumer's behaviour.
Marketers try to achieve a high level of consumer acceptance. So, they explore and understand the preferences of the consumer. Also critically examines rural consumer behaviour.
The rural consumers include:
Individuals
Groups
Organizations, etc
We can classify buyer behaviour according to:
Degree of involvement while making the purchase. Also, the risk and investment associated with the product.
The time of purchase, i.e., planned, emergency or impulse.
Factors Affecting Rural Consumer Behaviour
Socio-cultural factors
Group
Family
Role and Status
Sociability
Economic Factors
Political Factors
Classification of Rural Consumers based on their Behaviour
Habitual Group
Such customers consistently buy specific products because they are completely satisfied with them.
Cognitive Group
People belonging to this group have some selective perception, and their buying behaviour gets influenced by it.
Emotional Group
Customers in this class are influenced by their emotional intellect. They are more focused towards the product's image and features.
Impulsive Group
This group make purchase considering the physical attributes of the product. Thus, there is no brand query from the customer's end.
New Group
With the growth and development of a new group has emerged over the years.
Final Words
There is a huge span between the attributes of rural and urban consumers. Marketers must examine consumer behaviour to gain profitability from the rural markets.
In comparison to urban areas, consumers are price sensitive yet simple. Firms can earn marvellous profits by creating a huge consumer base in rural markets.