Definition: Eco-labelling is an eco-standardization that grants eco-labels to approved products and product categories. It indicates that the certified product is sensitive to the environment and does not cause any harm to the environment during its entire life cycle from cradle to grave.
It is a market-based & consumer-oriented approach that creates clear symbolic differentiation.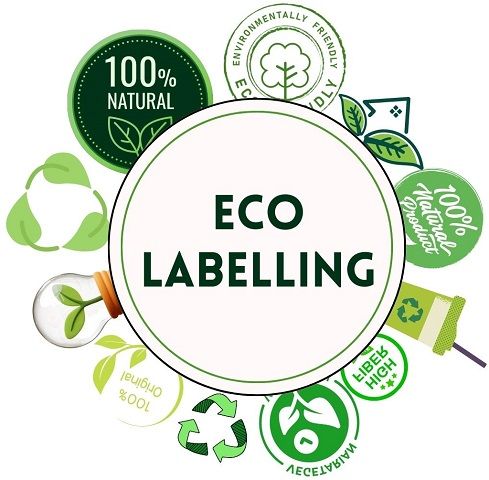 Eco-labels or Green Labels have a specific awarding criterion. An impartial third party gives these labels to the products, indicating their value in terms of their environmental impact.
It signifies that the product is not toxic, environment friendly and sustainable. Moreover, it influences the consumer's behaviour and helps them make purchase decisions.
The products certified with these labels are considered as environmentally friendly products.
For Example: Stewardship Certificates, Green Mutual Funds and Green Trademarks.
The producers who seek these certifications must follow the standards and criteria. Also, they must pay some fees to use the valid label for a specific duration.
Eco-labels provide many crucial information about the product like:
Production Process
Raw Materials
Disposal Procedure
Reuse, etc.
Note: The product disposal is done in such a way that it causes minimal damage to the environment.
Eco-labelling benefits manufacturers by giving them a competitive edge in the market. The products with green labels become different from the existing market. Therefore, the customers easily notice them, which is an added advantage.
The governments of various countries around the world practise eco-labelling systems. These countries form a centralized network at a global level known as the Global Eco-labelling Network (GEN).
Content: Eco-labelling
Eco-labelling Examples
1. Blue Angel – Germany
It is the first program launched in this category by the German Federal Government. Blue Angel is a credible label for environmentally friendly products and services standardization. Here, industry participation is optional.
2. Green Seal – US
It is the member and co-founder of GEN. Its flagship program avails certification for products and services. The standards are based on the life-cycle approach of the products.
3. Eco Mark – India
BIS, i.e., Bureau of Indian Standards, issues it in India, and its symbol is an Earthen Pot. This is because, it is made from sand and then disintegrates to its natural state without causing any harm to the environment. A total of 16 product categories were identified under it, of which only 14 were approved.
4. International Energy Star
It is the symbol of energy efficiency. It educates customers by providing unbiased, credible information about the products. With Energy Stars, companies have saved around trillions of kilowatt-hours of electricity.
5. WindMade
It is a consumer label signifying the use of wind energy. The core idea is to inform customers of the products and companies using wind energy. In addition, it motivates more companies to use these renewable energy sources.

Objectives
Creating and awarding E-labels aims to reduce the environmental damage products cause. Also, it encourages and enlightens the customers to buy environmentally viable products.
Countries having eco-labelling systems are seeking to be more responsible towards the environment. In addition, they enhance the environmental quality of their region and head towards a sustainable future.
Therefore, the objectives of eco-labelling are to:
Protect the country's natural resources and environment.
Encourage eco-friendly innovation and production.
Making customers aware and attracting them towards green products.
Advantages of Eco-labelling
The major advantage of obtaining eco-labels is creating symbolic differentiation in the market.
Some distinguished benefits of eco-labelling are as follows:
Differentiate products in the market among many other products.
Reduce the adverse impact on the environment.
Promotes sustainability of businesses and products.
Green symbols increase the credibility of products.
Provide clear and reliable product information to the customer.
It gives clean chit to products and sometimes even gets tax benefits.
Influences the product design and benefits for the better.
Eco-labelling Products
Eco-labelling exists for both products and services. Moreover, nations even approve entire product lines with eco-labels. Products are placed in this category when they are certified or allotted with one or more green labels.
Some common eco-labels are as follows:

Vegan
100% Organic
100% Natural Product
Vegetarian
Recycle
Green Seal
EKOenergy
Cruelty-Free
Ecovillage
Million Trees, etc.
Some product categories awarded with eco-labels are as follows:
Soaps and Detergents
Food Items
Textiles
Packaging
Cosmetics
Vegetable oils
Paints
Batteries
Importance of Eco-labelling
Each product strongly impacts the environment, either directly or indirectly. Thus, being aware of it, analyzing it and reducing its impact is necessary. For this reason, eco-labelling has become important for countries worldwide.
Considering its importance, the certification process is conducted by an impartial external party. The process should be simple, transparent, and incur minimal administrative costs. Moreover, the eco-labelling criteria must be:
Comprehensive
Attainable
Relevant
Measurable
Scientific
Besides, it set the foundation for eco-innovation for manufacturers. This is because, they can manufacture new green products based on eco-label criteria. Also, they can achieve a better environment management system within their organization.
The below points explain the importance of eco-labelling:
Motivate consumers to make intelligent choices in products.
Educate customers through symbols to make eco-friendly choices.
Boost the demand and supply of products with green labels.
Promote the innovation and promotion of green products in the market.
Small yet crucial initiative towards environment protection.
Unbiased certification of symbols and trademarks.
Types of Eco-labels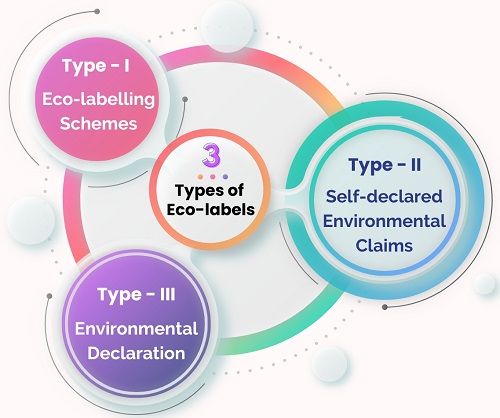 Type I: Eco-labelling Schemes
It is a classic eco-label that authorizes the use of eco-labels on products. It pays due consideration to the product's use and life cycle. Obtaining these labels is voluntary for the companies.
For Example: Japanese Eco Mark, Choice and Canadian Environmental.
Types II: Self-declared Environmental Claims
Here, companies themselves make declarations about products based on their characteristics. They make these claims based on the general guiding principles.
For Example: Recyclable Content and Biodegradable.
Types III: Environmental Declaration
It is also a voluntary program with quantitative product indicators under preset categories set by an impartial third party.
For Example: Eco-leaf and Korean Environmental.

Greenwashing
Some companies falsely market their products as green products. In other words, they appear eco-friendly but are not part of any green initiative. Moreover, they use it as a marketing strategy to attract customers.
For example, Cosmetic company promote their products as 100% organic. But in reality, their products are entirely chemical-based.
Some ways companies perform greenwashing are as follows:
Misleading keywords or terminology.
Similar labels and images.
False claims to sell products.
Extremely glamorous product features.
Exaggerate positive contributions to nature.
Bottom Line
Eco-labelling reduces the ill effects of consumption and production on the environment. It is an effective tool that communicates vital information to the consumers. Besides, it also promotes sustainability in production and consumption at the international level.